Recently on Cyclingnews.com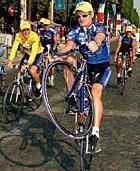 Floyd in action
Photo: © AFP
Hangin' In There: The Floyd Landis Journal
During last year's Tour de France, Cyclingnews welcomed Floyd Landis as a reporter. The talented, gutsy, 26 year old former mountain biker had ridden his way to a start in the Tour as a key part of Lance Armstrong's USPS squad, and Landis went on to distinguish himself as an important member of the now legendary "Blue Train" at Le Tour. Floyd also endeared himself to Cyclingnews readers for his unique take on an American rookie's life in the Tour De France peloton.
In 2003, Cyclingnews is pleased to announce the return of Floyd with his exclusive journal "Hangin' In There."
On the road again - at last!
March 7, 2003
Finally, after seven weeks of quite possibly the least activity of any seven week period in my entire life, I decided to venture out onto the street for my first training ride. The home trainer in the garage had finally become just too much for me and although a few of my doctors still believe it is too early for me to do so, I just had to go outside for a ride. The risk is only if I crash, because pedaling puts very little stress on the break. Since I am able to pedal as hard as I like on a stationary bike, it follows that riding outside adds only the danger of falling. So after speaking with Johan Bruyneel, who agrees that the time has come, I have been outside riding for several days already and I've got to tell you that haven't been this happy in a long time! The first day I only rode for an hour and my nervousness, combined with the fact that I haven't ridden a bike outside in two months made the ride a little less relaxed and enjoyable than I had hoped. However, the following few days have been great, I am still a little afraid of descending like I used to but then I can't really climb all that fast so I don't get to do much descending anyway.
I can't remember a time in the last ten years when I have been this far out of shape. After a two hour ride all I want to do is lay down and sleep, and even if I do, I'm still tired for the rest of the day. Keep in mind that this two hour ride is nowhere near the speed I would like to be going. Once again I am going to have to practice some more patience and self control so I don't over do it before I am ready. I am, however, becoming more impatient by the day because now I get to see all the race results and think about what I am missing. But like I said last time, it is hard to appreciate things sometimes until they are taken away and I am reminded of this every time I stand up from the couch and try to walk. It is getting easier and I can do it almost without a limp, but not for more than a few minutes and not without completely focusing on what I am doing. Normally this would be frustrating, but not after six weeks of crutches.
The future looks great, I am excited about riding outside and if there is a positive side to being this out of shape, it is that I can see improvement in my condition almost every day. This week I am going to get a second CT scan so we can follow the healing progress of my hip. But the chance of something unexpected showing up there is low since last week's x-rays showed signs of normal healing consistent with what was visible on the previous week's CT scan.
Finally I can stop focusing on that and start setting goals for the season ahead. Hopefully by the next time I write I will know when that will begin.
Until next time
Floyd