Recently on Cyclingnews.com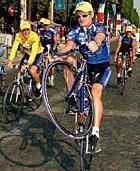 Floyd in action
Photo: © AFP
Hangin' In There: The Floyd Landis Journal
During last year's Tour de France, Cyclingnews welcomed Floyd Landis as a reporter. The talented, gutsy, 26 year old former mountain biker had ridden his way to a start in the Tour as a key part of Lance Armstrong's USPS squad, and Landis went on to distinguish himself as an important member of the now legendary "Blue Train" at Le Tour. Floyd also endeared himself to Cyclingnews readers for his unique take on an American rookie's life in the Tour De France peloton.
In 2003, Cyclingnews is pleased to announce the return of Floyd with his exclusive journal "Hangin' In There."
Just Giving Thanks For What I've Got
February 21, 2003
It appears as though patience can only be learned the hard way. Things have been moving slowly here, my broken bone is healing fine, but it is just that time has slowed to a crawl for me. I am not a patient person by nature, things always need to get done now and this waiting around does not normally fit into the plan. However, for five weeks now I have been forced to accept that some things take time and no amount of will power or work can speed the healing process. The good thing is that it is almost over, I am now riding longer on my trainer and I am allowed to put some effort into it. But once again, I am reminded of the patience lesson, because after five weeks of not using my right leg, it fatigues and hurts more than at any time that I can remember. Also along with my strength and fitness, my sense of humour is almost gone and the day I can go for a six-hour ride (I don't care if it is snowing) cannot come too soon for me.
Along with patience, I learned something else that I would never have realized had this not happened. I have had much time to sit here and think about what it would be like if this were permanent, and I began to wonder if other things that make my life a happy one are also taken for granted. For example, the peaceful country I live in, when all I have to do is turn on the news and see what reality is like for some people. Or the fact that I have spent the last 10 years of my life doing something that I love to do. And most importantly, my wife and daughter, who are happy and healthy and support my career, even though it takes me away from them quite often.
Before this experience, I never paid much attention to people with crutches, wheelchairs, or permanent disabilities. I mean, I helped them if it appeared that they were having a hard time with a door or stairs or something like that, but I really had no idea how difficult things like stairs can be. I guess what I am saying is, when I can finally hang these crutches up, it will be in a place where I can see them to remind me of all the things I've mentioned. Furthermore, while I will still be a frustrated cyclist for a little while longer, hopefully I will be a more grateful person forever.
Until next time
Floyd