Recently on Cyclingnews.com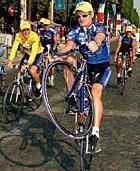 Floyd in action
Photo: © AFP
Hangin' In There: The Floyd Landis Journal
During last year's Tour de France, Cyclingnews welcomed Floyd Landis as a reporter. The talented, gutsy, 26 year old former mountain biker had ridden his way to a start in the Tour as a key part of Lance Armstrong's USPS squad, and Landis went on to distinguish himself as an important member of the now legendary "Blue Train" at Le Tour. Floyd also endeared himself to Cyclingnews readers for his unique take on an American rookie's life in the Tour De France peloton.
In 2003, Cyclingnews is pleased to announce the return of Floyd with his exclusive journal "Hangin' In There."
Couch Potato Time
February 4, 2003
In the few weeks that have passed since my last entry, I've spent an inordinate amount of time on my couch. My days are all exactly the same. I watch the beautiful sunny days come and go and I watch my fitness just go. There have been, however, a few better days there when several hundred of you Floyd Landis Diary readers have sent me encouraging emails and stories of how you got injured. I have to tell you that after reading some of your accounts, I feel a lot smarter than I used to. Yes, I no longer feel like the pathetic story of my crash, (which, according to some people, I've simply fabricated) is really that pathetic.
So now I'm changing my story to match the favorite one that was sent to me by Floyd Landis Diary readers. I won't mention any names to protect the innocent, although the innocent in question should stay away from bicycles in the future - and anything else that moves for that matter. This fella actually fell asleep while riding his bike, thus causing him to crash. I'm not sure which is harder for me to understand, falling asleep on your bike or the fact that you are willing to admit it to anyone and expect them to believe it! At least my sand story is somewhat believable. No, really, thank you all for the stories and encouragement, I wish I had time to write back to all of you (I'm just not a fast enough typist) but I hope this is acceptable as a thank you.
On a slightly more serious note, the time has been passing rather quickly, since I have started physical therapy and I have been cleared by the doc to ride my trainer with two legs. I honestly can not remember the last time I wanted so badly to ride my bike. It didn't help that I had to go to the US Postal Service training camp for a few days for the press day and photo shoot. It was painful for me to watch as everyone just rode away and I had to sit there with my crutches. I guess from now on, I'll appreciate more what I had taken for granted, things like riding my bike outside, walking, and just moving my right leg. It is hard to believe how, after not using my leg for a few weeks, it has become so useless. Things I have never considered as exercise now require my 100 percent focus and effort. For example, trying to get into the car or into bed or just trying to move around in bed has become impossible without the help of my arms to move my useless limb. But (and this is the part that could cause marital problems) I can pedal my bicycle just fine with no pain whatsoever, leading my wife to believe that I should also be able to clean up after myself. Please feel free to send me advice on this subject if any of you have some good explanations I can give to her.
Later this week, I'm going to see the orthopedic surgeon for more x-rays. This will be the first indication, other than the pain being gone, that things are healing correctly and at a normal rate. If there has been proper healing, I'll be allowed to train harder and I suppose for several hours at a time, but if it is progressing slowly I will have to delay that for a few more weeks. Either that or I will completely ignore him and go get a second opinion because I can't sit here on the couch all day any longer without at the very least making my wife crazy. Actually, fact is, I couldn't have asked for more support from my wife Amber. She has been doing the work of two parents while I have been doing the sleeping of three. Please feel free to send her some encouragement in your emails; maybe it will make things easier on her.
Until next time
Floyd
Click here to send Floyd a get-well message