Recently on Cyclingnews.com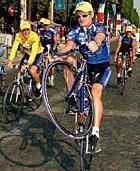 Floyd in action
Photo: © AFP
Hangin' In There: The Floyd Landis Journal
During last year's Tour de France, Cyclingnews welcomed Floyd Landis as a reporter. The talented, gutsy, 26 year old former mountain biker had ridden his way to a start in the Tour as a key part of Lance Armstrong's USPS squad, and Landis went on to distinguish himself as an important member of the now legendary "Blue Train" at Le Tour. Floyd also endeared himself to Cyclingnews readers for his unique take on an American rookie's life in the Tour De France peloton.
In 2003, Cyclingnews is pleased to announce the return of Floyd with his exclusive journal "Hangin' In There."
Dauphine Undaunted
June 7, 2003
Hi Cyclingnews Readers,
Well, the start of the Dauphiné Libéré is only one day away, so considering that races don't get much harder than that, I am about to find out just how my fitness is compared to last year at this time. I've done all I can to this point but I am still a little anxious about being competitive in the big mountains. For the last ten days since the Tour of Belgium ended, I have continued to do long hard training rides with as much climbing as I can manage. In the last seven days I've done about 1000 km including plenty of 20 km climbs, trying to force my body back to the form I'll need if I'm going to do the Tour de France.
But some things just take time and cannot be rushed, and as much as I hope to race in the Tour de France again, I will soon know whether or not all these hip issues were just too much of a setback for me to be ready in time. At this point, as much as I want to believe that determination and will-power can make up for the lost training, I am also a realist and I am prepared to watch the Tour de France from my couch if that is what is to happen.
In a few weeks I will know for sure, but in the mean time the Dauphiné will be a good test, so look for a detailed diary from me after the finish next Sunday.
Until That Time
Floyd