An interview with Steffen Wesemann
Getting back in the pink
By Kathie Stove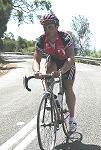 Photo: © Marcus Brownlow
Steffen Wesemann
Born: March 11, 1971 in Wolmirstedt
Nationality: German
Residence: Kuettigen (Switzerland)
Height: 1.73m
Weight: 72kg
Marital status: Married
Professional since: 1993
Teams: Telekom (since 1993)
Selected palmares
2001
3rd Ghent-Wevelgem
7th Paris-Roubaix
2000
1st stage Tour Down Under
9th Ghent-Wevelgem
9th Paris-Roubaix
1st Tour round Cologne
1st GP Gippingen
1st 2 stages Peace Race
1999
1st Peace Race
1st 4 stages Peace Race
1997
1st Peace Race
2nd GP William Tell
1996
1st Peace Race
1st stage Tour Rhineland-Pfalz

1995
1st sprint classification Vuelta a Espa–a
1993
1st stage Setmana Catalana
1st stage Tour de l'Avenir
1992
1st Peace Race
In what has become an annual sojourn, Team Telekom rider Steffen Wesemann has spent December, with wife Caroline and daughter Svena, in Adelaide training for the Tour Down Under and the season ahead. Under the guidance of his coach, Thomas Schediwie, Steffen has been riding around the Adelaide Hills on roads he would now know better than most locals.
Steffen was part of the Telekom team that came to the first Tour Down Under in 1999 and he liked what he saw.
"You have to train in December anywhere and in Switzerland it's impossible," Steffen said.
"A lot of the riders go to South Africa. Before we would go to California; there were four or five riders for four or five years. Then the Tour Down Under started and I don't like too much travelling so if you travel to South Africa and then go home for Christmas and then come here you lose two or three days in the plane. So we, the family, thought why not come for Christmas and New Year to South Australia. We started a friendship with David MacFarlane who organised the Tour Down Under the first and second time, and everything here was organised so well.
"So now we feel like it's a second home here with the family. We have thought about buying a house here but it's too far away. I like to be here. We have friends here now and we know where everything is. It's a very nice area for training. This year it's a bit cold but you can train anyway. Last year it was very hot and this year I didn't bring warm clothes with me. I like it hot."
Training above Adelaide
Photo: © Marcus Brownlow
On paper the Telekom team for TDU 2002 appears to be a strong one but Steffen said that the European riders have the disadvantage of being at the start of their season.
"From the names yes it's strong: Kloeden, Heppner, Hondo, Julich, Bartko, but we have different training so I don't know what their condition is like," Steffen said.
"The European riders do a lot of base training now and the Australian riders are racing in National Championships and a lot of races. It's a different season. It makes a lot of difference having raced three or four long races and a few criteriums; it puts you in totally different condition for attack and so on. We can't go into our first race and attack and attack, it's not possible. But with every race you get better and better."
The Telekom team also includes the neo-professional David Kopp who is an exciting prospect.
"Yes but it's a big step over to the professionals. It's a totally different race from amateurs to professionals. They think OK I can go with them but then they have their first races. I've seen young riders sleeping in their race clothes totally exhausted."
Being originally East German Steffen benefited from the political drive to have the country succeed at Olympic sports but the reason he chose cycling was more personal. "It's a family problem. My father's a rider too. He went to the Olympic Games in 1968 and 1972, Mexico and Munich. So cycling has a history in my family. I started to play soccer and sometimes I watched bike riding, the Friendship [Peace] Race, every East German race and if it's possible the Tour de France, and I said OK I want to start cycling.
Though they were cut off from most European racing, contesting the Peace Race -- the 'Tour de France of the East' that takes in Poland, Czechoslovakia and Germany -- was an inspiration to many Eastern riders and it is the race at which Steffen has had the most success, winning it four times.
More hill reps
Photo: © Marcus Brownlow
"My father came second in the prologue one year. So it was important for me to start in it. In 1992 I won it the first time as an amateur and then I won it three times more as a professional. When I started cycling I wanted to beat my father, so I think that's happened."
Steffen's entire professional career has been spent with Telekom and he said that he is happy there.
"Every team has problems some time but everything is very well organised, the staff, the bikes, everything is perfect. The money comes at the end of the month, every month, and in every team it is not always so, you know the stories of Linda McCartney and Mercury this year. Telekom is a big company and so you are sure to get your money. That's important, especially if you have a family."
The 220km that Steffen had ridden the day before we spoke ("It's a long way even for me") is a good indication of his determination to put a less than successful 2001 behind him. His standards are high as his record shows.
Coach Thomas keeps pace
Photo: © Marcus Brownlow
"In my first year as a professional I won two stages in stage races, one in the Setmana Catalana and one in the Tour de l'Avenir. And every year small victories, maybe one or two years without. And this year I didn't win a race. My best year was 2000: I won Tour of Cologne, GP Gippingen and I had a lot of good results in Paris-Roubaix, in Flanders.
"But this year I was very late with my condition because I broke my collarbone in the Tour de France in 2000 and had two operations. So then I started my training later and came into very good condition very late, just for Flanders and Ghent-Wevelgem."
Then came Paris-Roubaix where Steffen rode to an inspiring seventh place, the last of the lead group. True, everyone had to deal with the appalling conditions and spare wheels were in constant demand. But a broken cleat meant that Steffen could not lock onto one pedal and virtually rode on one leg for about 70 km, falling behind on each cobbled section and then catching the leaders again on the bitumen. I couldn't help but ask why, with the added problem of four Domo riders in the lead group, he didn't pack it in.
Paris-Roubaix
Photo: © Cyclingnews
"I trained very hard and wanted to be in the race when it came to the finish and I had two situations: I could stop the race or I could fight and I thought OK I fight. You don't know what is going to happen. There were the four Domos and that was a bad situation but you never know what happens in Paris-Roubaix. Maybe one of them gets a puncture or a chain breaks and then there are three; maybe one runs out of condition and then there's just two and it's better. But when you start in Paris-Roubaix you are sure that Domo is a very, very strong team."
The effort cost him dearly: the severely inflamed tendon caused by the one-sided riding kept him out of training.
"I had to have a break of three weeks. And in the middle of the season having three weeks out I was totally out of condition. I came back in the Midi Libre, just for training; I didn't do the last stage. But I did the Tour of Germany and I wasn't so good but did my work for the team. In the Tour of Switzerland I did much better. So then I was nominated for the Tour de France and did a lot of training rides."
Steffen explained the disappointing team time trial result for Telekom in terms of team tactics.
"Guerini and Livingston are not so good time triallers so we started a little bit slow, I think, and after we set up maybe we can go a little bit faster. But you never know, if you start slow you never get your rhythm so you don't come back. If you start faster maybe you lose two of the main guys for the hills. So it's a compromise."
A well-earned rest
Photo: © Marcus Brownlow
Steffen said that he felt good in the Tour. He survived Stage 10 -- on the Madelaine he had two flat tyres, an incorrectly replaced rear wheel and damaged brake pads, lost touch with the front group, and then suffered the indignity of having to carry his own wet weather gear in a bag over his shoulder towards the summit (on a beautifully sunny day) -- only to withdraw in Stage 13.
"I got stomach problems, a bacterial problem, you can't eat, you can't sleep, you can drink nothing. And then one of the hardest stages in the Pyrenees. So then I think 'times up' and get off my bike after 45 minutes. With a team like Telekom, with Ullrich and Zabel -- to not be with them in Paris it's not so good."
After his never-say-die effort in his personal 'hell of the north', you just know that he had to have been a very sick boy.
For 2002, Steffen plans to spend time in Spain after he leaves Australia, contesting the Mallorca Challenge and Ruta del Sol. Then, with any luck, be back in the pink for a much more successful spring and summer campaign than the last.