An interview with Servais Knaven
Roubaix, Domo & the Tour
By Kathie Stove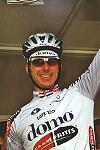 Photo: © Bert Geerts
Servais Knaven
Born: March 6, 1971 in Lobith (Netherlands)
Nationality: Dutch
Residence: Meerle (Belgium)
Height: 1.78m
Weight: 68.0kg
Marital status: Married to Natascha, daughter Britt born 29 July 2000
Professional since: 1994
Teams
1994-1998 TVM
1999 TVM-Farm Frites
2000 Farm Frites
2001-2002 Domo-Farm Frites
Selected palmares
2001
1st Paris-Roubaix
3rd stage 8 Tour de France
4th stage 2 Tour de France
4th Tour of Denmark (2.2)
6th prologue Tour of Switzerland (HC)
2000
1st Guldensporentweedaagse (2.4)
1st stage 1 Guldensporentweedaagse (2.4)
3rd Circuit Het Volk (1.1)
4th stage 6 Tour de France
5th GP Eddy Merckx (1.2) with Peter Van Petegem
7th stage 18 Giro d'Italia
10th prologue Giro d'Italia
12th Paris-Roubaix (CM)
1999
1st Delta Profronde (1.2)
2nd prologue Tour of Sweden (2.4)
4th stage 3 Vuelta a Espana
4th stage 2 Tour of Burgos (2.1)
7th Circuit Het Volk (1.1)
8th GP Eddy Merckx (1.1) with Peter Van Petegem
1998
1st GP de l'Escaut (1.1)
1st stage 1 l'Étoile de Bessèges (2.4)
3rd stage 3 Three Days of La Panne (2.2)
5th GP de l'E3 (1.1)
6th Tour of Netherlands (2.1)
8th Circuit Het Volk (1.1)
8th GP Eddy Merckx (1.1) with Peter Van Petegem
9th stage 9 Vuelta a Espana
10th Tirreno-Adriatico (HC)
1997
1st Tour of Denmark (2.3)
2nd stage 3 Tour of Denmark (2.3)
8th stage 19 Tour de France
8th Tour of Netherlands (2.1)
1995
Netherlands National Road Champion
It seemed as though Servais Knaven burst on to the scene with his stunning victory in Paris-Roubaix last year. But this determined and talented rider has been working towards such a victory since he first started riding at seven years of age. Servais rode as an amateur for four years, a period he capped off with a trip to the Commonwealth Cycle Classic and a race in Hawaii in 1993 before turning professional. Since then he has stayed with the same team, through its several iterations, and steadily improved each year.
Cyclingnews: Can we start with how you got into cycling?
Servais Knaven: I started when I was seven years. In the little town where I lived, Lobith near the border with Germany, they started a new road cycling team and I went along to training one time and since then I never stopped. It was in 1978 at the end of the year that I started racing.
I was 22 when I started my professional career. I was 4 years amateur. Since the juniors I combined the road and on the track until 92 with the Olympics in Barcelona after that I stopped the track cycling.
CN: What did you ride in the Olympics?
SK: I rode individual pursuit and teams pursuit. In the individual I was ninth and the team was bad, twelfth. The year before I was fifth in the individual and we were sixth as a team in the world championships in Stuttgart so that was quite good. I was a bit disappointed in the Olympics but it was nice experience to be there. I was 21. It was the first time, everything is new. Nice memories.
CN: Your stand out victory has been Paris-Roubaix last year. What do you attribute the victory to?
SK: Every year I am riding good and every year it is going better and better. Everybody was saying at one time you will be the best, you will be the winner. And I'm thinking, no it's not for me, I'm not going to win. But then you win and then you think a lot of people were saying it before and I never believed them.
I had to do a lot of work for my team mates especially but in the last 80km I could slow down a little because Peeters was in front and it was very good for me I saved energy and had something more at the end. It's not that I'm 20 percent better than the year before it's just a little bit and all things went good for me that day. I had a very good day also, that's very important.
Maybe the general public doesn't know me but the real insiders know who I am and what I can do. So many people sent emails to me it's incredible and then you see how many people are watching you, watching cycling. It's very nice. For me it's also a turning point in my career.
This winter I trained to win another big race this year. It's a little bit different than the years before. Then I thought maybe I can be in the top five in a big race and now I think I'd like to win another one.
It's not that I've changed: if I have to ride for Museeuw or Vainsteins then I do it with the same spirit as before. But maybe it's changed in that I have a little more freedom.
CN: Would you be a leader in some races?
SK: I don't know; I'm not a real leader I think. Maybe you have to grow into it, as you get older. But I think we have a leader with Museeuw and also Vainsteins. For me it's best to just be behind them with my own race. If I don't have to give my wheels to other riders in the final then it's OK I can choose my own race and I'm at my best.
CN: Has being in a team with champions like Museeuw and Vainsteins been a help to you?
Winning Roubaix
Photo: © Credit
SK: Yes. Last year Paris-Roubaix was the best situation for me. We had Museeuw, Vainsteins and Peeters who was the whole day in the front. We had two of the six best riders of the race in the same team that I was. It's the best you can have. But you have to do it on your own, you have to do it in the end.
After the first pave we were with six and Johan was not there and two or three sections later he came back and it was very good for my morale when I saw him. It's very good for your mind and your morale. It's a dream to share with Museeuw, he's won the race twice. If you're a team member and you're with him in the break it's a special feeling and you gain something extra. You can do maybe 110 percent.
CN: I believe that you did some cyclocross training in the winter before that race.
In last year's E3
Photo: © Bert Geerts
SK: I do it every winter. In Holland it's always cold in the winter and sometimes raining or snowing so you can't train on the roads. Some guys do mountain bike but I prefer cyclocross because it's the same position and if it's raining and in the dirt like Paris-Roubaix then you have a little bit more feeling with your bike. It's good training, not only for Paris-Roubaix but for all racing.
CN: Your wife is a cyclocross rider, isn't she?
SK: Yes she was four or five times national champion but then it was still small only in the Netherlands and now its international and growing but she's stopped now she's a mother. My daughter is one year five months.
CN: In the Tour de France you were in the breakaway on stage 8 that finished 35 minutes ahead, Dekker won and you came third. That was a strange day wasn't it?
TdF 2001, stage 8
Photo: © AFP
SK: It was a strange day. I didn't expect there to be that much difference. Before the stage I think today is a mass sprint, but then Dierckxsens he attacked I think and we went away with the break. I had a good day also but Dekker he was a little bit better. But it was a strange day also because normally in the Tour it's never that cold; sometimes it's raining in the Tour but it's 15 or 20 degrees, but that day it was 5 or 6; everybody was freezing. I didn't take the warm gloves. I thought it's not that cold but then at the end it was so cold it was hard to use the brakes. That was something new for me in the Tour de France. If it happened in March or April in the Classics it's normal, but in July… I also was fourth into Antwerp. I had a good Tour and the year before I had good results in the Tour. As I said it's not been all at once. Sometimes you need a little bit of luck.
CN: Would you say it wasn't the best year for Domo?
SK: That was the first year so it was the best year.
CN: Good point but probably not as good as they expected it to be for the first year.
SK: Yes the people expected more. Within the team, from the results at the end of the year they were satisfied. If you asked after the Tour they would say, it's not as good as we hoped it would be. But then we won a stage in the Vuelta and won Paris-Tours so we had a good end of the season. In the beginning it was hard, a new team and you don't know each other well. I don't know what Vainsteins expected from me or Museeuw and you have to learn what to do for each other. But then the end of the year it was going better and better. I think this year it will be good from the start.
CN: How is your form now and how do you think you'll go in the Tour Down Under?
Roubaix mudpack
Photo: © AFP
SK: I think my form is quite good but for me the most important months are March and April. I stopped early last season, my last race was Paris-Brussels [September 15]. And that's why I've come here because it's too long to just train, for four months now. So I want to start early in the season. I'm not going for the general classification. The Australian riders have had many races and I think the National Championships this weekend. So their form is top. I think it's very hard for us to be as good as they are now. The season is long. But I like to be here, I think it's a very nice race, that's why I come here also, the weather is good, good training. If I feel good I choose one or two days to have a good result. That's what I train for this winter to win some races; if you can win here it's a good start.
CN: Your team has five new members, in particular Virenque and Vandenbroucke. What are the team's plans for the year?
SK: Virenque for the Tour and Vandenbroucke is another story. He has to come back from zero. The question is how long is it going to take. Maybe he's good in April but it also could be in September. But I heard, I don't know for sure, that the Vuelta is his goal for this year, I don't think the Tour, it's a little bit too much. Yes Virenque for the Tour and we have Blijlevens for the sprints in the Tour. I think the team is stronger than last year.
CN: Is there a confidence in the team with these new riders?
Kissing the Roubaix stone
Photo: © AFP
SK: I think so yes. Over winter we were only together once with the whole team and Vandenbroucke and Virenque, and everything was good, a good atmosphere. I didn't hear people complaining about it. I think it's good for the team to have strong riders like Virenque. Last year he won Paris-Tours and I think for the Tour de France he is very important. Maybe he can win the mountain jersey and maybe a mountain stage.
I didn't ride with Virenque but I heard that he was very serious and very motivated, and he was also very good also for the atmosphere in the team, the morale. When everybody was a little bit down after a hard stage he brought back morale into the team. He's like a real leader.