An interview with Scott Sunderland, Team EDS-fakta
Team talk, Commonwealth Games, Aussies in Italy, and Tchmil
After an injury and sickness filled first half of the season, Scott Sunderland is back on track and refocusing for summer and the second half of the year. Cyclingnews spoke to him about the progress of his team EDS-fakta, recent Commonwealth Games selection, the performance of the Australians in the Giro d'Italia and the retirement of Andrei Tchmil.
By Jeff Jones
A bad start
Photo: © Tom Balks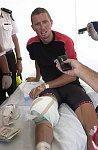 Australia's most experienced pro, Scott Sunderland, has not exactly had a dream start to his 2002 season. After a perfect winter preparation, an unlucky crash in the Tour Down Under in January put paid to his spring classics season, injuring his knee, breaking his leg and having to spend a solid 10 weeks of rehabilitation before he was able to race again. He was back in action for the Brabantse Pijl at the end of March, but it took another month and some biomechanical correction before he fully overcame the problem.
So he was almost back to square one when he raced the Circuit des Mines (April 26-May 1), after which he picked up a stomach bug which put paid to his chances in the Four Days of Dunkirk (May 8-12). Since then, things have gone a little better, with him playing a valuable role in ensuring EDS-fakta's success in the Tour of Luxembourg (May 30-June 2).
Swedish champion Marcus Ljungqvist won the tour overall, after an impressive solo breakaway in stage 2 where he ended up with 2'55 on the peloton. "He had a very big day," Sunderland tells Cyclingnews from his home in Zottegem, Belgium. "But with Jørgen Bo Petersen, Lennie Kristensen and Kurt-Asle Arvesen, we could have easily blown it up with six in the leading group of 25-30 the next day."
With Marcus having such a commanding lead coming into stage three, the tactics were simple. "We rode after everything for 60 km. Then there was a steep climb followed by laps of a circuit. On the laps, we figured Marcus cold only lose a minute maximum. If he went really really badly he would lose a minute in the TT - that meant he still had a minute's lead."
It worked out better than that, as "going over the climbs, we were still first to eighth . We came onto the laps and there was an attack by Corey Sweet (Batavus) and Lennie Kristensen went with him. Those two stayed away with Corey getting the win, and we finished up with three riders in the top 10 on GC, won the Mountain Jersey and the Team's Classification."
Marcus Ljungqvist Photo: © Frank Rud Jensen
The race was classed 2.2, meaning that EDS-fakta picked up a nice swag of UCI points to increase their lead at the top of the second division. If they maintain their spot as looks probable, then they earn the right for an automatic upgrade to division I. That will mean an increase in their team roster to either 20 or 21, depending on how the negotiations go.
"We should be automatic [for Division I]. We want to make sure we're the top second division team at the end of this season. We're talking to some very good riders - we'll pick up six riders, increasing our points total." To this end, the team will keep most of its roster and try and add a few good Belgian and/or Dutch riders, with a good sprinter a desirable addition.
As for their performance this year compared to last, Sunderland points to the riders being better organised and having gained experience. "You see Kurt and Marcus now - they've moved to Luxembourg. They realise they can't go back and forth to Sweden and Norway all the time. Now they're in a working environment and they don't have to travel as much. They're not leaving their condition on the roads travelling. Everybody's working better as a team."
"I think we can still make some more results before the nationals, where these guys are going to pick up some more points. The Postgirot, Tour of Austria...We'll have four guys there - two for sure who can get top 15. Now we should start to really consolidate our number one place in second division."
For next year, the EDS-fakta team is aiming for the classics and the World Cup Races. Options will be open for a three week Tour but EDS-fakta does not want to bite off more than they can chew in their first year in first division and will keep to their plan of not over racing their riders. Instead of racing two heavy programs concurrently, it will stick to an easier one and a hard one, just in case some riders get sick or injured. "Teams get too greedy chasing all the big races," notes Sunderland.
The Commonwealth Games
Photo © EDS-fakta

When the Australian team for the Commonwealth Games was announced on Monday, June 3, there was one notable absentee: Scott Sunderland. However, unlike the Olympic Games, Sunderland is not too concerned. He's been named as the 'official reserve', "It's the first time we've had reserves," he laughs. "Cycling Australia had to put it to the Commonwealth Games board. With cycling it's too hard with everybody being pro now. We know how quickly it changes."
"For me that's ok but I think now this year I've come back and had time to do a lot of different things. I'm slowly figuring out what's going to happen after my career as a cyclist. I'm not sure about the Commonwealth Games anymore. I've had a bit of a change of heart concerning that. Besides that, the Team probably will ride the HEW Cyclassics on August 4, which will clash with the road race. If I'm going to be good that week, in some ways it would be better for me to be in Germany. It's been made clear to me that a podium place in HEW Cyclassics certainly would be more beneficial to my European cycling career than a medal at the Commonwealth Games."
"I'm happy to be reserve . If I do get to go then it'd be great. If I don't go, too bad. EDS-fakta would much rather have it for me to be in Germany, and they're the ones who're paying the bills."
"I appreciate Shayne Bannan (Australian selector) calling me after the selection was decided . I think the selection criteria were fine. I don't think CA can do anything else, given the situation of Australia being that far away. We're here, they're there. I won't be appealing against the selection. For the same money, if I'd won another race last year in April, with those few extra UCI points, I would have been an automatic selection, broken leg or not; quite ironic."
"Everything I do now is building up for the rest of the season. I've got a five day race in Austria at the beginning of July [UNIQA Classic], then two one day races about a week later, then the Sachsen Tour which is six days. That finishes the weekend before the Commonwealth Games/HEW Cyclassics."
"July is not just sitting around drinking beers on the terrace. My lead up for August is good. The amount I improved between Bayern and Luxembourg was great. In the Tour of Austria [June 10-16] there's no stress. If I'm feeling good then I'll give it some welly. If not, no drama."
Australians in the Giro
Cadel Evans
Photo: © Sirotti

Bad start
Photo: © Tom Balks/CN
The Giro d'Italia was certainly a success story for the Australians, with two stage wins to Robbie McEwen (Lotto-Adecco), the maglia rosa and some very impressive riding by Cadel Evans (Mapei-Quick Step) and some good bunch sprinting by Graeme Brown (Panaria).
On Cadel Evans: "He's very gutsy - he's that type of person. It's full on, nothing that's spontaneous, nothing relaxed. He's calculated and very meticulous, like [Chris] Boardman. He put in a big effort - If anything, it will make him stronger than if he got 2nd or 3rd in GC."
"He deserves everything he's got. He's very professional in his lifestyle, has got himself in the right team who can teach him everything. In the coming years, maybe we'll see a yellow jersey in second or third week of the Tour."
On Robbie McEwen: "He's ridden very well, as was expected of him. In this Giro, there were Cipollini and McEwen: Cipo always takes the bull by the horns, and has a team of riders to win. Robbie rides from behind. Cipo initiates the sprints, much like Zabel. It just depends who can get his wheel, hold it and get past him."
On stage 10, where he finished four bike lengths in front of Fabrizio Guidi on an uphill, cobbled finish: "This one was a great win for Robbie. It was impressive, he was very strong on the cobbles."
On Graeme Brown (Panaria), who was second in stage 1. "It was very interesting to see Brownie, his ability to position himself in the bunch sprints was great, looked like he's been riding with the pro's for years. I think his confrontations with Mc Ewen in the Bay Series in Australia has brought him some valuable experience. He wasn't 100% going into the Giro, and not totally prepared. He still had a bit of an Achilles problem. But he had just enough results for him to get himself noticed by many here in Europe as a very talented young sprinter and to give him the satisfaction that he'd performed well."
The retirement of Andrei Tchmil
Andrei Tchmil
Photo: © Naco Furusawa

Andrei Tchmil's retirement surprised more than a few people, although we knew it would come eventually. Most got the impression that he was pushed, rather than asked to retire by Lotto-Adecco team manager Christophe Sercu. Tchmil had intended to stop after the spring classics, but a crash in the Three Days of De Panne prevented him from even starting in them.
He came back at the end of April, and indicated that he would like to ride right through until the World Championships. For that, he asked for 125,000 euros (approximately half his normal salary) but Sercu didn't agree. So Tchmil decided to end it during the Tour of Belgium: after winning stage 3 he called a quick press conference to announce his retirement, effective immediately. One of the great classics riders of the last decade was suddenly gone from the sport.
Scott Sunderland remembers when Tchmil, of Moldavian origin and Russian training, first came to Belgium. "I still remember when he came here and was with SEFB (a Belgian Kermesse team). He rode some pretty good races, got a contract with Patrick Lefevre and GB. That's where he started locking horns with Johan Museeuw and Wilfried Peeters. He made his move there at the end of '93 but he didn't want to work for anybody else, having the old Russian mentality still. Then he went to Lotto and the rest is history. As a person, being here in Belgium for that long, riding with riders with a different mentality, he has changed a lot."
"In the last two years, Andrei certainly hasn't done badly, although Sercu was reported saying to the Belgian press that Lotto didn't need Tchmil anymore to secure success over the last two seasons. I know that statement infuriated a lot of people. Tchmil almost was World Champion in 2000. Every year he'd bring 1000 UCI points to the team and a huge amount of exposure. In all the classics he was always at the front, always in view of the camera. Even in the second half of the year, for Zurich, San Sebastian, Paris-Tours...For 6-7 years he's carried Lotto on his back.
"I was there in 1995-96 with Wilfried Nelissen. Wilfried couldn't touch Andrei for his consistency. Nothing like it. I'm not putting Wilfried down at all but they're just two different riders."
On Andrei as a person, Scott recalls how driven he was. One comment stands out: "I could be fighting in the Middle East," said Andrei. "If I go back there I could be shot for $200. I can stay here, do everything for my sport, make a living for myself."
Scott continues: "He didn't hesitate - he took Belgian nationality. Everything he's done has been for his family. He's very close to them."
"Sometimes he's a bit brash with journalists, but he's a great ambassador for cycling, in the classics and so on. He's from a different background. He looks at things from a different angle from other people. Most of the former Eastern Bloc riders look at things that way. He's been very consistent in his results, not like some other guys who fly in and fly out."
Is there too much importance placed on getting good results in cycling, when the real aim is getting exposure for the sponsors? These two things are related, but not inextricably so.
"It comes down to you're only as good as last race," says Sunderland. "Even with Museeuw, who says to journalists now 'you quickly forget how good I've been. I have to be winning World Cup races before you're happy!'"
"I think it's undeserved for Andrei given the circumstances. I'm sure he would have been in that front group in Flanders, and in Paris-Roubaix, he was really geed for that. He would have been in his element with the weather. If he had some luck, not too many falls or punctures, then everything could have changed. Andrei would have been driving himself all winter for those races."
"They [Lotto-Adecco team management] had enough time - they knew what he wanted, what he deserved to be paid, also out of respect for his achievements. That's why it all sounds so pitiful."
Sunderland family
Photo © Bikestyle

That's the situation at the moment, but many feel that Tchmil is not done with cycling yet. Who knows, we may see him back in a different capacity next year, like his contemporaries, Franco Ballerini (Italian technical director) or Wilfried Peeters (Domo director sportif).
As for Scott, he will have a few more things on his plate by the end of the year, with his wife Sabine expecting their second child in August. That combined with the likely responsibility of leading team EDS-fakta into the first division will ensure that life is never quiet in the Sunderland household.