An interview with Mike Giraud, Equipe Rona Mechanic
Wrenching for Rona
By Jonathan Devich
Come in to my trailer...
Photo: © Jon Devich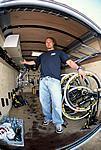 Mike Giraud is the mechanic for the Rona cycling team, the team of one of the strongest riders in women's cycling Genevieve Jeanson. Drew has been the team mechanic since the forming of the team in 2001. I had a chance to catch up with him a couple weeks before he and the team headed off to the Tour of the Gila [link!]. We talked about how he got started as a mechanic, began his relationship with the Rona team and how it is to wrench for Jeanson.
Cyclingnews: How long ago and how did you get started as a mechanic?
Mike Giraud: I've been a mechanic of when form or another for about 15 years. A lot of that time was spent in the motorcycle industry. My first job when I was 14 was as a bicycle mechanic at a small shop in NJ. Then I worked at a motorcycle dealership for a while which lead into a machine and fabrication shop that specialized in building racing motorcycle. I worked with a few professional teams; going to national events and being part of the crew. I also raced bicycles for about 6 years.
CN: So how did you meet the Rona team?
Coach André hands out the radios
Photo: © Jon Devich
MD: I was at Fitchburg and saw Genevieve at the TT. My sister and I picked her to cheer for and she ended up doing really well. A few weeks later I saw her break the record at the Mt. Washington Hill Climb. That winter I came out to Arizona and was working at Landis Cyclery in Scottsdale and one day in walks Genevieve and André (Aubut, team manager and coach), they had come out to train. I introduced myself and we ended up going out riding together a few teams. Through the next year we stayed in contact while they were gone racing for the summer.
CN: How did you end up becoming their mechanic?
Happy after winning
Photo: © Jon Devich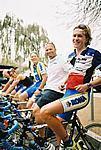 MD: Well they came back for the 2002/2001 winter and the team was formed. They were heading out to do Redlands and needed a mechanic. They asked me if I would be able to help them out. I wasn't very motivated to race myself anymore and I was hoping this was a way to stay involved in the racing world and not have to train anymore. At Redlands I met the people from the Rona company and I knew that this was my opportunity to impress them and that a lot of mechanics don't get this kind of opportunity. After Redlands everyone was happy so I sat down with André and worked out a deal for the rest of the year.
CN: How many races did you go to last year?
MD: About 10 stage races. Not many one day events, usually a minimum of four days of racing and that added up to a lot of race days. This year we have a much heavier schedule.
CN: How many bikes do you have to take care of?
MD: This year we have a lot more equipment than last year. Our budget grew this year and we brought on some more equipment sponsors. We have 23 Colnago bikes and about 40 pairs of Mavic wheels. Everyone has two bikes this year, a home bike and a race bike. I also take care of the two cars and we have a trailer this year.
CN: What kind of repairs can you handle while out on the road?
MD: I can pretty much handle anything that can happen at a race. I've got enough spare parts to build three, probably four bikes. I have enough equipment and tools to do everything short of welding a frame back together. The trailer is my workshop and wheels. It's a night and day difference from last year when we only had the two cars and could only bring a minimum on the road.
CN: What's your typical race day like?
Morning ritual
Photo: © Jon Devich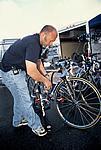 MD: Typically I'm up at 6:30 and getting things taken care of. I make sure the cars are clean and tires are pumped up, stuff that might not have gotten done the night before. Then I leave for the race before everyone else so that I can set up camp in a good spot. Prime parking is important. Little things are important like where the bathrooms are, water hook up if you need it, electricity, the start/finish line and a good place to show off sponsors equipment or logo. I get the bikes on trainers, get the tent up and make sure everything is ready to go. If there is a caravan I get in line and sit and wait for the start. During the race I hopefully don't have to do anything. If I do it's because of a crash or a flat but generally everything should go smooth at this point.
After the race I get the bikes back and get them on the trainers or ready to do a cool down ride. Then I pack everything else up and get back to the hotel. At this point I get ready for the next day. Any repairs are done; the bikes are all gone through. The more time I spend making sure the bikes are as perfect as they can be, the less chance there is for me to have to do something in the car the next day.
CN: What's been your most stressful race day situation?
MD: I really haven't had too many. Rainy days I am a bit more on edge. If I know the course is slick and there are some tight turns I'm antsy because I'm anticipating something to go wrong. I try to not get stressed over things though because then you don't think very well. And I don't want the riders to see that I'm worried about something or stressed because if I'm calm then it calms them down.
CN: What's it like working with Genevieve?
Warming up
Photo: © Jon Devich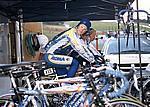 MD: She's great. She such a talent and for such a talent she's such a humble rider. She doesn't think she's better than anybody else. She is a really great person to be around and I appreciate the trust that she has in me to take care of her bikes.
CN: So she's not yelling at you when things aren't working?
MD: No, usually I have to drag it out of her when something doesn't work right. I tell her that I'm not riding the bike so she has to tell me what's up. She has total confidence in me telling her something's gonna work. It means a lot to me coming from her, it gives me confidence in what I'm doing.
CN: What races are you looking forward to this year?
Mike & bikes
Photo: © Jon Devich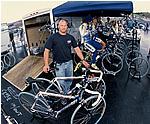 MD: I'm definitely looking forward to the time we'll spend in Europe. The Montreal World Cup will be great again this year too, especially if Genevieve wins like she did last year. I'm also looking forward to more team victories.
Mike and the Rona team have just finished racing at the Tour of the Gila where Jeanson won all but won stage to take the race by over 11 minutes. The next big race on the schedule will be the Montreal World Cup on June 2.