Profile: Martin Barras
Australian cycling's "new Charlie Walsh"
By Karen Forman
Where next for Australian track?
Martin Barras' goals
At the nationals
Photo: © Tom Balks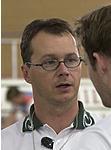 Australian track cycling is a "very good unit" to take into international races, and although this year's Manchester Commonwealth Games will be its toughest challenge, things are looking very good for the 2004 Athens Olympics.
Australia's new head track coach, Martin Barras, is aiming high - but he is under no illusions about the realities of the job ahead.
"We have a stated goal to be one of the top four countries on the track," he says.
"We have goal of winning one medal in each of the four categories - mens and womens track endurance and mens and womens sprint - with possible double medals in both mens and womens sprint events.
"But probably the toughest challenge will be the Commonwealth Games this year. We are going through a reorganisation of track endurance and rebuilding of our sprint unit. But if we are looking at 2004 there is no doubt we are aiming at high."
Asked which discipline Australia is stronger in, he says it would be fair to say right now it is stronger in sprint events..."for the foreseeable future."
"Again, this is one of the reasons we wanted to go to the decentralised model (see main story)," he says.
He says the team boasts a very good mixture of experience versus youth in the sprint ranks and a very solid feeding from the junior ranks.
"I have an understanding with my team that by conclusion people ought to be looking at us and saying this team is the best in the world. If I look at whose doing the business at the moment, it would be the French in terms of international sprint.
"So, we're aiming for the top, we're aiming for the French. We'd like to be in their shoes."
Barras says he has appreciated the strong support of the the staff of the AIS and the national team.
"That is very important," he says.
He types with two fingers and would rather talk on the phone than send an email. He prefers to be out on his bike than in the office. He is friendly and popular, softly spoken and polite, but gets picky if you pronounce his name wrong. He once dreamed of becoming a professional cyclist, but like the majority of us, found he just didn't have what it takes to make it in the elite peloton.
But he didn't leave it there. With his passion for cycling burning like a fire in his heart and preventing him from being truly happy doing anything else, he found another way to be involved with the sport. He became a coach. And still got to be involved at the highest level.
This is the personality behind the "new guy" leading the Australian gold medal charge at the upcoming Commonwealth and Olympic Games, a guy who is getting used to being called "the new Charlie Walsh".
"When my riders have got puke coming out of their ears, there is no point standing on the side of the track telling them to go harder."
We're talking about Martin (pronounced Martain - let's get it right from the start) Barras, the newly appointed head track coach for Australia. A somewhat brave man following in the footsteps of the most successful - but arguably the most controversial - national coach the country had ever seen.
A 40-year-old French Canadian born in Quebec, Barras first came to the attention of the Australian cycling community when he took the job of head coach of the West Australian Institute of Sport. He was the "nice guy" who came in and started to get some medals happening for the riders training in Perth, fighting to be heard due to their geographical isolation from the main cycling hubs of Sydney, Melbourne and Adelaide.
This year, however, home for Barras has become Adelaide with his Melbourne-born wife and two children, in a house not too far from the Australian Institute of Sport headquarters where he works (when he's not out on the bike with the teams, that is.)
He's been on the job for a couple of months now and is settling in well. Gossip filtering back to Melbourne from riders in his care has been all positive.
Riders give the thumbs-up
Fans
Photo: © Tom Balks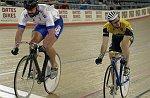 "Yeah, he's good," says world keirin champion Ryan Bayley, who has been looking a little leaner since returning to the AIS after the Christmas period. Sean Eadie agrees. "I think the new kind of training in Adelaide has suited me," he said after winning the 2002 Australian sprint championship in Sydney a fortnight ago. "I am more like Ryan and Jobie (Dajka) now . . . I have more power at the high end. Martin has a totally different system to what was there before. It's an approach of more quality rather than quantity. It's better to do a 10.4 than six 10.6s."
Barras says he has one, focussed goal: to give Australian track cycling everything he's got for the four years of his contract with the AIS and Cycling Australia. To win gold medals.
Nothing different from what his predecessor wanted, really. But that appears to be where the similarities end.
Barras says he's gotten used to wandering about the streets of the city and hearing locals calling him "the new Charlie" and asking him if he is the one "doing Charlie's job".
But he's the first to admit there aren't too many similarities between the two. Apart from their passion for the sport, that is. And their penchant for gold medals.
"As far as stepping into Charlie's shoes, well that is something I am reminded of daily in Adelaide," he says. "Charlie is as much a part of Adelaide as Adelaide is part of Charlie. Everyone knows him.
"Although essentially, it is Charlie's job, I try to explain to them, it's my job now, not Charlie's."
Stepping into Walsh's shoes
Listening
Photo: © Tom Balks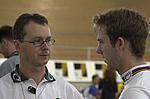 He concedes he was very conscious that he was stepping into some rather oversized shoes.
"It is a bit daunting, not as much because of the background but the job itself, the size of the job and the status of cycling internationally and domestically," Barras says. "Having worked for five years in Perth, coaching the likes of Lucy Tyler-Sharman and Darryn Hill (who both left the Walsh empire under controversial circumstances), I was very aware of the situation."
Barras says there is no way he is treating the position lightly. He describes it as "an important job".
"It is a four-year contract which finishes at the end of June, 2005," he explains. "The proper title is AIS/Cycling Australia senior track coach... it's a joint position now (it wasn't before), which I think is a great thing.
"In the past they were separate appointments. High performance would work with their budget and the AIS would work with their own budget. Now I am at the top, then you have Ian McKenzie the national track endurance coach, then the office staff."
As for riders: The national squad, he says, "evolves with events". Currently there are 11 AIS scholarship holders but he is looking at extending to the full capacity of 14 by the end of May.
"Plus we have just finished selection of the national squad of 22 after the national tracks," he says.
First change: decentralise track endurance
So what's he planning?
"My first move, the biggest one, will take a couple of years to see if it is successful," he says. "But basically it is about decentralising track endurance.
"It used to be centralised, basically one program run either here (at the AIS in Adelaide) or in Europe under the umbrella of AIS.
"When we sat down and looked at performance opportunities, it became obvious that we had a large quantity of qualified riders who had benefited from a decentralised system and were now having pro careers on the road," he said.
"We figured it was a very desirable model. Their professional careers keep them going and the longer you keep them, the better they become.
"It is important to develop track ability, but most important is developing a career in cycling for ourselves. We have been trying to organise for all riders who have had the experience but are now professionals to participate in our program, ready for the 2004 Olympics."
Bringing back the pros
"When we looked at the situation, it became clear to me and Australian Cycling head coach Shayne Bannan that this a perfect model for sustaining a performance model for the national team. It's a matter of keeping them in the pipeline... riders like Brad McGee, Graeme Brown... Stuart O'Grady has indicated a very strong interest...
"We're looking at Scott McGrory, the guys who did the team pursuit - we'd like to see Brett Lancaster staying involved... Even riders who have not had much to do with track for a long time. Matt White came to us, willing to put his hand up. I was extremely pleased and flattered that he was willing to give it a go."
The sprinters, however, are a different story.
"We've decided to run the sprinters on a model more closely based to centralised national team program because their situation and opportunities are very different," Barras says.
Rochelle Gilmore is a long-term prospect
Photo: © Tom Balks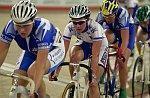 "There are no professional teams available for sprinters, so a centralised team becomes the main driving unit and in that sense we play a much more important role in the development of those riders. When you look at the development level - in the women our elite riders are essentially developmental riders, so we are in quite a fortunate situation because we can look at people who still have the opportunity of developing careers and over a long period of time, the likes of Rochelle Gilmore, Kate Bates and Alison Wright.
"In terms of the men, there are a few athletes out there, but there's no denying the flow at the elite level from the junior ranks has slowed to a trickle. This is a big concern for the post-2004 Olympics scenario. We believe we will be well supported up to then... but after that?"
What's the answer? Where to get the gold medallists of the future?
"We need to sit down with the State institutes of sport and the Australian Cycling Federation look at how we can bring those numbers up," Barras says. "Luckily a lot of them by their own volition have come to their own conclusions..."
So who is this guy planning to turn Australian track cycling administration upside down, shake it up and turn out champions at the other end? What are his qualifications? What's his experience? And why was he chosen for the top job?
The man behind the mask
"My West Australian name is Marvelous Marvin," Barras says with a chuckle. "It was inherited from my days in WA because nobody could say Martin properly.
"I know I am very picky about the way my name is pronounced, but the way I feel is that it was the one that I was baptised with and I like it to be pronounced properly. It wasn't until I first moved from a French-speaking environment to an English-speaking environment that I even realised it COULD be pronounced differently."
Barras was born in Quebec City in Quebec. He started cycling when he was 14 years old after seeing the Olympics in Montreal in 1976.
"I watched the track cycling, the sprinting in particular . . . obviously we didn't have many good Canadian bike riders, but one ended up with a silver in the sprint, which made a big impression on Quebecians in general. I was one of those people. I was 14 years old and looked at that and thought, 'wow, this is really exciting, I want to do this.'"
Quebec City is the bastion of French culture in North America, a small town at the side of the majestic St Laurence River where the main work is in government services. It has all the services of the big city, but no velodrome so Barras had to take to the road.
"Now Quebec City has up to 600,000 inhabitants and they got their first track last year, bought for 10 grand by a former team-mate. But back when I started, there was only a proper Olympic velodrome at Montreal, which was up till 1989. There was no real opportunity on track; the cycling scene in Quebec was traditionally on the road. So that's where I started."
From rider to coach
Outside of the sport, Barras wanted to be chemist and ended up studying economics to Masters level. He started working in the field and found he was "bored as hell".
By then, he was coaching cycling in a volunteer position at club level.
"I had dreamed of becoming a professional rider and made selection of a few Canadian national teams, but I never did the big races, the Olympics or the Worlds," he says. "It's funny, I had really big dreams until I went to Europe for the first time. Then it struck me, within a month that I couldn't do it. I was a mediocre roadie, I guess that's the best way to put it."
At the end of 1987 he was in line for, but missed out on the Canadian national team selections, which basically determined who would ride the 88 Olympics. Barras took a serious look at his situation.
"I didn't have a penny to my name, I had been working on my bloody masters for just about three years, so I thought, time to make a move, finish my masters, get an honest job and get on with it," he says.
"I had come from a good club, where the old retiring guys coached and put a lot back into the club, she when the club asked if I would like to coach some youngsters, it never dawned on me to say no. I got busy with that... and found my place," he says.
Formal training
Barras spent 1983-84 coaching women and under 17 teams while still racing himself, then in 1988 he started properly as road captain/coach with his own club.
At the end of that season, he completed his level one coaching certificate (in Canada there are five levels; in Australia, three).
He was offered a coaching job in June 1989 and moved to Alberta, where he remained for two years and completed his level two accreditation.
In September 1991 there was opening for him as the first cycling coach/student at the national coaching institute and he did a year of formal training there, which gave him his level three and four certificates, which he had completed by April 1992.
He also completed an international coaching course with what was then the international federation for amateur riders, in October 1990 in East Germany, and on the back of that did the federation's third degree coaching course in Paris. The follow year, he did what he calls the "proper coaching course" in Canada.
A passion for cycling
So if he had a Masters in economics - which could lead to jobs paying substantial wages - why did he give it all up to be a cycling coach?
"It's a passion about cycling," he explains. "I mean, I had been sitting on my arse in an office for hours, weeks, months on end, working, doing all this stuff I had been training for, but I couldn't get excited about it.
"My best friend was a computer. I'd punch in my hours, and then the first thing would do after work was rush out and coach the kids. I never really let go of cycling...I have to say that some people have a vocation as a teacher, well my real calling is a passionate love for cycling.
By 1993 it had become obvious that public funding and support for elite sport being what it sadly is, funding for Barras' team and position - despite the fact it was getting more and more successful - was going to come under a fair amount of pressure.
"I knew that it was only a matter of time and I was at a crossroads," he says. "I had to make a career call. I could either bury myself there and carry on with coaching or look further afield."
So he took "one big gamble" and headed Down Under to Australia, where he was assistant coach at the junior world championships in Perth in 1993.
"I had been interested in Australia for many years," he says. "At the Los Angeles Olympics I had noticed Australia because of success of the team. It seemed to come out of nowhere. Although it had a lot of good individual riders, Australia had until then been a non-entity as a team.
"Then, when it bloomed onto the scene, everyone took notice including myself."
At the time Barras was also indulging in another love - radio - where as a deejay on a community station from 1985 to 1994, he had picked up on a keen interest for music coming out of the Australian music scene.
That was why, when he got the opportunity to visit in 1993, he grabbed it gladly, staying more than two months and visiting as many of the intensive training centres, the AIS and the Australian Cycling Federation office in Sydney, as he could.
"Basically I was just going around, seeing as much and meeting as many people as I could, flogging my CV to as many organisations as I could," he says.
In August 1994 his position in Alberta truncated from fulltime to eight months out of 12. It was time to move on and the timing couldn't have been better.
" A bunch of positions became open at the intensive training centres due to the coming of the Olympics. I applied for four or five professional coaching positions and just as I was thinking of becoming an economist again, I got approached by the WA Institute of Sport to see if it was possible for me to work with them."
To Australia
He told his Australian wife, who had been super keen to return to her home country.
"She thought about for a whole of three seconds and that was it," he says, laughing.
He was in Perth five years and two months.
"WAIS is a fantastic employer," he says, "and we did well. We coached a few national champions, we won the first of Qantas Cups as a team...which was for a small state very important...and we started medalling regularly at state and national championships."
In January 1999, the British national team held a training camp in Australia and Barras met them at the Mt Buller Classic road race in Victoria.
To Britain
At the time, they were looking for a state institute to put one of their sprinters into, as they didn't have any of their own sprint coaches. When they heard WAIS was running a reasonably good sprinter program, they asked Barras if they would take their man for a month.
The following May, the Brits asked him to consider going to the United Kingdom to work with the team.
By August he was based in Manchester, then in September he worked with Australian Darryn Hill for his final preparation for the world championships.
He stayed for 18 months until September 2001, then for "family reasons" (his wife was keen to return to Australia and they were expecting their second child) he started looking for work again.
Back to Australia
"I was just looking for "a" job, I didn't care what," he says. "Then this position became open. To be perfectly honest, I wasn't applying specifically for that position.
"I was asking about the national sprint position...but they asked me to apply for the senior national position - Charlie's position.
"The day after did the interview... they called me back...and here I am."
Barras knows he has a tough job, but says it isn't that complicated.
"The business of turning out an international level cycling team is fairly straight forward," he says. "No doubt Charlie and I are very different personalities. I try to be a collaborative type of coach. I learnt a long time ago I never get to stand on the podium. When my riders have got puke coming out of their ears, there is no point standing on the side of the track telling them to go harder.
"I try to support the rider... ultimately what I aim to get out of my rider is a professional working relationship... you can't ask for much more than that."