A quick chat with Tomas Lövkvist
Sweden's Junior World's hopeful
By Gabriella Ekstrom
Tomas Lövkvist
Photo: © Patrick Serra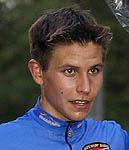 Despite being only 18 years old, with just three years of cycling experience, Tomas Lövkvist stands out as one of Sweden's biggest medal hopes for the Worlds. His results as a first year junior in Lisbon last year were a clear hint of what is still to come. Just outside the medals in the time trial, and sixth in the road race, Lövkvist made himself a household name in the junior ranks.
Tomas Lövkvist spends most of his non-racing days at the cycling high-school in Skara. The difference between the school that has raised many Swedish riders and a normal school is that the students replace the individual subjects and the aesthetics with training and cycling theory. In total, that means two and a half days of extra cycling every week, as well as support from the school during races.
In action
Photo: © Patrick Serra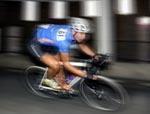 Lövkvist, who first took up cycling three years ago, admits that his place at Skara Cykelgymnasium was due to luck more than anything else. New at the sport, he only had one decent result, a fourth place at Finnmarksturen. Normally that would not be enough for a young rider to get a place at the school, but they had got a late cancellation and Lövkvist was offered the place.
"Everyone else at the school were better riders than me," Lövkvist admits. "I got in on a prawn sandwich." [Swedish expression, referring to luck - Ed.]
Power plant
Photo: © Patrick Serra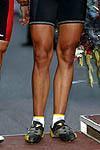 He is now doing his final year in school, and vividly speaks about how it has made him a better cyclist. Like any young cyclist, his long term goal is to become a professional, and he stands a good chance of joining a TT III in 2003. While trying to attract teams, he has other merits than those from Lisbon to rely on. As if his titles as junior TT champion and RR champion wasn't enough, he decided to attend the Swedish mountain bike championship as well. Just for fun, he says. He won the cross country race, and was instantly invited by the MTB federation to ride the European MTB championships. He was uncertain, but decided to give it a try, and not surprisingly he won the race. In a modest way, he credits the course and does not speak much about his own achievements.
When we spoke to Tomas he was still in Skara, preparing for the Worlds in Zolder. He was selected to ride both the road race and the time trial, and the expectations are high. In his native country, he is seen as a serious contender for a medal, or maybe even two. And Tomas himself? He thinks so too.
Podiumist
Photo: © Patrick Serra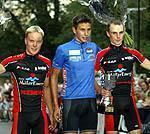 "I have hopes of a medal," he admits. "Mainly in the time trial, but also on the road. However, so many things can happen in a road race, so that is more unsure. My greatest chance to end up on the podium will come in the time trial." [Tomas finished sixth in yesterday's time trial - Ed]
He will leave for Belgium on the 5th of October, and will then get his first impression of the course.
"I have seen it on maps, and I know what to expect, but I still haven ridden it."
With him in the Swedish team is his team mate from Ulricshamns CK, Jesper Ingvaldsson, and despite his tender age, Lövkvist is mature in his appreciation of Ingvaldsson.
"This guy is the best. I couldn't have a better team mate. He is strong enough to win himself, but he doesn't put himself in the first room." he assures.