An interview with Lisa Mathison
Junior world champion, UCI scholarship holder
Aussie nats 2002
Photo: © Tom Balks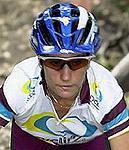 Lisa Mathison
Date of Birth: January 31, 1985
Place of Birth: Brisbane, Queensland, Australia
Major Results
2002
World junior cross-country champion
Australian junior cross-country champion
1st, Australian National XC Series #1
1st, Australian National XC Series #2
1st, Australian National XC Series #3
Personal stuff
TV: "I don't watch much and when I do it tends to be things like the Eco-challenge"
Music: "Punk and hardcore. On those long trips to races I'd be lost without music."
Junior mountain biker Lisa Mathison exploded on to the Australian and international scene this year, winning the world and national championships in her first year in the U19 class. John Stevenson spoke to her about racing, riding and her recently-confirmed scholarship to the UCI's World Cycling Centre.
When I call Lisa Mathison at home in Brisbane Queensland, there's the classic soundtrack of suburban Australia in the background: the chirping of birds, "We've got ducks and chooks in the garden, and I'm out on the veranda," she tells me.
This year, though, Lisa's nascent talent in cross-country mountain biking has taken her a long way from the Brisbane sunshine. All the way, in fact, to a gold medal in the junior ranks at the world championships and an invitation to live and train at the UCI's new coaching facility in Aigle, Switzerland under legendary Swiss ex-pro Chantal Daucourt.
It's been a remarkably rapid rise for this teenager, who modestly says she never expected to get so far, so quickly after her first race.
"I entered a local interschools race in 1998 and it just grew from there. I saw a US [mountain bike] magazine, read that and thought it was pretty cool and just got into it. I started small and moved up a bit every year. This was my first year international and I really didn't expect to reach the level I have so quickly."
Lisa might not have been sure of her talent, but others were, and her results at the Australian nationals in February speak for themselves. As well as winning the under 19 age group, Lisa set lap times that were faster than any of the senior women except Mary Grigson, and — perhaps even more importantly — didn't slow down hugely in the final lap. That kind of consistent speed is what makes champion MTB racers. Australian head coach Damian Grundy rates Lisa as the best female Australian rider after Grigson. Going into the world championships, that must have been quite a title to live up to.
After the world's win
Photo: © Tim Vincent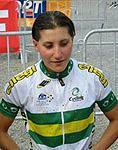 "Yeah, but there was no pressure from the team at the world's. Damian Grundy was apparently thinking that Trent [Lowe] and I were capable of the win, and I was hoping for a medal but there was no pressure. For me I was in my first year [as an international junior] so there wasn't the same pressure there was on Trent, who was in his final junior year.
"After I got back, everyone has been really great about it, there were a few people there to meet me at the airport, and I've been in a few local sport competitions, it's been great."
Junior national champion, world champion and then a UCI scholarship in the same year. How did the final part of the trifecta come about?
"I'd heard of it. After the world's Damian Grundy talked to me about it, but at the time I was so busy it didn't really sink in. Then Chantal Daucourt spoke to me after the Swiss Cup. She'd been trying to get in touch with me in Australia, not realizing I was still in Europe. She'll be the coach. I'll be based near Aigle in Switzerland, about 40km from the UCI centre."
Big hills, I comment.
"On the world's trip we went to Les Gets and the training there was amazing. There weren't many flat roads..."
The UCI scholarship is a huge step toward Lisa's long term goals.
"Next year I'll do the Swiss Cups and the World Cups, to try and prepare for the transition to seniors and I'd like to make the Olympic team in 2004. In the longer term I'd like to go after maybe a World Cup title or a World Championships, though a lot depends on sponsorships. Some sponsors want you to do the NORBAs."
Mountain biking is the focus of Lisa's sporting life at the moment, but she's not just a dirt-jockey. "I've done some road races this year, though not as much as I'd like. That was great, though, because it's really different from mountain biking. You have to think about tactics much more and so on. We'll get a road bike and a track bike at the UCI so I'll try track. I've never done BMX either, though people watch me ride and think I must have a BMX background."
Aussie nats 2002
Photo: © Tom Balks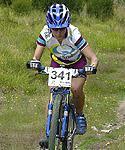 Her cycling options may be wide open, but Lisa's not blind to the appeal of a few other sports. She's also into kayaking, archery, rollerblading, skateboarding — "I guess I just like skill sports" — plus running and swimming, "as cross-training. I wanted to do the Noosa triathlon but it clashed with another race."
Do any of those other sports tempt her? "For now I'm concentrating on mountain biking. Right now I'm looking forward to finishing school, and next year will be great, concentrating on mountain biking with no distractions. Maybe I'll do the Tour de France one day, though. I don't know if I could swap over like Cadel Evans has done, but it's something to think about."
Is he a role model? "I've been following his progress and looking up to him since my early days. He's definitely a bit of an inspiration!"
The Australian national series has just started and Lisa was once again up there with the senior women in the first event, an unusual point-to-point race at Mt Beauty. "It was more like a road race than the mountain bike races I've done, in that the pace was on all the time, there were no downhills to rest except near the end. I thought I'd do worse than I did because of my focus on school recently. I hadn't ridden at Mt Beauty before, and everyone said it was one of the best places to ride in Australia."
At home in Brisbane, Lisa rides the dry, dusty trails close to central Brisbane. "I also ride the techie trails out at Ipswich, but Australian technical riding [which tends to be steep and rocky] doesn't translate to European conditions which are much more slippery, with tree roots and so on. Overseas next year I will be able to concentrate on those skills."
As for that recent focus on school, Lisa is in her final year of High School, which means molto exams and molto pressure right now. "My school has been really accommodating though, allowing me to hand in assignments late and to catch up after I've been away. I missed six weeks for the worlds and had to catch up, but I've actually had my best year at school ever. It hasn't left much time for a social life, but the atmosphere at MTB races is really friendly so my social life is there."
The UCI scholarship will include an element of continuing education too. "We'll have classes in the mornings and training in the afternoons."
With the UCI scholarship and uninterrupted focus, it sounds like 2003 will be even bigger than 2002 for this determined and talented young woman.