An interview with Roy Knickman
Stepping up to the plate for Prime Alliance
Roy Knickman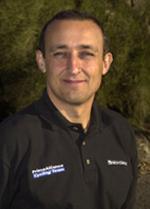 Photo: © Prime Alliance
Born: June 23, 1965
Place of birth: Jamaica New York
Lives: Newbury Park, CA
Height: 6'0 (1.83m)
Weight: 185lb (84 kg)
Management Career
2001-2002
Prime Alliance Cycling Team, General Manager
2000-2001
AutoTrader.com Cycling Team, Director of Operations
1998-2000
Mercury Cycling Team, Rider/Assistant Manager
1995-1997
US Men's National and Olympic Team Road Coach
1994
US Junior National Team Coach
Cycling Career
2000 (Mercury)
1st Boulevard Road Race (CA)
1st Merced Criterium (CA)
1999 (Mercury)
1st stage 2 Dayton Cycling Classic (OH)
1st stage 4 Heart of it All Stage Race (OH)
1st Extreme Criterium (CA)
1998 (Mercury)
1st stage 3 Fitchburg Cycling Classic (MA)
1st stage 1 Tour of Willamette (OR)
1st stage 2 Three Days of Redding (CA)
1st Fort Morgan Criterium (CO)
1993 (Coors Light)
1st Hotter-n-Hell road race (TX)
1992 (Coors Light)
2nd overall La Vuelta de Bisbee (AZ)
1st Hotter-n-Hell criterium (TX)
1991 (Coors Light)
1st overall Killington Stage Race (VT)
1st Dole Citrus Classic (CA)
1st Tempe Grand Prix (AZ)
1st stage 3 Victoria Stage Race (Canada)
1st Proctor and Gamble Classic (IL)
1989 (7 Eleven)
1st stage 3 Killington Stage Race (VT)
1st stage 4 Coors Classic (CA,NV,CO)
1st stage 1 Tour of Texas (TX)
6th stage 5 Tour de France
1988 (7 Eleven)
1st overall, stage 1 & 2, Monterey Stage Race (Mexico)
1st stage 4 Tour of Americas (Florida/Venuzuala)
1st Bannock Criterium (CO)
1987 (Toshiba/La Vie Claire)
1st stage 6 Tour of Switzerland (Switzerland)
1st stage 8 Dauphine Libere (France)
1st overall & stage 1 Whisky Creek Stage Race (CA)
1st stage 2 LA Vuelta de Bisbee (AZ)
1st Mulholland Classic (CA)
1st overall & stage 3 A to Z Cycling Classic (OH)
1986 (Toshiba/La Vie Claire)
1st overall & stage 3 Washington Trust Cycling Classic (WA)
2nd stage 2 Tour de L'Avenir (France, Portugal)
3rd stage 4 Giro d'Italia (Italy)
1985 (Levi/Isuzu)
1st stage 2 Tour of Berlin (Germany)
2nd overall (1st U23) Milk Race (England)
1st overall & stage 3 Vulcan Tour (CA)
1st overall & stage 4 Whisky Creek Stage Race (CA)
1st overall & stage 2: La Vuelta de Bisbee (AZ)
1st stage 3 Tour of Texas (TX)
1984 (Levi/Raleigh)
1st overall & stage 2 Commonwealth Bank Cycling Classic (Australia)
1st TTT National Road Championships (NH)
3rd Olympic Games 100k Team Time Trial (USA)
1983 (Levi/Raleigh)
1st overall & stage 2 Vosleur Jugend Tour (Austria)
1st RR, TT & criterium Junior National Road Championships (CA)
1st points, 3km pursuit Junior National Track Championships (PA)
2nd 4km team pursuit Junior Worlds Championships (New Zealand)
1982 (SBBC/Centurian)
1st National Cyclo Cross Championships
1st RR, TT, Criterium Jr. National Road Championships (WI)
2nd 3km pursuit Jr. National Track Championships (WI)
1981 (North Hollywood Wheelmen)
1st criterium National Road Championships (NY,OH)
1st overall & stage 1 Super Week Juniors (WI)
1st UCSD Criterium (CA)
By Jeff Jones
Roy Knickman's cycling career has spanned over two decades, from early days at Toshiba/La Vie Claire to 7-Eleven, Coors Light and Mercury. He stopped racing at the end of 1993 to coach the US national team, but made a comeback in 1998 to ride three more years - and now manages the Prime Alliance professional cycling team. Cyclingnews Editor Jeff Jones spoke to the wise man of cycling about the team's performance this year, goals for 2003 and more.
In 2002, the UCI Division III Prime Alliance team finished its season as the USA's second ranked professional team on the National Racing Calendar. Well clear of 7UP/NutraFig, Saturn, Navigators and U.S. Postal Service, Prime Alliance was only beaten by domestic powerhouse Mercury, in its last year of sponsorship. In the individual men's rankings, Prime Alliance riders came out on top, with Chris Horner and Danny Pate snagging the first two spots. 2002 could be thus considered the year that Prime Alliance came of age, turning in some top results while keeping its focus as a development squad for up and coming riders.
In 2003 the line up will be a little different, with the team losing its top rider Chris Horner, but gaining experienced Euro pros Jonathan Vaughters (ex-Credit Agricole) and David Clinger (ex-US Postal Service). The question is will the team be able to continue its high standard of results with Horner now riding for Saturn? Team manager Roy Knickman believes that he has the riders who can do the job in '03.
"I think it's a little bit more balanced," said Knickman to Cyclingnews after another long week at the helm of the USA's top up and coming squad. "This year we had the horsepower, but in the bigger one day races we were a little outgunned. We had Horner and we believed he was a bit more motivated to do well after the Mercury debacle [Horner rode for Mercury in 2000-2001]. Having him somewhere else now gives an opportunity for the team to shine. The team was really a bigger part of winning races this year."
Danny Pate
Photo: © Rob Karman
Knickman complimented 2001 World U23 Time Trial Champion Danny Pate, who was often riding in support of Horner, but still managed to notch up some good results on his own. He predicted that 2003 will be a big year for Pate. "For Danny Pate who sat in and helped Horner, it motivates him. It's an opportunity to step up. He's in the US to pursue goals in Europe in future."
Many questioned Pate's return to the States after winning the World's and several other U23 races in 2001. Knickman explains that it's "because he had a very bad experience as part of Saeco. At the end of next year he will truly be ready. The guy doesn't train, yet he does phenomenal things. He's getting himself motivated and you'll see something different - another level yet that nobody has seen consistently. We hope to be able to bring the team to a new level with him."

Jonathan Vaughters
Photo: © Rob Karman
Aside from the up and coming Pate, the team's star signing is definitely Jonathan Vaughters, who decided to leave the European scene after nine seasons as a pro there, citing family, homesickness and a lack of motivation for Euro racing as his reasons for leaving the continent. However Vaughters is still very much a bike racer, and could do great things for Prime Alliance, as Horner did this year. "We're really excited with Vaughters because he offers a great amount of experience and leadership," says Knickman.
Finally there's David Clinger, a solid young sprinter approaching his 25th birthday, who has already ridden for Mercury, Festina and US Postal during his five year pro career. This year (with USPS) he won the First Union Invitational in June. However for the most part of the year he was invisible. Knickman hopes to change that in 2003.
"I've known David Clinger for a long time. He lives 20km from me and we get on well. He didn't fit well with US Postal Service - he was just a smaller rider in a huge team. He's a younger version of Henk Vogels and he is very capable in one day races."
Division II or Division III?
As a division III team, "this year we pretty much accomplished our goal from being a development team to being a major player," says Knickman.
However when asked about the possibility of promoting Prime Alliance to Division II, Knickman is adamant that it won't happen in 2003. "We are registering as a division III team. We have some smaller sponsors to come on that have not been announced yet. Depending on those, we would like to do a little European racing, although we know it's a little difficult to get starts as a division III team."
This year the only US Division II team was the Navigators, which enjoyed no small degree of success when they raced in Europe, winning and placing well in several French Cup races. Had they remained as division III, and hence had lower registration costs, invitations to these races would have been hard to obtain.
"They were different," says Knickman. "They were division II and spent a lot of time and money to do those races. Everybody does it differently. After the Mercury debacle, we would like to become more established: recruiting proper staff, building a reputation and so on. It's on the agenda, part of our longer term plans with sponsors. Whether it happens or not we'll see."
With the team's main sponsor Prime Alliance, a service provider to the plastics industry in the US, obviously wanting to maintain a strong level of exposure on the domestic scene, it is easy to see why the team will keep its US focus. "It is easier to sell a winning program. There's more visibility for sponsors," explains Knickman.
Number 1 in 2003?

Chris Horner
Photo: © Rob Karman
The departure of Mercury as a sponsor of a cycling team may create a gap at the top of the US team hierarchy. Prime Alliance would certainly liked to move into that number one spot, although Roy Knickman knows that it won't be easy. About Mercury's 'mover and shaker' John Wordin, Knickman said that "I don't count out John. I worked for John before this. Love or hate him he can make things happen. Even if it's the last minute he will be able to round up the riders and sponsors. It's important for the sport because we still need those teams."
Then there is the Saturn team, which is making a big effort in 2003 to pump up its men's program. "With the acquisitions that Saturn has made [including Chris Horner] it's going to be harder. Whether they can put it together, we'll see."
USA vs Europe
It's an oft made comparison: the level of racing in the USA compared with the level in Europe. There is no doubt that there is a strong domestic scene in the US with prizemoney comparable to the best European races. However, given that cycling is still a minority sport in the US, and probably will remain so for the foreseeable future, most riders with ambitions of making it in cycling see Europe as their destination. To develop riders in the USA to be ready for the tougher Euro circuit is one of the goals of the Prime Alliance team.
Knickman believes that the U23 riders, such as Danny Pate, can really benefit from racing with the US professionals. "I do think so. 2.7 and 1.7 [U23] races in Europe are considerably easier than here in the US [with the pro's]. He won a few events in Belgium last year, but here he'd get 5th, 7th and 9th on GC. It's very competitive racing. No, it's not Europe but Europeans are surprised at the speed and competitiveness when they come over here to race."
Even the top US team, US Postal Service, does not dominate the domestic races. "Postal brings the guys back and they don't just win. There are good guys here, the level is different."
Knickman also says that the promotion of races is getting better in the USA. "Threshold Sports is the major promoter of good events. They are organising the Tour of Georgia UCI race if it comes off. That should make it sellable on TV, together with the New York City Championships and the San Francisco Grand Prix. Then there's Tailwind Sports [which also manages the USPS team]."
"Those people, the Chauners, the Gorskis...There's some new groups out there looking at putting on TV events. There could be an LA event, a downtown Chicago event. To me that's better for us."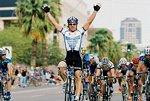 A winning program
Photo: © Jon Devich
But even if the racing is comparable at some levels, there's still a long way to go to bring the coverage in the US up to even the same ballpark as it is in Europe. "It has a huge impact there. It's easy to justify 5 million for a European team than $500,000 for a domestic team," says Knickman. "In Europe it's one of the top three sports with Formula 1 and soccer. Here it's American Football. Madison racing in Madison Square Garden is long forgotten. Absolutely and purely the tradition of Europe is cycling. The tradition of US is Babe Ruth and Baseball, NASCAR...It's a difficult battle, even with Lance."
"Cycling is a niche sport, a novelty. It won't get the attention of the major networks. You have to buy time on your TV networks rather than the other way round. Our federation hasn't been able to sell it to the necessary level."
New blood in USAC
"I think that Gerard [Bisceglia] is a tremendous breath of fresh air"
On this note the talk turns to the recent changes in the board of USA Cycling, which has a relatively new CEO in Gerard Bisceglia, who stepped into the fray in June after the resignation of Lisa Voight last December. Voight was controversially retained as a $100,000 per year consultant to USAC before she eventually (and finally) resigned her post last week.
Knickman hopes that it will be a new beginning for USA Cycling and the way it is run. "It's been a long time coming. The old board and the whole old mix of things - I was part of that in the 90's as a junior/U23 coach under Chris Carmichael. I wasn't part of the board, but I was privy to things that were going on. I think that Gerard [Bisceglia] is a tremendous breath of fresh air. He doesn't owe any favours to anyone."
"Even the most recent decision, getting Lisa to step back from that money. That's giving faith to the masses again, trying to right the ship. Then there are Thom Weisel and Jeffrey Garvey, who are part of the Lance Armstrong foundation. Those people are being innovative and looking at it as a business, not just power and favours. I have to believe that it is a huge positive influence."
On trade teams run by national federations
Finally, we touch on the recent and potentially litigious controversy surrounding the T-Mobile trade team (which is also the US national women's team) and the Saturn team, which is number one ranked women's team in the world. The two squads are at odds at the moment after Team T-Mobile poached key rider Kim Bruckner from Saturn for a considerably greater sum of money than her existing salary (see November 6 news for more). Although this is not an uncommon occurrence in professional cycling, Bruckner is still under contract to Saturn until 2004. There is also the fact that Team T-Mobile is the USA national team, and run by the USA's national cycling federation.
"I don't know the details and can't really comment but I know that there is a need for funding, as they don't have the funding to completely run the federation," says Knickman in response to why USAC has engaged a major sponsor for such a project. "The concept is eliminating the sponsorship obligations that a trade team might have in the USA. For example Autotrader had a women's team [now defunct] which was prominent in the US, but couldn't race much overseas. Therefore its riders found it hard to be selected for the national team."
So a 'national trade team' could better address this in theory, according to Knickman. "Conceptually it's great with no real conflict. It works best if the team is already selected, but to hire them as trade team riders it gets a little bit muddled. A national team jersey with sponsors is OK, but a complete trade team opens the door to problems."
However now there seems to be a fight for the top riders, which in some ways is good for women's cycling as it pushes up the salaries, but in other ways is not good when contract disputes like this arise. "It surprises me because we now have a potential conflict of interest. Litigation is huge in the US and any leveraging of someone or influencing someone to leave one group..."
We leave it at that, but it's clear that this issue will not be resolved painlessly. Although the situation has yet to arise in men's cycling, the USAC vs. Team Saturn dispute in women's cycling could set a precedent for future conflicts.
That aside, Roy Knickman's job remains to continue to gradually increase and improve upon the work that he has done with Prime Alliance, which is developing into a very solid team on all levels. Looking further ahead, he concludes "In 2004 I'm really hoping that we can work towards a bigger program yet, a dual program. I hope we can continue to be a very visible group in US racing as I continue to increase the sponsorship."
Prime Alliance 2003 Team Roster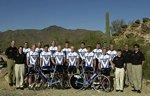 The '02 squad
Photo: © Casey Gibson
Alex Candelario (USA)
Jonas Carney (USA)
Jame Carney (USA)
David Clinger (USA)
Michael Creed (USA)
Matt Decanio (USA)
Jonathan Page (USA) (at the conclusion of the 2002/2003 cyclo-cross season)
Danny Pate (USA)
John Peters (USA)
Svein Tuft (Can)
Jonathan Vaughters (USA)
Management
Organization President: Tom Irvine
General Manager: Roy Knickman
Director Sportif/Road Manager: Kirk Willett
Head Mechanic: Ken Whelpdale
Head Therapist: Brenda Phelps
Website: www.primealliancecyclingteam.com