Recently on Cyclingnews.com
An interview with Jonny Sundt
Like a cat on a hot tin roof
Jonathan (Jonny) Sundt
Age: 28
Place of birth: Bellevue, Washington, USA
Residence: Bellevue, Washington, USA
Turned pro: 1996 (MTB)

Major Results

Cyclo-cross
2002
1st, Seattle Microsoft Series #4, Seattle, WA
1st, Seattle Microsoft Series #5, Seattle, WA
2nd, Cannondale/PDX International Cyclo-cross, Portland, OR
7th, Amherst International Cyclo-cross, Amherst
9th, ECV Cyclo-cross, Gloucester, MA
2001
1st, Downeast Cyclo-cross, Auburne, MA
2nd, Monkey Hill Cyclo-cross, Lafayette, DE
4th, Boulder Cyclo-cross Clasic, Boulder, CO
4th, SuperCup Race #1, Worcester, MA
5th, SuperCup Race #2, Chicago, IL
1998

6th GC, Saturn SuperCup Series
6th, Cyclo-cross Nationals, Elite Men, Devens, MA
1996
2nd, Cyclo-cross Nationals, U23, Seattle, WA
Road
2002
1st Stage 4 and GC, Ecology Center Classic, MT
9th, Wevelgem Kermis, Belgium
10th, Goeferdinge Kermis, Belgium

2001
4th, Stage 3, Tour of Willamette
5th, Stage 4, Tour de 'Toona
7th GC, Tour de 'Toona
10th, Manhattan Beach GP, CA

Mountain Bike
1996
11th, NCS #4, Pro Men, Big Bear, CA
Personal stuff

Movies: "I like a lot of different films, but Ronin is one of my favourites; I guess I'm a bit of a kid, I like things with guns and cars."
Music: "I like rap, but not the stuff you see on MTV or hear on commercial radio, a lot of underground stuff that doesn't get much commercial airplay, stuff like Jurassic Five and Showbiz."
Food: "I watch what I eat and try to eat healthily, and my girlfriend's an incredible cook, so that helps a lot. But you can't be too strict, because as a racer, you travel a lot, and if you have a super-strict diet where you can only eat 'organically grown whatever', it throws your body into a loop. So I use foods that I can buy at any grocery store in the world."
Other hobbies: "I really enjoy tinkering with my car. I've got a prepped-up version of an '86 Volkswagen GTi. It's got a crazy motor with a custom-built 2.0 litre engine and all racing suspension - it's very scary!" (good choice Jonny, I've got one too! - Ed)
With the US National Cyclo-cross championships (and Worlds selection race) less than four weeks away, "The Cat" - a.k.a. Jonny Sundt - is preparing to pounce on his opposition. And until that day, Sundt won't setting himself among the pigeons, as Anthony Tan writes.
"I hate to play that card. I don't want to be known as the 'working-class hero' or 'struggling whatever' - that story's being told a thousand times and everyone's dealt with it. I don't want to be that guy - I want to be the guy that's getting paid to race his bike."
Strong words from a man who's been dominating the Northwest 'cross scene this season. However, with the Nationals in four weeks time and the World Cyclo-cross Championships a few weeks later, Jonny Sundt has got bigger fish to fry.
Like many of his fellow racing buddies, Sundt's beginnings in 'cross originated from a career in mountain bike racing on the NORBA circuit. The gap between the end of the fat-tyre season and the start of the next was almost five months, so the pro mountain bikers needed a way of staying fit - which usually meant racing criteriums on the road.
"To tell you the truth, I did it because I was bored. I experienced some early success, and like anything that you do well in early on, you begin to like it very quickly," says Sundt.
With local arch-rival Dale Knapp (R)
Photo: © NWRR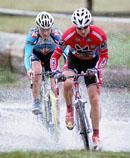 Success may have come a bit too quickly. Three years ago, after one of his most successful seasons, both on the NORBA and SuperCup circuit (until last year, the 'cross equivalent of NORBA), Sundt threw in the towel. It was the typical conundrum that many cyclists face: participate in a sport that doesn't pay well, or get a "real job" and start earning some moolah.
Sundt opted for the latter, and began working as a construction manager, however, the working-class man scenario was short-lived, and the plan fell apart less than 12 months later. He mentions later that he's always been a bit of a kid; in some ways perhaps, Sundt never wants to grow up.
Maybe his relative "greenness" never allowed Sundt to fulfil his true potential as a rider before his early retirement. Only since his comeback has Sundt engaged the services of Craig Undem, the head 'cross coach at Carmichael Training Systems (CTS), who Sundt describes as "phenomenal":
"I'm now receiving a high level of coaching, working with Craig and the knowledge and resources at CTS. We're also working with the Power Tap[1] system, so we're getting a lot of data; this allows me to work really hard, but also really smart," says Sundt.
Not surprisingly, Sundt's renewed dedication appears to be coming to fruition, and says that he's now training harder than ever. He also mentions that while much of the success can be attributed towards smarter training, experience counts for plenty in 'cross. And without sounding repetitive, the word "hard" is synonymous when asked to describe the sport of 'cross.
"It's just such a hard sport. You have to be able to push yourself so hard in that hour or so, and with all the barriers and the slippery corners, so many things can go wrong, so experience really counts," he says.
"Cross is hard"
Photo: © Paul Weiss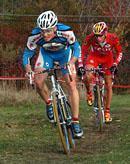 In a cycling discipline that most would perceive to be closest to mountain bike racing, I am told in fact that the opposite is true in 'cross. "It's like riding a road bike in the dirt, and speed and cornering are a big part of it," Sundt says, attributes essential in criterium racing.
Sundt recalls his time spent in Belgium this year: "All the coaches were saying: 'You're racing 'cross, why are you riding a mountain bike? Ride a mountain bike only if someone pays you to ride a mountain bike!'"
In his first year with an elite amateur road team in 2001, Sundt experienced quite a bit of success, and now spends most of his time on the tarmac. A typical week involves a number of two to four hour road rides, often at high intensities, to replicate the sensations during a 'cross race. "Overall, just a lot of intensity, because that's the nature of 'cross," explains Sundt. "There's a lot of accelerating and slowing down, and it's very athletic; it's not just about pedaling hard, you have to be really fit."
Within 'cross circles, Sundt is known as "the Cat", though not for the same reasons as Italian Michele Bartoli, whose position on the bike warrants the nickname "il gatto". Rather, Sundt is known (or feared) for his ability to effortlessly scoot over and around obstacles.
"Efficiency is key"
Photo: © NWRR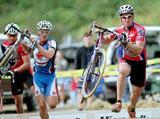 Asked whether choice of equipment has much to do with his fluidity as technical prowess, the meticulous side of Sundt comes to the fore: before each race, Jake Frame, his mechanic (no pun intended), pumps his tyres up to 50 psi - generally above average for any 'cross race. Sundt then rides the course and lets air out accordingly to achieve the proper balance of traction versus pressure.
However, I sense a touch of modesty here. Equipment can only do so much, so what is Sundt doing that others are not?
"I think the big thing that people overlook is the ability to efficiently put down power on a 'cross bike," analyses Sundt. "You're riding on rough terrain and your bike is going all over the place, so I believe efficiency is the biggest thing in 'cross."
The SuperCup may have come and gone, but Sundt feels the US 'cross scene is on the up - though he surmises this may be the due to the follow-on effects from the last seven years of the SuperCup. He says that while each region may be growing stronger, there is a need to bring the best riders together for races other than the Nationals and World Championships.
Which comes back to Sundt's ambition to race 'cross in a competitive environment and be paid well for doing so - along the lines of fellow countryman Jonathan Page.
"The thing about Europe is that you can earn money as a 'cross rider. And that's not to say it's easy - you earn every penny and then some, and mentally it's hard getting your ass handed to you two or three times a week," he says in figuratively colourful language.
The Cat: ready to pounce
Photo: © NWRR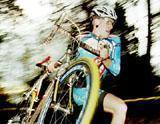 "But the teams over there see the value of 'cross, and when they have the spectator base they have in Europe, it's a valuable thing," Sundt says. "Over here in America, riding 'cross is almost a bit of a sacrifice to the sponsor's needs," adding, "I have some unfinished business to do in Belgium."
"The Cat" may be eager, however, he's also a realist, understanding he has to take things as they come, and not pounce on any opportunity that comes his way. Judging by the results so far this season, Sundt shouldn't have to wait too long.
[1] A review of the Power Tap power training system will be coming soon on Cyclingnews
Tell us what you think about the state of 'cross racing in the US.
Editor's note: A review of Jonny Sundt's 'cross bike will follow next week.