An interview with Gerard Bisceglia, USA Cycling CEO
Membership, Money And Medals
Gerard Bisceglia
Photo: © Jon Anderson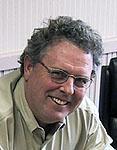 Gerard Bisceglia
Gerard Bisceglia, 52, most recently president of Shogun Express, a restaurant operator in Scottsdale, AZ, was a trustee of the United States Professional Racing Organization, an association of USA Cycling, from 1997 to 2001. He is highly regarded for his marketing and business management skills. He is a former executive of The Southland Corporation, the parent of retailer 7-Eleven, who later left Southland and helped lead a turnaround at Circle K Corporation, a major competitor of 7-Eleven.
As an executive at The Southland Corporation from 1972 to 1991, Bisceglia rose to become national sales manager, overseeing store operations for 7-Eleven's 8,000 stores. While at 7-Eleven he managed the sports marketing department that managed the company's sponsorship of the 7-Eleven Cycling Team. Subsequently he was recruited to join Circle K Corporation as vice president of marketing.
Bisceglia and his wife Anne have two kids, Paul and Ellen.
In his quest for first-hand understanding of the problems and issues that racers, promoters, and officials face at the local and regional level, USA Cycling's Chief Executive Officer, Gerard Bisceglia recently spent another weekend on the road. He attended the annual bicycle racing association meetings in both Texas and Louisiana. Between meetings, Bisceglia talked to Jon Anderson and candidly discussed USA Cycling as an organization, Bisceglia's near-term focus, and grass roots racing in the United States.
The Organization
Cyclingnews: Is the USA Cycling organization, as it exists today, a service organization? Should it be? Who does the organization serve?
Gerard Bisceglia: USA Cycling is becoming a service organization; it absolutely should be! It's a membership organization and the national governing body exists to serve the membership, not to rule the membership. We should serve our license holding riders, our elite athletes, our sponsors, and our promoters.
CN: After spending a few months at USA Cycling and getting a feel for how things work, on scale of one to ten (with one being complete ineptitude and ten indicating stellar performance) how would you rate the USA Cycling Organization in the areas of customer service, efficiency, and financial stability?
GB: In customer service, I would say we rate a seven and we are improving.
Efficiency is about a five. Much of this is work in progress. We have new computer hardware and software going on line in the first quarter of next year, which we expect will improve our efficiency dramatically.
Also, when I got here in July, we were running about three months behind in license and permit applications. Now, we are totally up to date. Licenses and permits that get into the office are turned around in less than ten days. From an efficiency standpoint, we have improved dramatically just in the last six months, and we anticipate our efficiency getting even better than it is today. Efficiency was one of the first things I tackled.
But again, in order to grade ourselves higher, we need to show effective performance on a consistent basis. We have the will, we have the desire, we have the ability, and now we have to show that we can deliver consistently.
Meeting LaBRA
Photo: © Randy Legeai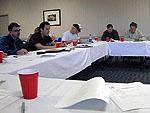 Financial stability is a six or a seven. In a non-profit organization, I don't think we will ever have the type of financial stability you look for in corporate America because we don't have retained earnings, we don't pay dividends, we don't have a stock price, and all of the revenues generated by the organization are designed and targeted for re-investment into the sport. I would like to get to the point where we have sufficient reserves to address unforeseen circumstances. I think it's always going to be tough and it's tough by design; however, that forces us to stay sharp.
CN: You mentioned your licensing and permitting application online initiatives were slated for the first quarter. Is that 2003?
GB: We expect some of our initiatives to start coming online within the first few weeks of January 2003 and by the end of the first quarter most of our phase one initiatives will be in place.
CN: Over time, USA Cycling seems to have developed an extensive bureaucracy, lost its focus on core functions, and appears to rigidly resist change. On top of that, as Chief Executive Officer you have to answer to a board of directors, who, in some cases, have their own agendas, ideas, politics, and circles of influence. How do you plan to turn these conditions and perceptions around to form an effective, efficient, service-oriented organization?
GB: The concern I have with that question is the veracity of the question.
Let's start at the beginning, you mentioned extensive bureaucracy. We have about 30 employees, which is not an extensive bureaucracy by any means. It's a small organization that is smaller today than it was when I got there. Some fat was cut off the organization. We are serving a membership (including BMX) that is over 70,000 people. I think we needed to become more productive. We are doing that.
Regarding focus on core functions: I focus on three things: membership, money, and medals. Everyone in the organization fully understands that those are our top three priorities. The membership versus medals issue is indistinguishable, it's not a case where medals preempt membership or vice versa. Our core belief is that we must have a strong membership body if we are to discover, groom, and prepare the champions of the future. We also have a mandate by our charter, by our relationship with USOC, and by our desire to be the governing body to produce champions. We never take our eye off either membership or medals. The underpinning is money. It takes money.
I think our board of directors is terribly and unfairly maligned. I've been here six months. I've been to one board meeting where I found an exceptionally productive, functioning group; we dealt with a myriad of issues on the agenda. I do not have board members who meddle in our business on a day-to-day basis. They are an extremely knowledgeable and dedicated group with expertise in, and passion for, cycling who at the end of the day put their money where their mouths are.
I just think that whole image of the board is terribly overstated and I will leave you with this. If there was a leadership void in the past, it was natural - and appropriate - for the board to fill that hole. My goal as the CEO is to provide leadership such that the board is not required to act as the manager of the organization. I think that is exactly what they hired me to do.
CN: Currently, all three directors representing USPRO, USACDF and NBL as well as the athlete directors of USCF and NORBA, 11 directors in all, represent commercial and elite cycling interests who constitute less than one percent of the licensees. The four other directors representing USCF and NORBA have essentially no say in how the organization is run.
GB: Now that's not true. They have votes and those four votes can be extremely important when you have an eight to seven issue.
CN: Do you expect that USA Cycling will ever reorganize in such a way as to provide a semblance of democratic representation for its members?
GB: I haven't even thought about it. The biggest concern that I read into that question is that with all of this elite and vested interest being represented on the board, grass roots cycling is not being taken care of. The fact of the matter is that if you look at the $200,000 we invested in hardware and software and the $400,000 premium increase in insurance and the new program that we are proposing on a go-forward basis of revenue sharing with state associations; any thought that we do not focus on grass roots should be erased. If anyone comes forward and says we are not paying attention to grass roots cycling, all I would do is outline the facts.
CN: Given that your Chief Operating Officer, Steve Johnson, is also the Executive Director of USA Cycling Development Foundation and therefore takes direction in that capacity from the USACDF board and its president, Thomas Weisel, how do you avoid the inherent conflicts of interest in his serving in these two capacities?
GB: Well, Steve has the title, "Chief Operating Officer." He is actually the Chief Operating Officer of Athletics. Right off the bat, there is no conflict. Steve has been given total control of the athletic program for USA Cycling. He reports directly to me and I try not to interfere in his day-to-day affairs, primarily because that is not my area of expertise.
Until you asked this question, the concept of conflicts of interest never crossed my mind. I've never been confronted with a single instance where I felt that Steve's relationship with the foundation conflicted with his responsibilities as COO and head of athletics for USA Cycling. It works fine that Steve is director of the foundation. His job is just to apply for and receive the necessary funding that we need to get the job done.
Again, the foundation has never tried to provide direction. In fact, we went to them a couple of months ago and I applied for additional funding. I felt that they were very gracious and open to our request. I haven't heard the final word, but I'm anticipating that we will receive the funding. And besides that, I've only met Tom Weisel twice in my life and spoken to him on the phone once. He has never tried to influence our business.
The Direction
CN: Prior to accepting your position at USA Cycling you were an executive in a competitive market at companies such as Shogun Express, Main Street & Main, Southland Corporation (the parent of retailer 7-Eleven), and Circle K Corporation. Why the switch to a non-profit organization? In particular, why choose one that is perceived, by many, to be fragmented, inefficient, and floundering?
GB: I've done thirty years in corporate America, enjoyed it, did quite well, and was done! There may have been hills for others to climb, but there weren't any more for me.
Why did I do this? Well I have background with cycling; I worked with the 7-11 team back in the eighties and became very good friends with many racers (like Tom Schuler, a former 7-11 rider who has been instrumental in helping me transition to my new role) and I just really like the people in the sport. I have so much admiration for them.
Just the other day, in a conversation I was having with TxBRA. I said, "It's interesting to sit in these meetings and hear you talk about passion and being passionate about cycling." Then, I said, "I'm not passionate about cycling." But I didn't finish that comment because I didn't get my thought crystallized. Actually, I'm passionate about cyclists.
I also looked at the organization and I saw it floundering (I was on the pro board). I was constantly walking away from the board meetings scratching my head, thinking, "Man, this organization could use some help." Then, the CEO position became available and a couple of people on the board asked me if I knew anyone that would be qualified for the position. For me it was time to put my money where my mouth was. So, I told them, "I think I would be qualified." After years of complaining, like so many other people in the community, about the state of affairs at USA Cycling, the opportunity came along for me to try and do something about it - I felt compelled. And, I wanted to see if I could do it.
CN: In the June USA Cycling press release announcing that you were named Chief Executive Officer, you stated, "I plan to get out in the field as quickly as I can to learn first hand from the members, officials, promoters, and sponsors about their issues and to hear their ideas on how we can grow competitive cycling." It's December, who have you met with and what have you learned?
GB: When I crossed the Texas boarder today, Louisiana became the 25th state I've visited since July 16, 2002. I've attended track events, road events, and criteriums. I've met with state organizations. I've been to meetings in Washington, Oregon, and California, as you know Northern California/Nevada Cycling Association is now back onboard with USA Cycling. I recently attended a meeting in Wisconsin and met with American Bicycle Racing. I've met with Texas Bicycle Racing Association. I met with the American Cycling Association. I meet with officials whenever I'm around them because they bring such a wealth of information to the sport and a perspective that I don't get to hear on a daily basis. I attended Interbike and the Junior Track Championship.
It's a fun sport. Meeting with people on the road is the best part of the job. I get back to the office on Monday and I'm leaving Thursday for the Cyclo-cross Nationals; those three days back in the office can't go by fast enough.
I learned that there is an incredible amount of energy in this sport and for years we've been snipping at each other and fighting with each other. The vitriol flies freely within a cycling community that believes USAC didn't address the problems at hand (which by the way, we were more than our share of responsible for that environment). We need to take that energy and redirect it toward growing the sport, grooming juniors, running safer races, and make cycling rise to the level it can be in our country. We need to focus on what we can do tomorrow, not on what we did in the past.
CN: What are the three most important issues facing USA Cycling that need your personal attention in 2003? How do you plan on addressing these issues?
GB: I'm responsible for managing our budgets and resources.
We also need to create an environment where we may disagree but we all recognize that all parties are genuinely interested in what is best for cycling. We need to establish something that works for as many of us as possible. We are never going to satisfy everyone, but we have to start with the premise that all of us are here for the same reason - to benefit cycling at large.
And, finally, we need to start growing some champions. We have some outstanding cyclists out there, particularly with the women. We have so many opportunities at the championship level on the female side of cycling. We need to get the right coaches, establish the right system, and provide them the resources they need to achieve what they are capable of. We need to create an environment where athletes can thrive.
Grass Roots Cycling
CN: There is a good bit of discussion among riders over your recent decision to scrap the Regional Representative Program and your new contract with the Northern California/Nevada Cycling Association. What are you doing here? What role will the existing regional representatives play in the new methodology?
GB: One of the existing reps, George Heagerty, is now the national rep. He will work with Eric Moore (National Events Director) and oversee the transition.
Basically, we had five people assigned to a job that was so large and so broad that it was impossible for them to the get the job done. We interface with 3000 events every year; each person was to oversee 600 races. I don't know how in the world anyone could do that effectively.
A number of years ago we replaced the District Reps with Regional Coordinators -that was a mistake. Since taking this position, many times, I've said, "The decision to delete the District Rep Program was one of the biggest mistakes we ever made."
In order to get back to a district rep type of philosophy, we decided to embrace the local associations and acknowledge these associations as USA Cycling's advocate in their area. These associations will perform the functions previously carried out by the district rep. In return, the association will receive $10 out every license (from their area) to support local grass roots cycling.
We want bring the decision making and focus down to the grass roots level, we want to provide financial support, and by using the local associations in lieu of an individual we think we can create perpetuity. We also hope to take advantage of and support the local and regional racing associations that already exist.
CN: There are a number of regional associations that are currently affiliated with USA Cycling (for example: Texas Bicycle Racing Association, Texas Mountain Bike Racing Association, and Louisiana Bicycle Racing Association); it makes sense for these organizations to get onboard with your proposal as you are offering financial support that can be funneled directly back into grass roots racing for performing the same functions the organizations are already handling. However, why should an organization such as the American Cycling Association that is operating an independent, successful, and respected grass roots program even consider realigning with USA Cycling?
GB: We want to work with all associations, including the American Cycling Association, to benefit cycling. We can provide member services and continuity. But to answer your question: I am meeting with ACA in January and I believe -absolutely - that they should come back with us. I'm motivated to make that happen. I also recognize that, after our conversations, they make come back and say, "You guys have a long way to go before you will surpass what we are already doing for our riders and at this point in time we don't need you." If that's the case, I will be back when I think that we are ready.
I don't look at this as one-time deal and I've instructed my staff that we are not in competition nor are we at war with these people. This is the cycling community in the United States; this is not Wal-Mart against K-Mart. On a daily basis we will do what we think is best for cyclists at large.
CN: Due to independent associations, those racing in areas with multiple sanctioning bodies have to pay a number of license fees. You've made progress in your negotiations with some of the independent organizations; however, because of previous performance, it is unlikely that you will reach an agreement with all the associations for 2003. For 2003, to alleviate the burden on the racers, do you plan on developing a reciprocal agreement that would honor the license of other sanctioning organizations?
GB: I haven't thought about it.
CN: Is that something you would be willing to consider?
GB: I'm still working with associations at this point. That is a negotiating tool that I haven't anticipated having to employ.
CN: It's nearing the end of 2002; clubs and teams are looking at renewing their memberships, licenses are getting renewed, and in most areas of the country next year's schedule is under development. When a racer, team manager, or promoter writes that check, what should they expect for their money?
GB: More than what they've gotten in the past! Riders should expect more comprehensive and personal service. They should have confidence that when they contact USA Cycling with a problem that they will be heard and the issue will be addressed. They should have access to us. They should expect that whatever they have today, thirty days from now it will better, and thirty days from then it will be better still.
Riders should expect a solid insurance program and a website with effective online tools. Also things like better-trained officials, more coordination of the scheduling of officials, better communications related to rule changes, and effective dissemination of information. Along with a more comprehensive coaches training program and mechanics training program. It won't happen overnight, but those are all things that we are working toward.