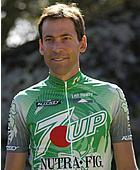 John Lieswyn
Photo: © Phil Jolley
The John Lieswyn Diary
A pro racer who now mostly concentrates on the US domestic scene, John Lieswyn is one of Cyclingnews' most popular and sometimes controversial diarists. He has been racing since 1985 and a Cyclingnews diarist since 1999. John likes both criteriums and longer road races, and seems to particularly like it when the going is hard. He has raced in the Regio Tour, Peace Race, Tour of Poland, Vuelta a Guatemala, Tooheys GP and Commonwealth Bank Classic with success, as well as winning astages in the Sun Tour, Killington and Superweek. In 2002, he is riding for 7Up/NutraFig.
Mechanicals in the sun
3rd El Debate Vuelta a Sinaloa, Mexico
Stage 9 - September 29: Circuito en Mazatlán, 100km ('hot dog'circuit, 25 laps)
Beachfront, early morning as usual, zero crowd. Six seconds separating me from the race leader Aldape. Woke up still miserably sick but slightly improving. Hoping for windy conditions or rain to turn the race into a hard man's 'triathlon' stage. It wasn't to be as it was dead calm and sunny.
Fifteen laps to go Zarate flatted and I'll tell you I wasn't very Christian (turn the other cheek) about it. We relished going to the front and putting the nails in his coffin. He never got back on and his team lost his top 10 overall money, worth about US$1500 .
Ten to go and Christian Valenzuela fought back to the peloton after two mechanicals. Strong guy who totally deserves his top three overall placing. He was a team-mate of mine on Shaklee in 1999 and while his talent didn't have much chance to shine, he was a great guy to have. The language barrier (he speaks very little English and didn't make much of an effort there) probably cost him a chance to learn more racing tactics and continued contracts in the USA. But as I'm seeing now, there are a lot of really good races for these guys to do right here in Central and South America.
Seven laps to go a break began forming including the sprint leader (part of the Chocolate combo team) and we missed it. Just as I considered going across to it, and as I was accelerating out of a switchback, my rear wheel popped a spoke. Back in the old days when everyone rode 32 spoke wheels, the loss of a spoke meant the wheel went wobbly but rarely badly enough to hit the frame and slow your progress. All you had to do was release the brake and soldier on, hoping the other spokes wouldn't loosen. Today we have aero wheels with few spokes and losing one can be catastrophic. The wheel banged against my brake and frame, but I knew that stopping now even to switch wheels with a teammate could cost us $4500. So I chose to continue. Meanwhile, in the break, the sprint leader broke his chain and like Zarate lost his top 10 placing.
For the last six laps I suffered trying to hold the wheel (with Kevin staying right behind me the whole time to do a quick wheel change should it become absolutely necessary), the break stayed away, and Charles killed everyone in the field sprint for fourth. As soon as I crossed the line I climbed off and spun my wheel to see what kind of resistance I'd worked against. TONS.
A few notes on my teammates this week.Since the SFGP many of you may be wondering: what's Dionne like? Obviously young, fast and strong. Great work ethic. Wants the team to win EVERYTHING. Brings youthful enthusiasm everywhere. With much improved English, he has become part of the 7UP family and his sense of humour has really come out.
Gustavo is also hilarious. I wish it hadn't taken so long for me to get to know him as he has been part of the racing scene nearly as long as I have. He's not only strong and dedicated but also super well connected to the Central and South American racing scene. He has raced all over Europe as well.
Kev ("Mono") I've known long and he's one of my best friends in cycling. I'm so glad he won the USPRO Criterium title and found renewed enthusiasm for cycling. Hopefully we'll be teammates again in 03.
Jason McCartney rides for Jelly Belly and hails from cosmopolitan college town Iowa City, about two hours drive from my town of Ames. I'm told the two towns are college football rivals - I know nothing about that! Jason and I have dueled over the tough Snake Alley Criterium circuit the past two years and he made a big mark on the USPRO scene with his third place ascent of Oak Glen in the 2001 Redlands Classic. He was easily the highest horsepower rider in this week's tour. It was great getting to know him better.
After the prize-giving we all headed down to the beach and caught some waves in the warm Pacific water. I was hoping the salty seawater might help clear out my sinuses. I managed to lose my room key in the surf. Figures that the only hotel we've stayed in the whole trip without the newfangled disposable digital keycards is also the hotel where I lose my key. Charles was having a great time until a wave hammered him so hard he twisted his neck. We saw him off to the airport and wished him a quick recovery in time for the World's. After shopping, food and the requisite Internet stop we are going to nap so we can go to the dance clubs late tonight. Tomorrow will be a long day with three airlines, four planes, and five airports on my way home. I'll be surprised if my bike doesn't get lost. What was I saying about optimism?
Some thoughts: Australia, collusion & racing in the USA
I regret to inform my longtime readers that this year I won't be doing a report from a major Australian stage race this year. I've been going to Australia every year since 1991 (excepting 1996 which I took off the bike completely) and doing either the Commonwealth Bank Classic or the Herald Sun Tour.
While I did let the organizer know that I was interested a few weeks before the teams announcement was made, and two of my teammates with marquees like National Champ and SFGP winner are likely to be included, for some reason I got the snub. But I'm not really disappointed because this has been my longest, hardest season yet. I need some time at home. For the Southland Tour in NZ I'll even be bringing my wife for post race vacation. Dawn rarely goes to my races and it will be really nice for me.
Perhaps I didn't get invited because of my comments in last year's diary about the small team size and prize structure virtually guaranteeing collusion between teams. Eventually it took three teams to win the race. I guess this is S.O.P. at most stage races with six or less riders per team. I saw it in the five South American stage races I've done including the one I've just completed, the Vuelta a Sinaloa. Collusion really bit Wohlberg and me in the posterior in the Southland Tour last year. And Eric is as honest a bike rider as they come. If he couldn't win the race with the four guys he was teamed up with, he didn't want to win it.
Collusion is natural in stage racing. There are different degrees of it, and I certainly am willing to exchange favors with Canel's Turbo here at this race in an effort to see the team that drove my four team-mates out of contention when they were flatting. But the most egregious types of collusion don't occur in USA stage racing, and perhaps that's one reason I prefer racing at home. Another reason we may have less collusion is that there are simply fewer stage races in America.
This takes me to my last subject. There were letters describing the weak field for Eustice's Univest Grand Prix. I think it was weak because who wants to fly across the country for one race at the end of the season? I'm here in Mexico instead of the Univest and Miami because there is something better to go to. A nine day stage race composed of five point to point road races and four circuit races, racing for real prize money. Charles is here because the Univest and Miami simply can't provide the kind of preparation for Worlds that the Vuelta a Sinaloa can. I wish that the USA, as one of the richest countries in the world, could have more stage races for elite level competition. It certainly would help keep the momentum Lance has built for us going. And maybe the Tour of Georgia will really happen, with its six road races and reasonable $80,000 prize list. It doesn't look good for professional cycling when we show up for fifty dollar first place purses like at Willamette. If we have to go to Mexico for a decently hard, well rewarded stage race, then we will. Tour of Texas, R.I.P.
Thanks for reading!