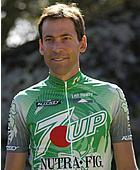 John Lieswyn
Photo: © Phil Jolley
The John Lieswyn Diary
A pro racer who now mostly concentrates on the US domestic scene, John Lieswyn is one of Cyclingnews' most popular and sometimes controversial diarists. He has been racing since 1985 and a Cyclingnews diarist since 1999. John likes both criteriums and longer road races, and seems to particularly like it when the going is hard. He has raced in the Regio Tour, Peace Race, Tour of Poland, Vuelta a Guatemala, Tooheys GP and Commonwealth Bank Classic with success, as well as winning astages in the Sun Tour, Killington and Superweek. In 2002, he is riding for 7Up/NutraFig.
Great Lakes Cycling Classic
East Aurora (Suburb of Buffalo, NY), August 23, 2002
I got up early this morning and Dawn dropped me off at the airport for the first flight out to Chicago and a connection to Buffalo. Kev picked me up at the airport and we went back to his hosts, Tony and Lisa Hoffman and their beautiful 1850's farmhouse, where I caught a nap on their couch prior to today's criterium. With their precocious 5 and 2 year olds the Hoffman family paints a compelling picture of post professional cycling for me.
This race has gotten harder every year I've done it. It's held in conjunction with the locally based Fisher Price Toy Company's kid's parade. Unfortunately the race suffers a bit from the same problem Shelby NC overcame a few years ago: it's also held in the shadow of a much more established National Racing Calendar event. Shelby has come into it's own with NRC recognition and hopefully the USAC will upgrade the GLCC next year.
This year Mercury has sent in a four man "hit squad" with Moninger, Sayers, Stoyanov, and Vogels since Fisher Price's "Hot Wheels" is a supporting sponsor (now how did they get that one, and do the riders get free toy cars?).
For the first ten laps I'm struggling a bit, alternating between covering moves and hanging on at the back. Kevin leads the peloton into the tight turns 1 and 2 pretty fast one lap and I'm telepathically urging him not to crash his shiny new USA stars & stripes Cannondale CAAD7.
It's kind of weird the way that my body goes from struggling to flying in just a couple minutes. Today the transition was even more sharp than usual as all of a sudden the carburetors cleared out and I was attacking repeatedly. With the numbers and strength of Mercury here, I was fine with a break containing two of them and just this combination finally developed. Stoyanov, Vogels and I got away and I dropped the hammer. When we'd opened a one minute lead over the chasers, Vogels called for a dialling back of the throttles to save it for tomorrow and we slowed our average from 52 km/h to 45. While I felt very strong I was in a two on one "sandwich" so I had to settle for 2nd place...
After a 3 hour drive we're checking in at the Binghamton Regency when Ed Beamon (D.S. of Navigators) spies Kevin across the lobby. Ed congratulates Kev heartily on the national crit title and wanders away. A couple minutes later he appears again with a grin and a light punch to my arm, saying "In the presence of the champ, you don't rate a 'hello' anymore!"
We had a good laugh. All the attention lavished on Kev will eventually (like, next week) die down but for now it's worthy of constant "your highness" jokes.
19th Annual Chris Thater Memorial Criterium
Binghamton, NY, August 24, 2002
Held in memory of a cyclist killed by a drunken driver, this race is one of America's hardest criteriums. The hill isn't particularly steep but after 60kms raced in just 1:10 it begins to wear down even the toughest riders. Favorites today include myself as a double winner, Vasily Davidenko (NAV) Mark Walters (NAV) as winner in 2000, Henk Vogels (MCY) coming off his win in Chicago last week, and 2001's second placegetter Scott Moninger (MCY). As usual a good crowd is in attendance with plenty of vendors and a bike freestyle show to keep them entertained between the feature women's and men's races.
Once again the race opens just flat stick, and I'm caught back in the third group early on. It takes me a while to realize that of the five 7UP/Nutrafig riders in the race, I'm the fourth guy on the road and between the first and second group there are nearly thirty guys up there. If I don't get my rear in gear it'll be as Vogels says, "all over red rover". So I set about leapfrogging my way to the front.
I arrive there winded but happy to be back in the race, just as the two groups are coming together. The group is unwieldy and a new break is sure to form, so I don't give myself any time to recover. Everyone else is sure to be licking their wounds as well so I attack on the hill and a new group forms. Navigators has Walters and Olympic Sprint Champion Nothstein while Mercury has Sayers and Moninger. Others included our Doug Z, Canadian National Road Champ Andrew Randell, Alex Lavallee, and the back at full strength Colby Pearce.
With a lead of nearly a minute our group slowed significantly, especially on the hill. The only thing changing the pace was the frequent $200 lap primes, and it was on just such a lap that Doug was dropped. He later came back on with the Russian Concussion Victor Repinski, the last man to make it into the lead group. Doug was having a tough day and I had my hands full covering the Mercury duo and Walters. The Oly Gold champ was hanging tough but that was all, no attacks coming from there.
Hoping for a split and then a sprint from a cut down version of this break, I was caught off guard by the sudden sighting of the peloton's tail. Walters was jumping around like crazy and I switched modes from attacking to Walters watching. He brought us all across to the peloton and once there his teammates drilled it, bringing back all other riders hoping to also gain a lap.
As the race wound down it became quite nervous around sixth wheel, where I was trying to stay on Walters. Repinski and Sayers constantly put pressure on me and with one to go I let Sayers and Stoyanov in front. The Navigators were tiring as we hit 1 km to go so Stoyanov hit out with Sayers in tow for the last turn, my own Monahan third wheel and then myself.
We flew past the blue train, but Walters wasn't having any of it and deftly swerved in front of me to take Kev's wheel. Our team mechanic had recommended that I take out the Connex chain quick release link as we've had problems with skipping in the 11 cog, but I hadn't had any problems this season with it. Until today. As I jumped on the top gear to try and repass Walters out of the last turn, the chain wouldn't engage under full pressure. The line was coming up fast and I had no room left to manoeuvre- Monahan told me later that it appeared that I freewheeled the last 50m. With Sayers on my left and the barriers on the right, it was simply too late and I had nowhere to go.
After the race my teammates were off to their cars and flights in a flash, and without a flight option I settled in for a night solo. I managed to misplace the phone number of a former Binghamton host, so I cruised around the empty downtown on my bike and admired the turn of the century architecture. The only person I saw other than a few homeless people was working on a 1960 MGA in a well lit and wide open car repair garage, and I stopped in to talk classic cars with him.
Next up: St. Louis Labor Day races - our cosponsor THF Realty is based in St. Louis so we're going to send a strong squad and try to impress them. I won't fly American Airlines there despite a convenient direct flight from Des Moines, since AA has decided that Dobermans, Pit Bulls and Rottweilers should be banned from their cargo holds. Apparently a pit bull got out of it's airline approved crate and chewed through backup control cables. AA figures that "aggressive dogs" are the problem. My Dobie doesn't chew on anything he isn't given to chew on, and isn't aggressive at all. So if a Dalmatian puppy got out of it's crate and took down an airliner, would they ban Dalmatians?
The total absence of logical thought here is disturbing. AA should look at their crating and handling procedures, not arbitrarily select three breeds when chewing is something many dogs do. So I'll be driving the nearly 7 hours. I long for a fast train system like France's TGV...