Recently on Cyclingnews.com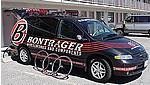 The Bontrager van
Photo: © Chris Davidson
The Chris Davidson diary
Chris Davidson is a mechanic for Bontrager Racing Service, which provides neutral tech support provider for US domestic races.
Tour of the Gila, USA, May 1-5, 2002
A quiet day at the time trial
Helping at the TT start
Photo: © Chris Davidson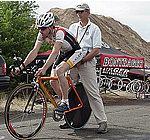 Yesterday's time trial was uneventful from the mechanic's side. Of the four field – men's 3, women's, men's 2, and Pro 1 – over 400 total riders, there were only four flats on the course. In at TT like this those guys are just riding to finish after flatting. The big guns – Moniger, Wolhberg, Pate – were rocking but there were many team guys with no aero equipment just taking an easy ride and getting ready for the next four days of protecting their leaders in the wind.
Last night after the stage we went looking for team mechanics to ride with us for today. In this race, there are no team cars in the caravan, so it is just us and the officials on the road. It makes our work harder, in that we are covering the whole 150 rider Pro 1 field. We have two motos and two cars, and without team cars the team mechanics usually just go in the feed zone and help the soigneurs. To help us – and the riders – we were trying to recruit two guys to work out of our vans. We got a lot of rejections. Because of the remote nature of the race, most teams have sent only minimal support crews, and a lot of team mechanics are getting pressed into being full fledged soigneurs, looking after bodies as well as bikes. In most other cases, the team guys are happy to join us and get a look at the race from the van.
It takes a hour in the morning to pump our wheels and load the vans. Then we get to the start an hour before roll out to help riders with last minute mechanical stuff. I've gotta run now, this morning we start at 9:00am.
Tip of the day: if you're ever in Silver City, stop at the Drifter for breakfast!
Cheers
Chris