Recently on Cyclingnews.com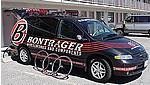 The Bontrager van
Photo: © Chris Davidson
The Chris Davidson diary
Chris Davidson is a mechanic for Bontrager Racing Service, which provides neutral tech support provider for US domestic races.
Tour of the Gila, USA, May 1-5, 2002
Getting prepped for Day One
Hi from the Tour of the Gila. My name is Chris Davidson and I work for Bontrager racing service. We are doing the neutral support for the men's pro race at Gila. I hope to give you an inside view of the race, with information on equipment, team vs neutral support situations and problems, the service the we do and the ins and outs of race support from the back of the motocycle. I am lucky again this year to have Maynard Hershon as my moto driver. He is always good for a story. Lastly, in the spirit of Marcel Wust, we might add the 'joker of the day award'.
Today is the opening prologue. Fifteen miles of climbing or descending, no flat on this course. The part they don't mention in the race flier is the wind. I can't remember a day here when the wind was less than 20mph. And the course starts at 6000ft. A whole range of equipment choices – I will have some photos tonight. We are stationed at the start, mostly pumping tires and adjusting shifting, and at the top of the climb on the course. Only one wheel change last year from this point on the course and some small emergencies at the start.
Today gives us a low pressure day to check out all the equipment and starting planning choices for tomorrow (wheels and bikes for the two vans and two motos). This year we are carrying 20 pairs of Bontrager Race X-Lites and six LeMond Maillot Jaune bikes ranging from 51cm to - 61cm. And because we are doing neutral support we have every possible spare part, size of tube, cable and lube necessary for five days any conditions. It makes for a full pair of vans.
Well we are about to load up and head to the TT course. More on the prologue tonight.
Chris