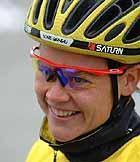 Photo: © Rob Karman
The Anna Millward Diary
Australian Anna Millward (Wilson until her marriage in 2000) is one of the best women's cyclists in the world, and was ranked number 1 for the first part of 2000. She has won races everywhere, from time trials in France, World Cup races in Switzerland to stage races in the USA, and was the first cyclist ever to break the Hour Record under the "new" UCI rules. Anna possesses an incredible sprint and this combined with her power and determination makes her a formidable cyclist on any terrain. She is also one of the friendliest and most optimistic people you could ever meet.
Anna's Grand Boucle Féminine diary
Scary stuff - Thunderstorms and Zinaida
Stage 4 - August 7: Bar le Duc - Nogent-sur-Seine, 156.2 km
We had our longest day of the tour on day 4 with 160 km of racing and 20 km of neutral before that, plus one hour of driving to get to the start, and three hours of driving to get to the hotel. It all added up to one LONG day!
There were a lot of attacks during the stage, with many riders trying to steal away for a stage win. At the 50km mark, Ghita Beltman (Acca Due O) got away solo and despite a lot of attempts from other riders to bridge the gap, she maintained her lead until the field finally settled down and let her gap grow. 20km later, when Ghita's lead was around 1 and a half minutes, two other riders broke clear and set off in pursuit. Madeleine Lindberg (Farm Frites) and a rider from Edil Savino quickly closed the gap to Ghita and the three of them worked together to the finish.
The field was excited for a while, but with a headwind and a lot of km to go, everyone soon settled into a slow tempo and the gap of the three leaders grew to 10 minutes. The rider closest to the yellow jersey of Judith Arndt (Saturn) was Madeleine Lindberg at 7 minutes. So in the final 25km, we went to the front to set a solid tempo. We weren't too concerned if Judith lost the jersey to Madeleine as we were confident that with the mountains to come, Madeleine would not be a real threat. However, we didn't want her to get a head-start of too many minutes!
With five of us working and the three in front starting to die after a long escape, the gap dropped quickly, and by the time we finished it was only 3.43. Madeleine proved to be the strongest of the trio, and she took the stage win, but Judith retained yellow and even put in a sprint to cross the line in 5th place!
Stage 5 - August 8: Saint-Vallier - Montceau les Mines ITT, 31.2 km
The following day was a 31 km time trial. For the Saturn team, this was important only to two riders - Judith Arndt and Kimberly Bruckner. The rest of us used the day as a rest day, only riding hard enough to make the time cut of 30%. We know we will have a lot of work to do over the next week and so we want to be as fresh as we can be! Judith and Kimberly were both off very late in the day. What had started out as a beautiful day, suddenly erupted in a massive thunderstorm. I was caught in a little bit of it, but the last 10 riders were nearly drowned. It was pretty surprising then, that they still recorded very fast times, and Leontien Zjilaard (Farm Frites) won the stage even though she had the worst of the conditions.
Judith finished in third place, 54 seconds behind Leontien and 30 seconds behind Zinaida Stahurskaia (Chirio). So she retained the yellow jersey, with Leontien closing the gap to 30 seconds. Zinaida could be a big threat as she excels in the mountains and she's now just over 2 minutes behind Judith. Scary stuff!! Kimberly also had a great time trial, finishing in 6th place and so moving up to 4th place overall.
The rest of us achieved our goal of making the time cut and hopefully we will be a little bit fresher tomorrow and able to help as we begin to climb some mountains.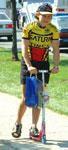 Photo: © Rob Karman
Cheers
Anna