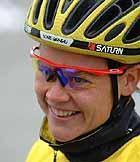 Photo: © Rob Karman
The Anna Millward Diary
Australian Anna Millward (Wilson until her marriage in 2000) is one of the best women's cyclists in the world, and was ranked number 1 for the first part of 2000. She has won races everywhere, from time trials in France, World Cup races in Switzerland to stage races in the USA, and was the first cyclist ever to break the Hour Record under the "new" UCI rules. Anna possesses an incredible sprint and this combined with her power and determination makes her a formidable cyclist on any terrain. She is also one of the friendliest and most optimistic people you could ever meet.
Anna's Grand Boucle Féminine diary
A brutal day and a yellow jersey to defend
Stage 2 - August 5: Bruxelles - Valenciennes, 159.5km
Stage 2 was quite a brutal day on the tour. 144km of racing with 19km of neutral to start the day and six sections of cobblestones to negotiate. The really bad cobbles didn't start until 40km to go and the field was all together up to that point. We did our best to have Judith Arndt and Kimberly Bruckner (both Saturn) up the front for the start of these cobbles and then to go flat out over them and try to create a split in the field.
Things went perfectly according to plan, as we hit the cobbles all at the front. This section was 3km long and with showers falling during the day, there were some very muddy and slippery patches. Judith Arndt (Saturn) took off after about 500 metres of cobbles and no one could match her speed. Ina Teutenberg (Saturn), Valentina Polkanova (Itera) and Debby Mansveld (Vlaanderen) were the next little group on the road, but they were only able to catch up to Judith when one of the leading motorbikes crashed in front of her, forcing her to stop for a few seconds.
So off the cobbles it was that little group of four in front, with Petra Rossner, Kimberly Bruckner and myself all in the next group of around 12, including the yellow jersey of Leontien Zjilaard (Farm Frites). The Farm Frites riders did their best to chase but the hammer was down in front. Ina Teutenberg (Saturn) totally blew herself up trying to create a big gap and on the next section of cobbles she came back to our group. Debby Mansveld (Vlaanderen) was the next to blow and that left only Judith Arndt and Valentina Polkanova out in front.
Meanwhile, the chasing group was growing larger as more riders caught us from behind. Some of the favourites for the overall title had terrible luck with punctures, crashes or just struggled on the cobbles and ended up losing a lot of time. But Judith Arndt and Polkanova drove it all the way to the finish line where Judith took the stage win and the yellow jersey, one and a half minutes in front of Petra Rossner who won the bunch sprint for third place.
Stage 3 - August 6: Charleville-Mezieres - Val de Fensch, 154.8km
So we started stage 3 with a yellow jersey to defend! No cobbles this time but a few category 4 climbs to test us out. Once again, things were pretty sedate until the second half of the race and then it was the Farm Frites team who began the aggression. We found that if we put four Saturn riders on the front to ride tempo, the attacks would stop and so we ended up doing that for a lot of the stage. It took its toll however, because over the last two climbs, coming at 20 and 10km to go, the rest of us blew up, leaving only Judith Arndt and Kimberly Bruckner in the leading group of around 30 riders.
Things were very aggressive in the last 10km of the stage and Judith and Kim had their hands full trying to control things. In the end, Zoulfia Zabirova (Chirio) attacked with around 2km to go and stayed away by five seconds to win the stage and grab back a few seconds of Judith's lead overall.
So, Judith is still in yellow with another long, flat day today and then the time trial tomorrow. More work to do yet!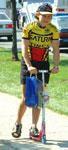 Photo: © Rob Karman
Cheers
Anna