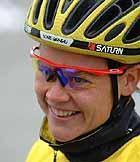 Photo: © Rob Karman
The Anna Millward Diary
Australian Anna Millward (Wilson until her marriage in 2000) is one of the best women's cyclists in the world, and was ranked number 1 for the first part of 2000. She has won races everywhere, from time trials in France, World Cup races in Switzerland to stage races in the USA, and was the first cyclist ever to break the Hour Record under the "new" UCI rules. Anna possesses an incredible sprint and this combined with her power and determination makes her a formidable cyclist on any terrain. She is also one of the friendliest and most optimistic people you could ever meet.
Anna's Grand Boucle Féminine diary
The Games and La Grand Boucle
I assume most of you know about the Commonwealth Games since it was broadcast on TV. But just in case you missed it, I had a good time trial and took the silver medal, 9 seconds behind Clara Hughes of Canada. In third place was Lyne Bessette also of Canada and then two Aussies, Margaret HEmsley and Sara Carrigan finished fourth and fifth.
One week later we raced a 94km road race - 8 laps of the same circuit we raced on in the time trial. There were no long climbs in the circuit but there was also no real flat road and there were two steep pinches of around 300 metres each. The last of these was 17 percent in gradient - quite nasty after a few laps!
The race started calmly and we rode as one bunch for three laps before the English team began to attack. On the fifth lap the race exploded and a group of 12 riders broke clear of the field. We had four Australians in the group - Margaret Hemsley, Liz Tadich, Hayley Rutherford and myself. However, we were also with a lot of other very strong riders from other countries. Margaret Hemsley was on fire and with continued attacks she made it into a group of four on the second last lap. With her were Sue Palmer (Canada), Roz Reekie (New Zealand) and I think Rachel Heal of England. Behind that breakaway group, the pressure went on in the chasing bunch of eight through the hills and both Liz Tadich and I lost contact with the front group, along with a couple of other riders. Hayley Rutherford managed to survive the pressure.
Meanwhile, Margaret Hemsley had attacked the breakaway group and was away solo, with only around 15km to travel to the finish line. The rest of her breakaway companions were caught by the riders from behind, making a chasing group of seven riders.
However, that is where our race fell apart. Margaret crashed on the descent, and by the time she had remounted, the chasing riders had gone past her. I came past just in time to see her getting back on her bike. She rode with me for a few kilometres to try and help me chase back on but she was in too much pain and had to finish more slowly.
So, Hayley was left alone in the front group and despite more attacks through the hills, the seven riders came to the finish line in one group. Nicole Cook (Wales) won the sprint from Sue Palmer (Canada) and Rachel Heal (England). Hayley finished fourth. I finished in ninth I think, over a minute behind.
So a bit of a disappointing day for us but I guess bike racing is like that!
Off to La Grand Boucle
Straight after the race I was off to the airport, to catch a plane to the start of the Grande Boucle Féminine (the women's Tour de France) the next day. The Tour started with a 92km stage in Holland - mercifully flat!! The race ended in a bunch sprint and we led out Petra Rossner and she didn't disappoint us, taking the first yellow jersey of the tour.
That same afternoon we had to race a 15km team time trial. I think we did a pretty good job on a narrow and fairly technical course. However, the Farm Frites team did a better job and won the race, 12 seconds in front of us in second place. So we no longer have the yellow jersey in our team but we are pretty well placed right now.
Tomorrow is a long day which goes over five of the cobbled sections from the Paris-Roubaix race so it should be pretty interesting!
Stage 1a Results
Stage 1b Results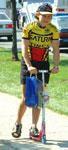 Photo: © Rob Karman
Cheers
Anna