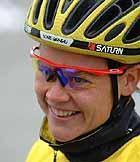 Photo: © Rob Karman
The Anna Millward Diary
Australian Anna Millward (Wilson until her marriage in 2000) is one of the best women's cyclists in the world, and was ranked number 1 for the first part of 2000. She has won races everywhere, from time trials in France, World Cup races in Switzerland to stage races in the USA, and was the first cyclist ever to break the Hour Record under the "new" UCI rules. Anna possesses an incredible sprint and this combined with her power and determination makes her a formidable cyclist on any terrain. She is also one of the friendliest and most optimistic people you could ever meet.
Anna's Giro d'Italia Femminile diary
Stage 7 - July 12: Meda-Meda, 122 km
Yesterday was my last day for racing in the Giro. We raced 122km on a tough circuit with many short, steep climbs. Roberta Bonanomi (Figurella) had the race of the day, featuring in both of the significant breaks and still finishing with the front group. Olga Zabelinskaia (Itera) had the most unfortunate day, crashing on the first lap and losing significant time as well as significant amounts of skin - that gave Sara Carrigan (Australia) a clear lead in the young rider competition.
Anyway, back to the race where all breakaway attempts were reeled back in with 10km to go and it looked like we were set for a bunch sprint of around 45 riders.
Sara Carrigan (Australia) had other ideas, and put in a magnificent attack at about 8km to go. Despite continuous chasing from several teams she got a lead of around 20 seconds with 5 kms to go. From there, the Itera team and Acca Due O team took control and gradually brought the gap down until they finally caught Sara with just under 1km to go. The leadout trains continued from there, and Olga Slioussareva (Itera) claimed the stage victory from Diana Ziluite (Acca Due O). The overall lead remained with Svetlana Boubnekova (Kookai).
At that point I decided that I needed to withdraw from the Tour to properly prepare for the Commonwealth Games, coming up in only two weeks time.
Stage 8 - July 13: Barzago-Barzago, 101 km
p>So today, a team of only 4 Aussies took the start for the second last day of the tour. It proved to be a very decisive day with a brutal climb coming with only 20km left in the stage. Zinaida Stahurskaia (Chirio) attacked the climb and only the tour leader, Svetlana Boubnekova (Kookai) could go with her. The two of them finished the stage together, with Zinaida taking the stage win and moving up to second overall in the tour.
Edita Pucinskaite (Figurella) finished in 3rd place, 29 seconds behind and is now in third place overall as well, only two seconds in front of Diana Ziluite (Acca Due O) in 4th.
Sara Carrigan had another good day, finishing just under three minutes behind and holding on to a big lead in the young rider competition. There's one day of racing left and then I fly to Belgium for a week before heading to England for Commonwealth Games.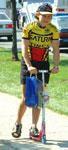 Photo: © Rob Karman
Cheers
Anna