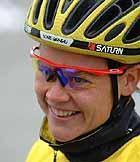 Photo: © Rob Karman
The Anna Millward Diary
Australian Anna Millward (Wilson until her marriage in 2000) is one of the best women's cyclists in the world, and was ranked number 1 for the first part of 2000. She has won races everywhere, from time trials in France, World Cup races in Switzerland to stage races in the USA, and was the first cyclist ever to break the Hour Record under the "new" UCI rules. Anna possesses an incredible sprint and this combined with her power and determination makes her a formidable cyclist on any terrain. She is also one of the friendliest and most optimistic people you could ever meet.
Anna's Giro d'Italia Femminile diary
Stage 6 - July 11: Suno-Suno ITT, 19.5 km
Today we raced a 19.5 km time trial. There were a couple of little hills in the first half of the course and then the roads opened up and it was pretty much a drag strip for the last half of the race.
The pink leader's jersey started out on the shoulders of Svetlana Boubnekova (Kookai) and she asserted her dominance once again, winning the time trial in a time of 25 minutes and 57 seconds and so keeping the leader's jersey.
Rasa Polikevicuite (Acca Due O) finished in second place, 11 seconds behind Boubnekova. I'm not sure if that will be good enough to move her into second place overall but I think it will be.
I was happy to finish in third place, two seconds behind Rasa. But of course I have no impact on the overall standings!
Sara Carrigan (Australia) had a good ride to finish in 5th and confirm her status as the best young rider on the tour.
Three days left in the Giro and the next two days are meant to be pretty hard and decisive days for the overall so I hope my legs hold out!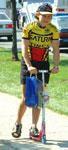 Photo: © Rob Karman
Cheers
Anna