Recently on Cyclingnews.com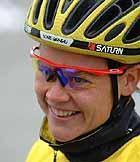 Photo: © Rob Karman
The Anna Millward Diary
Australian Anna Millward (Wilson until her marriage in 2000) is one of the best women's cyclists in the world, and was ranked number 1 for the first part of 2000. She has won races everywhere, from time trials in France, World Cup races in Switzerland to stage races in the USA, and was the first cyclist ever to break the Hour Record under the "new" UCI rules. Anna possesses an incredible sprint and this combined with her power and determination makes her a formidable cyclist on any terrain. She is also one of the friendliest and most optimistic people you could ever meet.
A training day
Tour of the Gila, New Mexico, May 1-5, 2002
Well the Tour of the Gila finished pretty much as it had started, with Genevieve Jeanson (Rona) attacking after about 10km of the final 115km stage and riding solo to the finish. She won the stage by several minutes and so increased her lead overall to some incredible margin. Over 10 minutes! A very decisive victory!
I couldn't race of course and so I went for a training ride on the course and watched with interest as the different bunches came past me. The rest of my team chased Genevieve for around 80kms, helped by Anne Samplonius and Katrina Berger. At that point, the major climb of the day began and unfortunately Kim Bruckner (Saturn) punctured. She lost a bit of time getting a wheel change and then Jessica Phillips (Saturn) did a great job helping her regain contact with the leaders from the pack. Kim attacked past them and only Karen Boeckel (Rona) could follow her pace up the climb. Kim finished second on the stage and that cemented her second place overall. Karen Boeckel finished third in the stage and overall as well, and I think Jessica Phillips managed to hold on to 4th place overall.
So a tough tour and some amazing performances by Genevieve Jeanson. I have a couple of weeks now until I race again in Housatonic - a one day race which the organisers are hoping to build into a World Cup race for next year.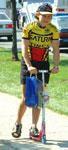 Photo: © Rob Karman
Cheers
Anna