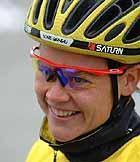 Photo: © Rob Karman
The Anna Millward Diary
Australian Anna Millward (Wilson until her marriage in 2000) is one of the best women's cyclists in the world, and was ranked number 1 for the first part of 2000. She has won races everywhere, from time trials in France, World Cup races in Switzerland to stage races in the USA, and was the first cyclist ever to break the Hour Record under the "new" UCI rules. Anna possesses an incredible sprint and this combined with her power and determination makes her a formidable cyclist on any terrain. She is also one of the friendliest and most optimistic people you could ever meet.
Taken out by nuts
Tour of the Gila, New Mexico, May 1-5, 2002
Well, after the first few days of this tour went so well, today was something of a disaster for me.
Our criterium didn't start til midday so we went for a coffee shop ride around 10 o'clock. I ordered a caffe latte. The problem was that somehow the order got messed up and my latte arrived with hazelnut flavouring in it. Anyone who knows me knows that I am highly allergic to nuts and so after a couple of mouthfuls of the coffee I realised something was wrong. I headed back to the hotel where I keep antihistamine medication for emergencies like this. I took the antihistamines and thought everything was going to be OK. I felt so good that I headed back out to ride some more with Ina Teutenberg, Kristy Scrymgeour and Chris Witty before the criterium began.
About 20 minutes into the ride I began to feel really bad and I pulled over to the side of the road, thinking that if I sat down for a while, it might pass. Ina set off at full speed back to the hotel to get help. Meanwhile, Chris Witty flagged down a car and an unsuspecting couple found themselves giving Kristy and me a lift. At first we thought we would head back to the hotel but I became more and more out of control with my allergic reaction so instead Kristy asked them to head straight to the hospital. They pulled up next to a local to ask directions to the hospital but I think he took one look at me and realised things were pretty serious so he said "Follow me" and set off to show the way.
By the time we got to the hospital I was in serious pain and wasn't capable of getting out of the car. They had to bring a wheelchair to get me into the hospital. They measured the oxygen saturation level of my blood - which normally sits around 97 percent and found that it had dropped to 74 percent. Anything under 80 is a worry. My blood pressure was also critically low. But the hospital staff were great and set to work getting the reaction under control and finally, after I screamed with pain for about 10 minutes, they gave me something to kill the pain.
So, needless to say, I missed the race and that means I can't finish the tour. Very disappointing for me.
So my team was down to five riders in today's criterium and the panic before the race probably didn't help them put out their best performance! Anyway, Karen Boeckel (Rona) managed to escape solo late in the race to win and Ina Teutenberg (Saturn) took out the sprint for second place.
There was another unfortunate incident in the race today as Jeannie Longo crashed and hit her hip very hard and was having trouble walking after the race. She's not sure how much damage has been done but she will also be unable to finish the race.
So Genevieve Jeanson (Rona) still leads very comfortably overall from Kim Bruckner (Saturn). Karen Boeckel (Rona) should now be in third overall with Jessica Phillips (Saturn) in fourth place.
Tomorrow is another difficult course, 110km in length to finish up the tour. I won't be able to race - I'll be heading out for a training day!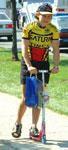 Photo: © Rob Karman
Cheers
Anna