Recently on Cyclingnews.com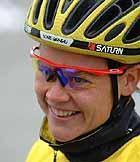 Photo: © Rob Karman
The Anna Millward Diary
Australian Anna Millward (Wilson until her marriage in 2000) is one of the best women's cyclists in the world, and was ranked number 1 for the first part of 2000. She has won races everywhere, from time trials in France, World Cup races in Switzerland to stage races in the USA, and was the first cyclist ever to break the Hour Record under the "new" UCI rules. Anna possesses an incredible sprint and this combined with her power and determination makes her a formidable cyclist on any terrain. She is also one of the friendliest and most optimistic people you could ever meet.
Chasing Jeanson
Tour of the Gila, New Mexico, May 1-5, 2002
Stage 3
Today we raced 125km around a very torturous, hilly loop. We were only 10 kms into the stage when we faced our first big climb, and the leader of the overall standings, Genevieve Jeanson (Rona) didn't waste any time in attacking us. She launched from the base of this climb and her pace was too hot for us to follow.
A chase group formed up the climb containing Kimberly Bruckner, Jessica Phillips, Ina Teutenberg and myself, (all from Saturn), Jeannie Longo (individual) and Karen Boeckel (Rona). We set a steady tempo to the top of the climb and then set out to try and reel Genevieve back in. We lost Ina Teutenberg (Saturn) up the next climb and of course Karen Boeckel wasn't going to help us chase her team-mate, so it was mainly Kimberly, Jessica and I doing the chasing with Jeannie Longo helping out where she could.
The time gap stretched to around 3 and a half minutes somewhere around the halfway point of the course but finally in the last 30kms we started to make a little ground on Genevieve. She won the stage in the end by a margin of 1 minute and 40 seconds, extending her lead overall to about 5 and a half minutes over Kimberly Bruckner. I'm still holding down third overall, less than a minute in front of Jeannie Longo. Jessica Phillips' performance today should see her rocket up the overall standings - we'll have to wait for official results to see for sure.
In the fight for second place in the stage, it was Karen Boeckel (Rona) taking out the sprint from me and Jeannie Longo.
So a very long day at the office for all of us. We are now just looking forward to the criterium tomorrow!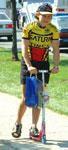 Photo: © Rob Karman
Cheers
Anna