Jacobs Creek Tour Down Under - 2.3
Australia, January 15-20, 2002
News - January 20, 2002
McPartland keeps U23 crown for United Water
By Gabriella Ekström in Adelaide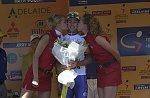 Tough at the top
Photo: © Tom Balks/CN
Given that the Jacob's Creek Tour Down Under offers emerging riders a chance to compete against seasoned professionals and within range of director sportifs of leading European teams, the Best Young Rider jersey is a valuable prize.
This year, the Australian rider David McPartland (United Water), 21, secured the 'Share the Road' Young Rider Jersey on the first stage, relinquished it on the second, then held it again from stage three until the end of the race. On the hot and hard fifth stage of the race, he jumped clear by nearly 21 minutes from the next rider in this classification, team-mate Ashley Humbert, and then held onto it for the final stage.
The jersey is awarded to the best performance by a rider under 23 years old, and although his fellow countryman Michael Rogers - who is 22 - won the overall race on GC, McPartland finished the Jacob's Creek Tour Down Under in 19th place on GC, less than 13 minutes behind, but in front of many big names with vastly greater experience.
CN: Hi Dave. Tell us where you come from and what you have been doing on your bike so far.
David McPartland: I started riding when I was 15. I haven't really achieved anything big yet, but I'm constantly progressing. I started to ride for the Caravello cycling team in Albury, NSW where I live. In 2001 I got this opportunity to ride with a Dutch based team called Cycling 2000. It was made up of nine Australians and nine Dutch guys. I went to live in Holland, in this village near the Belgian border, for eight months. A lot of people told me it would be really hard for me to stay away from home for such a long time in my first year, but I think I coped well with it.
CN: How did you go in the races?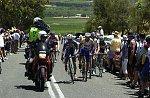 In stage 5
Photo: © Tom Balks/CN
DM: I think I had a really good year, considering that it was my first year racing in Europe and that I had a lot of learning to do. It was only a year of development of course, because the European races are a lot different from the Australian ones, but the Belgian races suits me fine, and since 90 percent of the races we did were in Belgium I had a good time. I like the cobbles and I like when there are few climbs. I'm not a bad sprinter but I'm more confident if I'm in a smaller group close to the finish, so I prefer a hard course where the race breaks up. I think I had at least five top ten placings and I won the G.C and two stages of the amateur Tour of Luxembourg.
CN: Are you going back to Europe this year?
DM: Yes. Last year I was also approached by Brian Stephens, and I was offered a full time scholarship to ride with the AIS team. I also had the choice of remaining with the Dutch team, but since it would be my last opportunity to ride with a U23 team, I decided to go with the AIS. The team is based close to Viareggio in Italy, and I'm really looking forward to go there. I did spend a couple of weeks racing in Italy last year, but I don't know any Italian. I have picked up some Dutch though, so one of my goals for this season is to learn Italian.
CN: Can I give you some really important advice about living in Italy?
DM: Sure, what's that?
CN: Don't ever touch the supermarket vegetables without wearing plastic gloves!
DM: Oh really? They do have some strange habits, don't they? I will go to Italy in mid march and stay until after the World Championships. That's the main objective for the team. There's eight of us in the team, but only five places in the Championships, so everyone's gonna be keen to make a good impression. I'm certainly looking forward to it since the Worlds will be held in Belgium, and as I said, I have a lot of nice memories from Belgium.
CN: It must be a great experience for you to do a race like the Tour Down Under?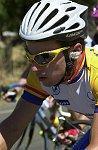 Wired for sound
Photo: © Tom Balks/CN
DM: Yes, indeed. This is one of the only, if not the only race of the year where I'll actually get the opportunity to ride with guys like Tafi, Nardello and O'Grady. It is a great learning experience and our aim for the race is to keep the U23 jersey within the team and I think we have a good chance of doing that since eight of the thirteen U23 riders in the race rides for our United Water team.
CN: How was your winter break and how did you prepare yourself to the TDU and the early season?
DM: After leaving Holland I went straight to he Sun Tour and after that I had three weeks off. I started some easy riding in the first week of December. I haven't done any high intensity work, just doing miles. I am a bit surprised by how good I'm going. I am recovering really good at the moment, you know when you wake up in the morning and your legs just feels great.
CN: How does it feel to have finally secured the jersey for Best U23 rider?
DM: I'm wrapped. It's my biggest result so far and I won it by over 20 minutes, which is a big gap to the next best U23 rider. The team took some photos this morning and they have been going for this jersey in every race so far. they didn't get it last year so this year we're pretty happy.