Jacobs Creek Tour Down Under - 2.3
Australia, January 15-20, 2002
News - January 20, 2002
McEwen the champion sprinter, and in good form for Europe
By Gabriella Ekström in Adelaide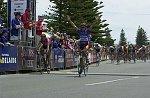 Winning another stage
Photo: © Tom Balks/CN
Robbie McEwen has started off his season in fine style, securing four stage wins in the Jacob's Creek Tour Down Under and in the process winning the SA Lotteries Sprint Jersey. He also held the overall leader's jersey and these performances follow overall wins in the Skilled Geelong Bay Classsic and the Australian national road and criterium championships.
As McEwen told Cyclingnews after his fourth stage win, he has accummulated 145 UCI points so far this year, and he has not even got to Europe.
It was also a good start to the year for his new team, Lotto Adecco, who rode at the front when needed and gave McEwen whatever assistance he need. But as he showed on the very first stage, he wasn't afraid to go in the breaks and work with other riders to stay clear.
He spoke with Cyclingnews' Gabriella Ekström in the Adelaide Hilton after winning stage 6 of the JCTDU.
Robbie McEwen: I'm tired.
CN: You are allowed to be tired.

Signing autographs
Photo: © Tom Balks/CN
RM: I need a sleep. It has been a hard week. I've been riding hard everyday except for yesterday where I tried to take it easy under the circumstances, but it was still a hard and hot day. Today I was pretty sure that a break would go away. It was a super fast stage with lots of breaks, but lots of people seemed to think, "Wow, I'm in a break" as soon as they got a little gap, and then they just sat up. I thought the break with Stuart O'Grady that got away on lap six would stay away. We had Hans De Clercq in it, so it wasn't a bad break for us until we realized that the break could be a threat to my points jersey, and we really wanted to keep it, so Walter (Planckaert) told us to bring it back.
CN: The crowds must be delighted with your four victories?
RM: Yes, I hope they are happy to see the Australian riders win the stages in this race. The reason we can do that is because we get the chance to spend the whole summer here. I started to train seriously again on December 1, and managed to do 3300 kilometres in one month. In early January I did the bay crit (Skilled Geelong Bay Classic). They are short but it goes on for five days, and I also raced on New Years day, so together with the extra kilometers I did in the morning it added up to 160 kilometres a day. It was almost like racing a stage race, and it was great preparation. I tried to bring my form up for the national championships, and then I managed to recover well from it. Two years ago I rode the championships and rode myself completely into the ground.
CN: Are you in better form now than you were at this time last year?
RM: I think I'm having the same form actually. I was feeling great last year, but my team wasn't riding the Jacob's Creek Tour Down Under, and I couldn't ride the national championships because of a training camp I had to go to in Europe. There I was, having great form, but no races to ride. When I started to race I crashed in Tour Med, and again on the second day of Paris-Nice, and then a third time in the middle of March. I hurt my neck and back, and that broke my form.
CN: Are you flying back to Europe this week?
RM: I'll go back to the Gold Coast for a day tomorrow, and then I'll fly to Belgium on Tuesday. The Lotto team presentation is on Thursday. The early plan was that my first race would be Tour Med, but since I'm flying now it might be a better idea to just enter as many races as possible until Paris-Nice, and then have a week off and start over with the preparation for Giro d'Italia.
CN: Are you planning to ride the whole Giro? I know your wife is due to give birth at the end of May.
RM: I hope they will be able to give me an exact date when the baby is expected, so that I can hop on a plane and go back to be with my wife. You never know though, it might pop out suddenly. I would like to be there though, even if there's nothing much I can do.