Jacobs Creek Tour Down Under - 2.3
Australia, January 15-20, 2002
News
Cadel Evans winds up and winds down
By Gabriella Ekström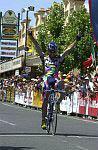 Evans wins
Photo: © Tom Balks/CN
Mapei-Quick Step's Cadel Evans became the third Australian to win a stage in the Jacob's Creek Tour Down Under when he crossed the line in Tanunda 16 seconds ahead of Michael Rogers yesterday. Evans was clearly delighted with his win, giving his trademark bent arm MTB World Cup salute. He spoke to Cyclingnews about his victory afterwards.
CN: You rode a great race today. It must be nice to win here in front of all these Australian spectators?
CE: I am delighted with this victory. I have been trying to win here for every year since this tour started, and this win couldn't have come at a better time since this is my first race with Mapei.
CN: What was the plan this morning?
CE: It has been a very selective race and we decided this morning that we would have a go at everything, general classification, KOM jersey, stage win, everything.
It has been hot and very windy and Saeco was tired from protecting Fabio Sacchi for three days. My goal was to go for the KOM points, and by doing that I had to be in the front group. In that way I could also help Nardello and Tafi in the G.C.
CN: How did these plans change as the race unfolded?
CE: Well, we got Paolini in the break and he could then help Nardello and me during the stage. Close to the end of the stage I hesitated for a little while and recovered a bit. I was actually surprised I rode as strongly as I did, because I did a lot of work at the beginning of the stage. I don't know if the others noticed it, but I was giving one hundred percent in these early turns. I had some contact with Roberto Damiani (team director) through my earpiece, and he was keeping me updated on the time gaps between the breaks.
CN: What did you think about Michael Rogers' bike change?
CE: At first I didn't notice because Michael was behind me when it happened, but when we all came back together I saw that he had this little saddle bag on his bike, and I thought, "Jesus, Michael, what's going on?"
CN: It seemed like a good bike though, since he didn't change back to one of his team's spare bikes.
CE: Yes it was. He only changed the height of the saddle. It's just amazing. How big is the chance you'll find a guy with a C 40 Colnago with Shimano pedals alongside the road? How many bikes like that are there in Australia in the first place?
CN: You are now 40 seconds behind Michael Rogers in the general classification. Is it too much for you to bring back in the criterium tomorrow?
CE: Yes, it is. If there was another stage like this tomorrow it could have been possible, but not in a crit. I lost too much time working for Tafi and Nardello early in the race.
CN: When are you going back to Europe?
CE: I'm going back to Melbourne tomorrow, and then I'll fly to Europe on Tuesday. My first race will be Trofeo Laigueglia.
CN: Is there anything else you'd like to add?
CE: Yes, I would like to dedicate this win to my stillborn sister, Mab.