Jacobs Creek Tour Down Under - 2.3
Australia, January 15-20, 2002
News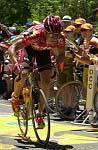 Glenn d'Hollander
Photo: © Tom Balks/CN
Glenn D'Hollander talks to Cyclingnews
By Gabriella Ekström in Adelaide, January 17
Lotto's Glenn d'Hollander was clearly the rider of the day in stage 3. He was in nearly every attack from the beginning of the race, before eventually getting away with Tristan Hoffman after 23 kilometres. The pair established up to a 6 minute lead before they were reeled in, with d'Hollander coming back into the fold after 130 kilometres. Cyclingnews.com's Gabriella Ekström caught up with him after the stage.
CN: Hi Glenn, or should I say Dolly?
Glenn D'Hollander: Haha, that's what the guys in the team call me all the time, because of my last name.
CN: For how long have you been on the racing scene?
Gd'H: This is my seventh season. I did my first season as a professional when I was 20. I spent four years with the Eddy Merckx team. It was a small Belgian team, but perfect for a young rider like me. After that I signed with Lotto and have been with them since.
I went there to help Andrei Tchmil and now there's Rik Verbrugghe to work for. I like it, because I still get many opportunities to have a go on my own. I feel very appreciated in the team, especially last year because the whole team was going so strong.
I don't have a problem with riding for other people. I can't cope with the pressure of being the team leader myself. My head is too weak for that. I'm on a good contract so I'm a happy domestique.
CN: I guess that means Lotto is a nice team to be with then?
Gd'H: Yes it is. We won 40 races last year and also have a really good mentality in the team. I think we are one of the hardest training teams in the peloton. After we came to Adelaide we did some 1000 kilometres in six days. I was pretty jetlagged after two days of traveling, but I think that is the problem for everyone. I keep waking up at 4 in the morning without being able to go back to sleep.
So, yes, we all get on well in the team, and that is important. I knew Robbie McEwen before he came to Lotto and he is a really nice guy. He is a very good rider, and not only is he a great sprinter, he also climbs well and he did put up quite a performance in the first day's criterium. He was away with two other guys for 15 laps and the peloton chased for 12, but he still managed to stay away and win the stage.
CN: What kind of rider are you. Which races are your favorite ones?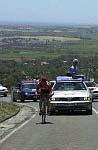 Not climbing too badly
Photo: © Tom Balks/CN
Gd'H: I like the heavy races in Belgium, especially the one day races even though I'm able to do quite well in shorter tours. That has actually turned out to be quite a problem for me, since I am of good use for the team both in flat races like the Belgian one days as well as in hillier stage races. At 73 kilos I am a bit too heavy to do really well in the big mountains, but I'm able to do my job and help the guys, and since I go well in most race conditions I end up with a very heavy race schedule.
Last year for example I did the Vuelta a Pays-Basque, and then I went straight to Paris-Roubaix, then Flèche Wallonne and straight after that Liege-Bastogne-Liege. It's exhausting. Last year my season started at Tour Down Under in mid-January and continued to Japan Cup on October 29. It's a very long season indeed, but this year I think it'll be easier.
Most of all I'm looking forward to do the Tour de France. Last year we had to ride really hard in the spring to get a spot in the Tour, but this year we are pretty sure we'll do the Tour since we are number five in the super top 10 group.
For me being a Belgian rider it is a big difference between the Giro and the Tour. Last year I did the Giro, and Rik took the jersey in the first stage and we kept it for four days. I saw one Belgian journalist covering the race from Italy, while on the Tour you'll see twenty of them. If you're good in the Tour, you are really good, but if you ride strongly in the Giro, people think that is normal.
CN: What do you hope this year will bring you?
Gd'H:I hope I'll get as good results this year as I did last year, because despite the heavy racing it was a good year for me, and I managed to win the G.C and a stage of the Tour de la Region Wallonne.
CN: Your English is really good. Did you study it in school?
Gd'H: I try to speak as good English [sic] as I can, but it's not really good. I only had one hour of English every week in school, because in Belgium, French is the first foreign language you learn since so many people speak it.
CN: Where in Belgium do you live?
Gd'H: I live not far from Ghent. At the moment I'm staying in my parents house but I'm looking forward to buying a place of my own.
CN: You said this morning that you wanted to attack, and you did. Tell us about it.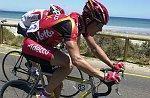 With Hoffman
Photo: © Tom Balks/CN
Gd'H: I only got one other guy with me and it was a really windy stage so we struggled. I was totally finished after the climb. It was over for me. I tried to build up a big lead so that I would have a good gap when entering the climb, but it was tough and Tristan (Hoffman) who was with me was also very tired. Mapei chased us really hard and I didn't have a chance to stay away.
I'm still happy though, because I'm feeling good and you cant be in such a small break for a hundred kilometres if you're not in good shape. In the end of the day we still won the stage, and two jerseys. None of them is the yellow jersey though. Of course it is nice to get on to the podium with the most aggressive rider jersey, but it really doesn't mean anything and neither does the sprints jersey. What matters are stage wins and the leader's jersey because they come with UCI points.
CN: Finally, tell me about your preparation in the winter. Do you follow a diet?
Gd'H: I do look after my diet a little bit. I used to love eating all these Mars and Twix chocolate bars and I used to put on weight in the winter, but this winter I managed to keep my racing weight the whole time. I love food, but I try to cut down on butter and sauces, and no more chocolate! I do eat French fries though, because I love it, but normally I eat lots of rice and pasta of course and white meat as chicken.
I also like to stay fit in the winter by doing other sports. I do a lot of swimming, normally around three kilometres every session. I also do a bit of boxing. This winter I was sparring with Serge Baguet. It is good training, but I'm afraid my knees suffer a bit from it.