Jacobs Creek Tour Down Under - 2.3
Australia, January 15-20, 2002
News
Robert Tighello - the wildcard shows his stuff
By Gabriella Ekstrom in Adelaide, January 17
Australian rider Robert Tighello (Australian Institute of Sport) was a late inclusion into the TDU after the injury of David McKenzie. The KOM champion from last year showed that he is certainly in good form, making the decisive breakaway on stage 2 to move into 9th overall.
Cyclingnews.com's Gabriella Ekström caught up with him for a brief chat.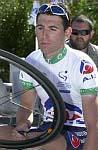 Robert Tighello
Photo: © Tom Balks/CN
CN: Hi Robert, how are you? Can you please give the readers an update on your career?
Robert Tighello: Well, I have been racing in Italy, Spain and USA. I've been three times Victorian Champion and I've also won the amateur Australian championships. Last year I won the KOM jersey in the Tour Down Under, and this year I finished third in the National championship, and that's pretty much it.
CN: Were you disappointed when you didn't get a spot with the AIS team for Tour Down Under from the start?
RT: I got my place in the team in the last minute. I was hoping I would be selected in the first place, but when you look at it there's probably at least 40 guys in Australia who are going well at the moment and would like to have a place in this team. I was still motivated to race really well in case something came up, and unfortunately for David McKenzie, it did.
CN: Where are you off to after the Tour Down under?
RT: I'm still looking for a trade team to race with this year, and I hope someone will take notice if I get some good results here at Tour Down Under. If I can't find a team I will need some kind of sponsor to be able to keep racing at a high level. I am looking forward to a professional career but I am married with two kids and a third to be born in September, as well as a nice house and a nice car, so I need a real contract.
CN: Tell me what you think about this race?
RT: I just love this race with all that surrounds it. People show you so much appreciation for what you do and that feels really nice. I don't know how many people saw the stage on Tuesday, 70-80,000? That's just unreal for a cycling race in Australia. This is by far the biggest cycling event we have, and Stuart O'Grady has a lot to do with it, being the local hero, known by everyone.
They take good care of you here, last year they were filling the tram tracks in with tar to prevent accidents, and this year I saw there was tar pretty much everywhere. It just gets better and better. The hotel is really nice, the food is great and all the girls just love you.
CN: Stage 2 was pretty interesting. AIS managed to get three riders in the final break. Let's hear about it.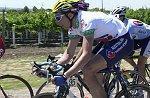 Through the vineyards
Photo: © Tom Balks/CN
RT: After the break that Scott Sunderland was in got caught after the climb, it was kind of obvious that a new break would go away and when it did we were just lucky to be in the right place and to get three guys in it. I asked them what they wanted to do and we decided that Scott Davis and Michael Rogers should have a go at the front and that I should stay behind and wait for the sprint. As it happened Michael got away and got six other riders with him and I found myself somewhere in between the two front groups. Daniele Nardello caught me but he decided to sit up and wait for the second group. I tried hard to fight them off but at the line they just caught me.
CN: So what are you guys up to in stage 3?
RT: Michael Rogers will be watched now, so Scott (Sunderland) and myself might have a go with the attacks, but it is always hard to know how the race will develop. Pat Jonker will be aggressive on the climbs because he has some great form now. Since there's a climb just 15 kilometres from the finish I think there's a good chance a break will stay away until the finish and I reckon we have a few cards to play.
CN: Your last name, Tighello sounds pretty Italian to me, is it?
RT: Yes it is. My parents are both Italian although they came here when they were very young, so I speak, read and write perfect in Italian.
Could I also have this opportunity to thank some sponsors that has meant much to me? I'd like to thank Clement tyres, High S Nutrition, Shimano, Ashburton Cycles and Rudy Project.