Jacobs Creek Tour Down Under - 2.3
Australia, January 15-20, 2002
News
Scott Sunderland – another big step on the comeback road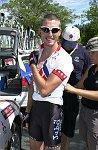 Getting ready for Stage 2
Photo: © Tom Balks/CN
By Karen Forman In Adelaide, January 17
After his serious crash during the Amstel Gold in 1998, Australian Scott Sunderland has proved he's not only well and truly back in the peloton - but a force to be reckoned with.
Today, after placing third in both intermediate sprints held during the second stage of the 2002 Jacob's Creek Tour Down Under, Sunderland said he felt like "one of the strongest ones in the race at the moment."
And, more - he said that he thought that 2002 might be his year.
"I think that my results last year showed that I am well and truly back," the affable AIS rider said before the start today.
"I was 66th on the world ranking last year and was 10 times on the podium, so I think that things are happening for me.
"I know that I have lost a good two and a half years... but now I am feeling good and ready to get back into it."
Sunderland certainly showed top form in today's 150km race.
As he promised before the start, he was in every breakaway attempt and proved to be one of the hardest working riders of the day.
"This sort of race you cannot really predict," he said earlier. "It's not really a climber's race, although it's pretty hilly, up and down. But I think that because it is early in the year, nobody really knows what anybody else's form is. The roles (from last season) could be completely reversed."
Although he has been training well, he thought that maybe he hadn't done the intensive training required to win here in Adelaide.
Not that he's concerned.
His priorities are the Classics and the World Cups in Europe and he says as much as he enjoys the Tour Down Under, he's not prepared to let it interfere with his bid for the podium in the Classics.
"At the moment everything is on track," he said. "I have done a nominal amount of base work for the Classics. I know I am not at my best here because I have not done enough intensive work but then again, I don't think the teams will be really willing to put it in until they have been racing for a few weeks, either.
"After the World Cups I will rest in May and then come back and train and race during June and July for the Commonwealth Games.
Still, the 16-season veteran, who lives in Belgium but still tries to go home to his family home at Inverell in country northern New South Wales at least once a year, said he planned to give today's race "full gas".
And he did.
He was understandably on a high afterwards.
"Probably I am one of the strongest riders in the race at the moment," he said euphorically.
"As I said this morning, when the break goes the race is finished, so I followed every attack. Finally I got in the break that stayed away, but only four of us - Nardello, the Saeco big guy, Robbie (McEwen) and myself - were really working.
"Then I had a few things... I decided I needed the bonus points so did the sprints and got third, then when we got into the feed zone and I really needed a bidon... so I finished further back than I had hoped."
Sunderland finished in 65th spot (0.08.06)... but as he says, "tomorrow is another day."