Jacobs Creek Tour Down Under - 2.3
Australia, January 15-20, 2002
News
Tafi seeking a "good victory"
By Karen Forman in Adelaide, January 14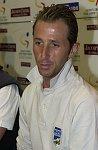 Andrea Tafi
Photo: © Tom Balks/CN
TOP Italian rider Andrea Tafi is talking of leaving pro riding behind him soon - but not before he "arrives at a good victory".
You get the feeling, however, that if that victory comes at this week's Jacob's Creek Tour Down Under in Adelaide, he will probably keep going regardless and look for another one. A bigger one. Like the Paris-Roubaix, for example.
Normally held in April, the Paris-Roubaix is an event the 35 year old Mapei Quick-Step veteran would dearly love to win for a second time before he finally retires.
And if he sticks to his plan to hang up his bike in a year or so, that means he will be seriously targeting this year's event . . . just a short three months away.
And that means that the Tour Down Under will play an important part in his preparation.
At a media conference in Adelaide today, Tafi, one of the taller riders in the peloton at 1.87 metres (but relatively thin at 73kg) said in French, through an interpreter, that he was happy to be in Australia for the first time to contest the Tour Down Under.
He also said he was happy with the climate, saying it was a "good temperature for training".
Later, he confided the Tour Down Under was very important for his preparation.
"But every race is very important," he added.
Tafi, married with two children, has raced professionally since 1989. His most recent victory was a stage in the Vuelta a Burgos.
Teamwise, he started with Eurocar, moved the following year to Selle Italia, where he stayed two seasons. He then moved to Carrera for two seasons, before joining Mapei in 1994.
Other top results include stages in the Vuelta a la Communidad Murciana and Tour de Luxembourg in 1989, two stages of the Tour of the Americas and a stage of the Tour of Britain in 1990, the Giro del Lazio in 1991.
Joining Mapei in 1994, he immediately impressed by winning up a storm - the GP de Fourmies, the Trofeo Melinda Paris-Bruxelles, Giro del Lazio, Coppa Placci and Giro di Lombardia in 1996, two stages of the Tour of Langkawi, the Rochester International Classic and CP de Fourmies Coppa Sabatini in 1997.
The following year was even better. Tafi continued his run in Malaysia with another stage win in the Tour of Langkawi. He also collected the Italian road championship, the GP di Camaiore Coppa Agostoni, the criterium Bavikhove, Giro del Lazio and Criterium Monserrato.
His Paris-Roubaix win in 1999 came in the same year as a win in the criterium Ponte a Cappiano and another in the Giro del Piemonte.
In 2000, he won the Paris-Tours and then last year, he won a stage in the Vuelta a Burgos.
So why talk of retiring when he is doing so well? It appears it has something to do with age.
"Sono troppo vechio," he says with a laugh when prompted.
It means, "I am too old".
But when you look at his results and his peers, such as 39 year old Italian sprint champ Adriano Baffi, who figured in most of the sprints third during last weeks' Skilled Geelong Bay Classic and picked up a third in the four round at Port Arlington, behind David McKenzie and Robert Tighello, you wonder whether he might have more years left than what he thinks.
For now, Tafi is talking about one more year at least, but he is already considering his future after cycling.
He has been talking with Mapei about working as a public relations manager.
Meanwhile, he has this week of Tour Down Under to get through and while he will not speculate on his chances of success, he says he is feeling good.