Jacobs Creek Tour Down Under - 2.3
Australia, January 15-20, 2002
News
Daniele Nardello: Italian champ shows his colours
By Karen Forman in Adelaide, January 14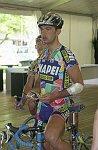 Daniele Nardello
Photo: © Tom Balks/CN
He crashed even before the race started, but Italian road champion Daniele Nardello isn't fazed at his bumpy start to the 2002 Jacobs Creek Tour Down Under.
The 29 year old Mapei Quick Step rider was in good spirits and good form today as he trained with his team - senza the arm bandage he was sporting yesterday, following his minor altercation with an Adelaide city gutter the previous day.
Despite copping a ribbing by guest commentator Phil Liggett when the teams were presented to the public at an official function tonight, Nardello said he was happy and looking forward to the race, which begins with a criterium around Adelaide city streets tomorrow night.
Speaking only in Italian, the rider who has nearly always placed in the top 20 in five Tour de France events, said the tour and the terrain both suited him very well.
"Five days is perfect for me," he said, "and I like the course. It is not too mountainous." He also likes the weather, saying it is not too hot for him, despite the fact Italy was in full winter when he left a week ago.
However, he conceded it would be hard to pull top form out of the hat so early in the season. "It is a little hard...perhaps this is too soon to be racing, but it is very good for training," he said. "I am normally my best in March-April...for the Milano-San Remo which is the first World Cup."
Nardello leaves Australia as soon as the Tour Down Under is finished, bypassing the Tour of Langkawi that many of the other Tour Down Under riders are aiming for, to return to Europe. The Tour de France will not be part of his program this season, though.
"Because I won the Italian championship, I must do the Giro d'Italia," he said. "And I can only do one...so I must miss the Tour de France."
He concedes he would prefer the Tour de France. "I prefer the course, the feeling," he said.
Race tactics? "I prefer to sprint in a small group."
Watch out this week for small groups...