Jacobs Creek Tour Down Under - 2.3
Australia, January 15-20, 2002
News
Evans on borrowed wheels
By Karen Forman in Adelaide, January 14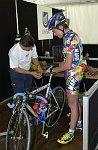 Evans gets a loaner
Photo: © Tom Balks/CN
Newest addition to the Italy-based Mapei-Quick Step team , Australian Cadel Evans, donned his new team colours for the first time this morning and set off for his first training ride with his new team mates in Adelaide - on a borrowed bike.
Why borrowed?
Because the sparkling new Colnago issued to him by Mapei soon after his signing in December, has gone missing. Which means that he will start the Jacob's Creek Tour Down Under tomorrow on a bike that he has ridden just a couple of times.
And never raced.
"It's a bit of a setback," the 24 year old from Melbourne, who has put his mountain bike career on hold for at least a year to explore his talents on the road, said as he pedalled in circles around the Adelaide City Council Tour Village.
"But there isn't too much I can do about it."
Evans ended months of speculation about the possibility of him leaving the Volvo-Cannondale mountain bike team last month, when he confirmed his new Mapei contract with cyclingnews.com during an interview before Christmas.
At the time, he was relaxed, enjoying some hard-won time at home on the family farm outside Melbourne with his mother and French Canadian girlfriend, Annie, preparing for a hitout at the 2002 Skilled Geelong Bay Classic - and waiting for his new bike and Mapei team gear to arrive.
But it didn't. And hasn't. And he arrived in Adelaide this morning with no bike and no team issued clothing, helmet or shoes.
"I don't know what has happened to it," Evans said as Mapei mechanic Nazarello Berto fitted helmet after helmet onto his head and prepared the loan-bike.
"Mapei say they sent it from (headquarters) in Milan in December to me in Melbourne . . . but I haven't seen it.
"Obviously it is lost somewhere between Milan and Melbourne. They are looking for it and it is possible it could be in Amsterdam or Brussels."
Evans, who finished out of the placings but 12th in the sprint ace competition on the fourth day of the Bay Classic (which doubled as the Australian Criterium Championships) and ninth in the Australian Road Championships at Ballarat this week, isn't too fazed.
"I am feeling okay," he said.
"But I hope they find my bike. The idea of them sending it to Australia was so I could ride it a bit and get used to it, but now . . . I ride a borrowed bike. "
The Adelaide City Tour Village was a hive of activity yesterday as mechanics worked on bikes, riders met for training rides and Saeco served up a rich Italian brew to appreciative connoiseurs.
Members of the public will be able to visit the village during the Tour Down Under and see, close up, how teams prepare riders for major events.