Saturday 13 October- 9:00 - Junior Men's Road Race - 121 km (10 laps)
Live report Results Profile & start list Previous race Next race
Ukrainian dominance: Kvachuk emulates Popovych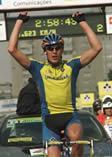 Kvachuk
Photo: © Sirotti
By Jeff Jones
He was beaten by just 0.44 seconds in the time trial earlier this week, but today young Ukrainian talent Oleksandr Kvachuk left nothing to chance in the 121 kilometre junior men's road race, attacking with just under two laps to go to solo in for the victory. On a course that is made for strong riders, Kvachuk was clearly the best, and he was followed by Dutchman Niels Scheuneman and Frenchman Mathieu Perget who took silver and bronze, 1:07 behind.
The Ukrainian team were once again the ones to beat in today's race, led by Kvachuk who has been the dominant junior in Italy this year, and was number two on the UCI rankings before the World's. He won the Tour of Lunigiana in September, one of the top junior tours on the calendar. He is a similar rider in style and physical characteristics to Yaroslav Popovych, but is slightly bigger than his older counterpart.
Today he and the rest of the favourites chose to play a waiting game, as on the third lap a non-threatening break went, containing Matti Brechell (Den), Bartosz Kolendo (Pol), Mathieu Claude (Fra), Luis Leon Sanchez Gil (Spa), Norbert Poels (Ned), and Stanislav Belov (Rus). There were no Ukrainians in it, and they quickly rode out to a 1:20 lead, which they maintained for the next five laps.
Finally the gap started to come down as the front riders tired, and the top guns in the peloton got ready for the assault over the last two laps. Kvachuk jumped the gun at the end of Lap 8, to catch the remnants of the break and blast by them up the first climb on Lap 9, rapidly gaining a 1 minute lead that could not be touched.
Kvachuk kept his advantage over the last lap, soloing across the line for a well deserved win. Behind him, the battle for the rest of the medals was won by Dutchman Niels Scheuneman (third in the TT), who had bridged up to a chasing group on the last lap, beating Mathieu Perget in the five man sprint. Finnish sensation, Jukka Vastaranta, managed eighth place today, but missed the move when it counted.
Photography
Photos supplied by Fotoreporter Sirotti
One of the Italian riders - makes sure everything is spick and span prior to the start
The start - of the Junior Men's Road Race
An early breakaway - attempts to put some time on the peloton
Oleksandr Kvachuk - powering his way to the front
Oleksandr Kvachuk - celebrates as he crosses the finish line
Oleksandr Kvachuk - with plenty of time to enjoy his win
Oleksandr Kvachuk with Niels Scheuneman - and third place getter Mathieu Perget
Oleksandr Kvachuk - gets to truely taste his win
Ukrainian Oleksandr Kvachuk - showing off his bike, and winners medal

Results
1 Oleksandr Kvachuk (Ukr)         2.58.43 (40.62 km/h)
2 Niels Scheuneman (Ned)             1.07
3 Mathieu Perget (Fra)
4 Sven Nevens (Bel)
5 Jeremy Roy (Fra)
6 Thomas Lovkvist (Swe)              1.08
7 Luca Conati (Ita)                  1.23
8 Jukka Vastaranta (Fin)
9 Marcus Burghardt (Ger)
10 Christoph Meschenmoser (Ger)
11 Thomas Fothen (Ger)
12 Przemyslaw Pietrzak (Pol)
13 Artur Krol (Pol)
14 Jurgen Van Den Broeck (Bel)
15 Timothy Cassidy (Irl)
16 Maxime Monfort (Bel)
17 Jan Kunta (Cze)
18 Riccardo Ricco (Ita)
19 Marc De Maar (Ned)
20 Nikita Eskov (Rus)
21 Jean-Sebastien Maheu (Can)
22 Markus Eibegger (Aut)
23 Marc Bomhof (Can)
24 Oleg Rodionov (Rus)
25 Ivan Sever (Cro)
26 Evgheni Gutalov (Mda)
27 Frantisek Rabon (Cze)
28 Michael Van Poucke (Bel)
29 Olivier Bonnaire (Fra)
30 Antonio Jesus (Por)
31 Alex Coutts (GBr)
32 Miha Svab (Slo)
33 Nebojsa Jovanovic (Yug)
34 Mathieu Boiche (Fra)
35 Thomas Dekker (Ned)               1.29
36 Heinrich Haussler (Ger)           1.40
37 Bartosz Pajor (Pol)
38 Vasileios Kourmpetis (Gre)
39 Dumitru Creciun (Mda)
40 Luis Leon Sanchez Gil (Spa)
41 Roman Andres (Swi)
42 Brendan Cato (Aus)
43 Roman Eremine (Rus)
44 Steve Morabito (Swi)
45 Nic Ingels (Bel)
46 Patrick Gassmann (Swi)
47 Gheorghe Botosanu (Mda)
48 Matej Jurco (Svk)
49 Yuri Karpechyn (Blr)
50 Jos Harms (Ned)
51 Vitaly Kondrut (Ukr)              1.41
52 Bartosz Kolendo (Pol)             1.42
53 Francesco Failli (Ita)
54 Alessio Ricciardi (Ita)
55 Lasse Bochmann-Larsen (Den)       1.48
56 Leon Makarovic (Slo)              1.53
57 Simon Heimkreitner (Ger)
58 Daniel Wieczorek (Pol)
59 Blake Caldwell (USA)              1.55
60 Pedro Pablo Sermini Lesser (Chi)
61 Matti Brechell (Den)              2.54
62 Ignacio Sarabia Diaz (Mex)
63 Philip Deignan (Irl)
64 Eckard Bergh (RSA)
65 Mathieu Claude (Fra)
66 Siarhei Daubniuk (Blr)            3.07
67 Stanislav Belov (Rus)
68 Yriy Ivoljatov (Uzb)
69 Fumiyuki Beppu (Jpn)              3.31
70 Jonathon Clarke (Aus)             3.32
71 Kalle Kriit (Est)                 4.58
72 Michael T. Christensen (Den)      5.42
73 Ronny Kremer (Lux)                8.27
74 William Aranzazu Escobar (Col)   10.45
75 Andreas Molandsveen (Nor)        10.49
76 Matthias Hell (Swi)              11.44
77 Yasunori Oyakawa (Jpn)
78 Andrey Fedyaev (Blr)
79 Denis Birjukov (Est)
80 Harald Berger (Aut)
81 Yauheni Hutarovich (Blr)
82 Laurent Didier (Lux)
83 Georgios Tentsos (Gre)
84 Kastytis Mazenis (Ltu)
85 Dusan Kozel (Svk)
86 Cameron Evans (Can)
87 Carlos Abellan Ossenbach (Spa)   11.50
88 Vladimir Tuychiev (Uzb)          12.32
89 Andrei Kunitski (Blr)            12.49
90 Arturs Lagzdins (Lat)
91 Viktor Shestakov (Kaz)
92 Denis Inamo (Slo)
93 Tyler Farrar (USA)               13.29
94 Lorenzo Echi Torres Diaz (Chi)   13.31
95 Norbert Poels (Ned)              15.03
96 Joe Kirch (Lux)                  15.19
97 Dilian Iliev (Bul)
98 Saul Raisin (USA)
99 Juan Pablo Forero Carreno (Col   16.12
100 Yukihiro Doi (Jpn)
101 Ryan Roth (Can)                 16.39
102 Jan Bejlek (Cze)
103 Mads Christensen (Den)
104 Matej Drienik (Svk)
105 Nestor Eecu Guzman Paspuel (E   18.43
106 Vanja Satinovic (Cro)           18.52
107 Kalvis Eisaks (Lat)             20.35
108 Bernard Sulzberger (Aus)
109 Rene Marxer (Lie)               20.37
110 Nicholas Roche (Irl)            23.24
111 David Krejci (Cze)
112 Alex Pavlov (RSA)
113 Mauro Santambrogio (Ita)
113 Artem Mavlianov (Rus)
113 Aldo Ino Ilesic (Slo)
113 Janez Rozman (Slo)
113 Josef Benetseder (Aut)
113 Michael Neumann (Aut)
113 Sergei Kuzmin (Est)
113 Romet Puuram (Est)
113 Chris Sorensen (Den)
113 Simon Schaerer (Swi)
113 Marton Szollar (Hun)
113 Ruben Lugo Caballero (Mex)
113 Daniel Salas Vazquez (Mex)
113 Alexandr Matveev (Mda)
113 Gilles Hendel (Lux)
113 James Meadley (Aus)
113 Richard Moffatt (Aus)
113 Paidi O'brien (Irl)
113 George Manu (Rom)
113 Gabriel Sorin Pop (Rom)
113 Ben Clark (GBr)
113 Peter Johnston (GBr)
113 Kieran Page (GBr)
113 Georgios Ninos (Gre)
113 Christopher D. Myhre (Nor)
113 Cristian Vera Riquelme (Chi)
113 Volodymyr Dyudya (Ukr)
113 Vasco Costa (Por)
113 Luis Nobrega (Por)
113 Helder Oliveira (Por)
113 Emanuel Kiserlovski (Cro)
113 Pavao Sever (Cro)
113 Jakub Kolinek (Svk)
113 Warren Tilbrook (Can)
113 David Martin Velasco (Spa)
113 Ivan Melero Coco (Spa)
113 Daniel Navarro Garcia (Spa)
113 Petko Atanasov (Bul)
113 Valentin Grozdanov (Bul)
113 Liubomir Petrov (Bul)
113 Arturs Ansons (Lat)
113 Aleksandrs Trofimovs (Lat)
113 Milan Behunek (Cze)
113 Alexey Kolessov (Kaz)
113 Yevgeniy Muravyov (Kaz)
113 Niekolas Biskner (USA)
113 Dane Jankowiak (USA)
113 Rafael Infantino Abreu (Col)
113 Martin Pieterse (RSA)
113 Christoffel Willemse (RSA)
113 Matias E. Stern (Arg)
113 Badr Al-Yassien (Ksa)