Stage 17 - September 26: Murcia - Albacete, 159.5 km
Stage profile Live Report Results Previous Result Next Result
Hunter by a length in surprise finale
by Gabriella Ekström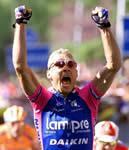 Robert Hunter
Photo: © AFP
This dramatic stage was won by South African rider Robert Hunter (Lampre) who outsprinted Telekom's Danilo Hondo in a close duel.
For most of the day, the stage was controlled by Telekom who drove the peloton some two minutes behind a break of four riders. Pedro Horillo (Mapei), Juan M. Garate (Lampre), Oscar Laguna (Colchon-Relax) and Serguei Smetanine (Jazztel) escaped early and built up a lead that maxed out at three minutes. Telekom kept a close eye on things and had just started to bring the gap back when the unpredictable happened.
With less than forty kilometres to go the wind was starting to become troublesome for riders far back in the peloton. US Postal and Kelme were riding strongly at the front and Telekom - who had been in charge for most of the day - suddenly found out that Eric Zabel was being dropped. Kelme and US Postal saw their change and started to ride tempo towards Albacete. At some points the speed reached 80 kph.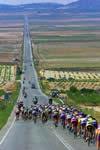 Looking good in Spain
Photo: © AFP
Third overall Juan Mercado (Banesto) and David Plaza (Festina) also found themselves in the second group, and the gap was quickly increasing. All Telekom riders except Danilo Hondo tried to bring the first group back together with Banesto and Festina but the gap kept on growing. The first group was some 30 riders strong and among the riders who made the break were Inigo Cuesta (Cofidis), Robbie McEwen, Dave Bruylandts and Richard Virenque (Domo), Oscar Sevilla and Toni Tauler (Kelme), Robert Hunter (Lampre), Chechu Rubiera, Julian Dean, Antonio Cruz, Matthew White, Levi Leipheimer, Roberto Heras (US Postal), Martin Hvastija (Alessio), Fernando Escartin (Coast), Aitor Osa (Banesto), Eluterio Anguita (Jazztel), Angel Edo (Milaneza).
With five kilometres to go the gap was over a minute and Mercado was now virtually passed by Heras in the general classification. A rider from Jazztel attacked in the final kilometres but was brought back by Virenque who was working for McEwen. Danilo Hondo, without any leadouts, started the sprint early but was challenged by Robert Hunter, also alone. Hunter in his characteristic sprinting style was able to pass Hondo in the final 50 metres and won the stage with a bike length.
Photography
Robert Hunter - and you wonder if South Africans like winning!
South African Robert Hunter from Lampre-Daikin team - celebrates as he crosses the finish line
The peloton in the 17th stage - Rolling along in the hills of rural Spain
Overall leader, Oscar Sévilla - and fellow countryman Angel Casero, second in the overall
Erik Zabel - and the Telekom team dominate the peloton
Oscar Sévilla - wearing gold for his hometown
Oscar Sévilla - collecting the traditional podium smooch
Results

1 Robert Hunter (RSA) Lampre-Daikin                           3.18.46
2 Danilo Hondo (Ger) Team Deutsche Telekom
3 Robbie McEwen (Aus) Domo-Farm Frites
4 Dmitri Fofonov (Kaz) Cofidis
5 Angel Vicioso (Spa) Kelme-Barclaycard
6 Igor Flores (Spa) Euskaltel-Euskadi
7 Cristian Moreni (Ita) Mercatone Uno-Stream TV
8 Eleuterio Anguita (Spa) Jazztel-Costa del Almeria
9 Gorka Gerrikagoitia (Spa) Euskaltel-Euskadi
10 Pedro Horrillo (Spa) Mapei-Quick Step
11 Chann McRae (USA) US Postal Service
12 Klaus Möller (Den) Milaneza-MSS
13 Jan Boven (Ned) Rabobank
14 Levi Leipheimer (USA) US Postal Service
15 Alberto Martinez (Spa) Euskaltel-Euskadi
16 J.Antonio Pecharroman (Spa) Jazztel-Costa del Almeria
17 José Luis Rubiera (Spa) US Postal Service
18 Aitor Osa (Spa) iBanesto.com
19 Benoit Joachim (Lux) US Postal Service
20 Victoriano Fernandez (Spa) Milaneza-MSS
21 Santiago Botero (Col) Kelme-Barclaycard
22 Oscar Laguna (Spa) Colchon Relax-Fuenlabrada
23 Angel Casero (Spa) Festina
24 Oscar Sevilla (Spa) Kelme-Barclaycard
25 Juan Manuel Garate (Spa) Lampre-Daikin
26 Serguei Smetanine (Rus) Jazztel-Costa del Almeria
27 Roberto Heras (Spa) US Postal Service
28 Richard Virenque (Fra) Domo-Farm Frites
29 Fernando Escartin (Spa) Team Coast
30 Iban Mayo (Spa) Euskaltel-Euskadi
31 Iñigo Cuesta (Spa) Cofidis
32 Dave Bruylandts (Bel) Domo-Farm Frites
33 Francisco Cabello (Spa) Kelme-Barclaycard
34 Antonio Tauler (Spa) Kelme-Barclaycard
35 José Angel Vidal (Spa) Kelme-Barclaycard
36 Rafael Cardenas (Col) Kelme-Barclaycard
37 Steven Kleynen (Bel) Domo-Farm Frites
38 Antonio Cruz (USA) US Postal Service                          0.10
39 Wilfried Cretskens (Bel) Domo-Farm Frites                     0.12
40 David Plaza (Spa) Festina                                     1.13
41 David Cañada (Spa) Mapei-Quick Step
42 Marco Pinotti (Ita) Lampre-Daikin
43 Alberto Vinale (Ita) Alessio
44 Luca Paolini (Ita) Mapei-Quick Step
45 Mariano Piccoli (Ita) Lampre-Daikin
46 Matthe Pronk (Ned) Rabobank
47 Sven Teutenberg (Ger) Festina                                 1.17
48 Jose Luis Rebollo (Spa) Festina
49 Daniel Clavero (Spa) Mercatone Uno-Stream TV
50 Germán Nieto (Spa) Colchon Relax-Fuenlabrada
51 Gian Mario Ortenzi (Ita) Mercatone Uno-Stream TV
52 Rafael Casero (Spa) Festina
53 Luis Perez (Spa) Festina
54 Manuel Beltran (Spa) Mapei-Quick Step
55 Juan Miguel Mercado (Spa) iBanesto.com
56 Stefano Casagranda (Ita) Alessio
57 Unai Osa (Spa) iBanesto.com
58 Félix Garcia Casas (Spa) Festina
59 Torsten Nitsche (Ger) Saeco Macchine Per Caffe'
60 Massimo Giunti (Ita) Cantina Tollo Acqua & Sapone
61 Giuliano Figueras (Ita) Ceramiche Panaria-Fiordo
62 Dariusz Baranowski (Pol) iBanesto.com
63 Victor Hugo Peña (Col) US Postal Service
64 Thorwald Veneberg (Ned) Rabobank
65 Juan Carlos Vicario (Spa) Festina
66 Peter Farazjin (Bel) Cofidis
67 Marc Lotz (Ned) Rabobank
68 Geert Verheyen (Bel) Rabobank
69 Roberto Conti (Ita) Cantina Tollo Acqua & Sapone
70 Jaime Hernandez (Spa) Festina
71 Rolf Huser (Swi) Team Coast
72 Rui Lavarinhas (Por) Milaneza-MSS
73 Santiago Blanco (Spa) iBanesto.com
74 Karsten Kroon (Ned) Rabobank
75 Abraham Olano (Spa) O.N.C.E.-Eroski
76 Santos Gonzalez (Spa) O.N.C.E.-Eroski
77 Franco Pellizotti (Ita) Alessio
78 Andreas Klier (Ger) Team Deutsche Telekom
79 Tomas Konecny (Cze) Domo-Farm Frites
80 Dario David Cioni (Ita) Mapei-Quick Step
81 Melchor Mauri (Spa) Milaneza-MSS
82 Claude Lamour (Fra) Cofidis
83 Rolf Aldag (Ger) Team Deutsche Telekom
84 Erik Zabel (Ger) Team Deutsche Telekom
85 José J. Gomez Gozalo (Spa) Kelme-Barclaycard
86 Joao Silva (Por) Milaneza-MSS
87 Rafael Diaz Justo (Spa) O.N.C.E.-Eroski
88 Julian Dean (NZl) US Postal Service
89 Jan Schaffrath (Ger) Team Deutsche Telekom
90 Jorg Ludewig (Ger) Saeco Macchine Per Caffe'
91 Frank Hoj (Den) Team Coast
92 Niki Aebersold (Swi) Team Coast
93 Guido Trenti (USA) Cantina Tollo Acqua & Sapone
94 Juan Antonio Flecha (Spa) Colchon Relax-Fuenlabrada
95 Jorge Capitan (Spa) Colchon Relax-Fuenlabrada
96 Juan Guillamon (Spa) Jazztel-Costa del Almeria
97 Guido Trentin (Ita) Cofidis
98 Carlos Golbano (Spa) Jazztel-Costa del Almeria
99 Massimiliano Lelli (Ita) Cofidis
100 Haimar Zubeldia (Spa) Euskaltel-Euskadi
101 Roberto Laiseka (Spa) Euskaltel-Euskadi
102 Carlos Torrent (Spa) Jazztel-Costa del Almeria
103 Cesar Garcia Calvo (Spa) Colchon Relax-Fuenlabrada
104 David Fernandez (Spa) Colchon Relax-Fuenlabrada
105 Raphael Schweda (Ger) Team Coast
106 Eddy Ratti (Ita) Mapei-Quick Step
107 Jörg Jaksche (Ger) O.N.C.E.-Eroski
108 Jose Manuel Vazquez (Spa) Colchon Relax-Fuenlabrada
109 Mauro Gianetti (Swi) Team Coast
110 Alexander Shefer (Kaz) Alessio
111 Angel Edo (Spa) Milaneza-MSS
112 Kyrylo Pospyeyev (Ukr) Cantina Tollo Acqua & Sapone
113 Carlos Carneiro (Por) Milaneza-MSS
114 Mikel Zarrabeitia (Spa) O.N.C.E.-Eroski
115 Bingen Fernandez (Spa) Euskaltel-Euskadi
116 Jon Odriozola (Spa) iBanesto.com
117 José Garcia Acosta (Spa) iBanesto.com
118 Pedro Diaz Lobato (Spa) Jazztel-Costa del Almeria            1.30
119 Kai Hundertmarck (Ger) Team Deutsche Telekom                 1.34
120 Alberto Elli (Ita) Team Deutsche Telekom
121 Roberto Sgambelluri (Ita) Team Deutsche Telekom
122 Stephan Schreck (Ger) Team Deutsche Telekom
123 Julio Alberto Perez Cuapio (Mex) Ceramiche Panaria-Fiordo    1.52
124 Salvatore Commesso (Ita) Saeco Macchine Per Caffe'           3.49
125 Juan Carlos Dominguez (Spa) iBanesto.com
126 Alex Zuelle (Swi) Team Coast                                 5.31
127 Simone Bertoletti (Ita) Lampre-Daikin
128 Jose María Jimenez (Spa) iBanesto.com
129 Fabian Jeker (Swi) Milaneza-MSS
130 Carlos Sastre (Spa) O.N.C.E.-Eroski
131 Filippo Simeoni (Ita) Cantina Tollo Acqua & Sapone
132 Andrea Tonti (Ita) Cantina Tollo Acqua & Sapone
133 Daniel Atienza (Spa) Cofidis
134 Massimo Codol (Ita) Lampre-Daikin
135 David Millar (GBr) Cofidis
136 Beat Zberg (Swi) Rabobank
137 Vladimir Duma (Ukr) Ceramiche Panaria-Fiordo
138 Nathan O'Neill (Aus) Ceramiche Panaria-Fiordo
139 Alberto Lopez De Munain (Spa) Euskaltel-Euskadi
140 Gilberto Simoni (Ita) Lampre-Daikin
141 Daniele De Paoli (Ita) Mercatone Uno-Stream TV
142 David Etxebarria (Spa) Euskaltel-Euskadi
143 Yauheni Seniushkin (Blr) Ceramiche Panaria-Fiordo
144 Igor Pugaci (Mda) Saeco Macchine Per Caffe'
145 Addy Engels (Ned) Rabobank
 
General classification after stage 17
 
1 Oscar Sevilla (Spa) Kelme-Barclaycard                      58.23.44
2 Angel Casero (Spa) Festina                                     0.25
3 Roberto Heras (Spa) US Postal Service                          2.20
4 Juan Miguel Mercado (Spa) iBanesto.com                         3.19
5 Levi Leipheimer (USA) US Postal Service                        3.55
6 David Plaza (Spa) Festina                                      4.44
7 José Luis Rubiera (Spa) US Postal Service                      4.59
8 Aitor Osa (Spa) iBanesto.com                                   5.47
9 Iban Mayo (Spa) Euskaltel-Euskadi                              6.59
10 Fernando Escartin (Spa) Team Coast                            7.18
11 Klaus Möller (Den) Milaneza-MSS                               7.27
12 Roberto Laiseka (Spa) Euskaltel-Euskadi                       9.13
13 Iñigo Cuesta (Spa) Cofidis                                   10.06
14 Santiago Blanco (Spa) iBanesto.com                           10.34
15 Manuel Beltran (Spa) Mapei-Quick Step                        13.49
16 Félix Garcia Casas (Spa) Festina                             16.21
17 Luis Perez (Spa) Festina                                     16.50
18 José J. Gomez Gozalo (Spa) Kelme-Barclaycard                 18.17
19 Tomas Konecny (Cze) Domo-Farm Frites                         18.37
20 Jose María Jimenez (Spa) iBanesto.com                        19.31
21 Santiago Botero (Col) Kelme-Barclaycard                      19.37
22 Franco Pellizotti (Ita) Alessio                              24.23
23 Roberto Conti (Ita) Cantina Tollo Acqua & Sapone             28.14
24 David Cañada (Spa) Mapei-Quick Step                          28.40
25 Unai Osa (Spa) iBanesto.com                                  29.43
26 Richard Virenque (Fra) Domo-Farm Frites                      34.29
27 Alberto Martinez (Spa) Euskaltel-Euskadi                     35.12
28 Giuliano Figueras (Ita) Ceramiche Panaria-Fiordo             37.05
29 Carlos Sastre (Spa) O.N.C.E.-Eroski                          37.16
30 Beat Zberg (Swi) Rabobank                                    37.59
31 Rui Lavarinhas (Por) Milaneza-MSS                            39.17
32 Mikel Zarrabeitia (Spa) O.N.C.E.-Eroski                      41.41
33 Jose Luis Rebollo (Spa) Festina                              42.15
34 Victoriano Fernandez (Spa) Milaneza-MSS                      44.35
35 Daniele De Paoli (Ita) Mercatone Uno-Stream TV               48.10
36 David Millar (GBr) Cofidis                                   48.27
37 Oscar Laguna (Spa) Colchon Relax-Fuenlabrada                 48.29
38 Eleuterio Anguita (Spa) Jazztel-Costa del Almeria            49.06
39 Massimiliano Lelli (Ita) Cofidis                             50.48
40 Gilberto Simoni (Ita) Lampre-Daikin                          50.52
41 Daniel Atienza (Spa) Cofidis                                 51.23
42 Juan Manuel Garate (Spa) Lampre-Daikin                       52.45
43 Dave Bruylandts (Bel) Domo-Farm Frites                       53.37
44 Dariusz Baranowski (Pol) iBanesto.com                        54.29
45 Dario David Cioni (Ita) Mapei-Quick Step                     55.01
46 Joao Silva (Por) Milaneza-MSS                                56.08
47 Alberto Elli (Ita) Team Deutsche Telekom                     58.03
48 Geert Verheyen (Bel) Rabobank                                58.37
49 Juan Carlos Vicario (Spa) Festina                            58.38
50 Bingen Fernandez (Spa) Euskaltel-Euskadi                     59.00
51 Haimar Zubeldia (Spa) Euskaltel-Euskadi                      59.01
52 Dmitri Fofonov (Kaz) Cofidis                                 59.43
53 David Etxebarria (Spa) Euskaltel-Euskadi                   1.01.36
54 Daniel Clavero (Spa) Mercatone Uno-Stream TV               1.02.25
55 Massimo Codol (Ita) Lampre-Daikin                          1.05.37
56 J.Antonio Pecharroman (Spa) Jazztel-Costa del Almeria      1.08.06
57 Steven Kleynen (Bel) Domo-Farm Frites                      1.10.18
58 Massimo Giunti (Ita) Cantina Tollo Acqua & Sapone          1.10.20
59 Antonio Tauler (Spa) Kelme-Barclaycard                     1.12.37
60 Rolf Aldag (Ger) Team Deutsche Telekom                     1.13.27
61 Roberto Sgambelluri (Ita) Team Deutsche Telekom            1.14.43
62 Igor Pugaci (Mda) Saeco Macchine Per Caffe'                1.14.50
63 Angel Vicioso (Spa) Kelme-Barclaycard                      1.15.03
64 Cristian Moreni (Ita) Mercatone Uno-Stream TV              1.16.00
65 Filippo Simeoni (Ita) Cantina Tollo Acqua & Sapone         1.16.07
66 Peter Farazjin (Bel) Cofidis                               1.16.34
67 Matthe Pronk (Ned) Rabobank                                1.17.27
68 Rafael Diaz Justo (Spa) O.N.C.E.-Eroski                    1.18.26
69 Guido Trentin (Ita) Cofidis                                1.19.13
70 Alexander Shefer (Kaz) Alessio                             1.21.05
71 Jose Manuel Vazquez (Spa) Colchon Relax-Fuenlabrada        1.22.16
72 Juan Antonio Flecha (Spa) Colchon Relax-Fuenlabrada        1.23.39
73 Santos Gonzalez (Spa) O.N.C.E.-Eroski                      1.25.37
74 Igor Flores (Spa) Euskaltel-Euskadi                        1.27.53
75 Jörg Jaksche (Ger) O.N.C.E.-Eroski                         1.28.03
76 Fabian Jeker (Swi) Milaneza-MSS                            1.29.06
77 Abraham Olano (Spa) O.N.C.E.-Eroski                        1.29.22
78 Francisco Cabello (Spa) Kelme-Barclaycard                  1.30.06
79 Angel Edo (Spa) Milaneza-MSS                               1.30.29
80 Kyrylo Pospyeyev (Ukr) Cantina Tollo Acqua & Sapone        1.37.26
81 Carlos Golbano (Spa) Jazztel-Costa del Almeria             1.37.47
82 Jon Odriozola (Spa) iBanesto.com                           1.38.24
83 Addy Engels (Ned) Rabobank                                 1.38.52
84 Pedro Horrillo (Spa) Mapei-Quick Step                      1.39.13
85 Jorg Ludewig (Ger) Saeco Macchine Per Caffe'               1.40.22
86 Cesar Garcia Calvo (Spa) Colchon Relax-Fuenlabrada         1.41.17
87 Niki Aebersold (Swi) Team Coast                            1.42.26
88 Kai Hundertmarck (Ger) Team Deutsche Telekom               1.44.02
89 Erik Zabel (Ger) Team Deutsche Telekom                     1.45.37
90 Julio Alberto Perez Cuapio (Mex) Ceramiche Panaria-Fiordo  1.47.22
91 Victor Hugo Peña (Col) US Postal Service                   1.47.26
92 Benoit Joachim (Lux) US Postal Service                     1.48.35
93 Rafael Cardenas (Col) Kelme-Barclaycard                    1.49.03
94 Jaime Hernandez (Spa) Festina                              1.49.53
95 Stephan Schreck (Ger) Team Deutsche Telekom                1.50.17
96 Danilo Hondo (Ger) Team Deutsche Telekom                   1.50.23
97 Thorwald Veneberg (Ned) Rabobank                           1.50.32
98 Jan Boven (Ned) Rabobank                                   1.52.57
99 Jorge Capitan (Spa) Colchon Relax-Fuenlabrada              1.54.12
100 Gorka Gerrikagoitia (Spa) Euskaltel-Euskadi               1.55.01
101 Guido Trenti (USA) Cantina Tollo Acqua & Sapone           1.55.03
102 Mauro Gianetti (Swi) Team Coast                           1.56.19
103 Vladimir Duma (Ukr) Ceramiche Panaria-Fiordo              1.58.56
104 Chann McRae (USA) US Postal Service                       1.59.04
105 Marc Lotz (Ned) Rabobank                                  1.59.18
106 Alex Zuelle (Swi) Team Coast                              2.03.48
107 Juan Guillamon (Spa) Jazztel-Costa del Almeria            2.04.01
108 Antonio Cruz (USA) US Postal Service                      2.04.05
109 Claude Lamour (Fra) Cofidis                               2.04.22
110 Rolf Huser (Swi) Team Coast                               2.04.31
111 Luca Paolini (Ita) Mapei-Quick Step                       2.05.00
112 Eddy Ratti (Ita) Mapei-Quick Step                         2.05.30
113 Nathan O'Neill (Aus) Ceramiche Panaria-Fiordo             2.07.03
114 Jan Schaffrath (Ger) Team Deutsche Telekom                2.07.57
115 Wilfried Cretskens (Bel) Domo-Farm Frites                 2.09.39
116 José Angel Vidal (Spa) Kelme-Barclaycard                  2.09.47
117 Carlos Torrent (Spa) Jazztel-Costa del Almeria            2.10.42
118 Julian Dean (NZl) US Postal Service                       2.11.59
119 Melchor Mauri (Spa) Milaneza-MSS                          2.13.13
120 Andreas Klier (Ger) Team Deutsche Telekom                 2.13.18
121 Mariano Piccoli (Ita) Lampre-Daikin                       2.13.40
122 Juan Carlos Dominguez (Spa) iBanesto.com                  2.13.50
123 Robert Hunter (RSA) Lampre-Daikin                         2.14.10
124 Serguei Smetanine (Rus) Jazztel-Costa del Almeria         2.14.35
125 Rafael Casero (Spa) Festina                               2.15.38
126 David Fernandez (Spa) Colchon Relax-Fuenlabrada           2.16.35
127 Gian Mario Ortenzi (Ita) Mercatone Uno-Stream TV          2.18.38
128 Alberto Lopez De Munain (Spa) Euskaltel-Euskadi           2.19.36
129 José Garcia Acosta (Spa) iBanesto.com                     2.20.52
130 Marco Pinotti (Ita) Lampre-Daikin                         2.20.58
131 Frank Hoj (Den) Team Coast                                2.21.08
132 Raphael Schweda (Ger) Team Coast                          2.21.21
133 Carlos Carneiro (Por) Milaneza-MSS                        2.22.08
134 Alberto Vinale (Ita) Alessio                              2.23.54
135 Pedro Diaz Lobato (Spa) Jazztel-Costa del Almeria         2.23.57
136 Salvatore Commesso (Ita) Saeco Macchine Per Caffe'        2.24.36
137 Stefano Casagranda (Ita) Alessio                          2.25.02
138 Karsten Kroon (Ned) Rabobank                              2.27.39
139 Yauheni Seniushkin (Blr) Ceramiche Panaria-Fiordo         2.29.24
140 Torsten Nitsche (Ger) Saeco Macchine Per Caffe'           2.31.06
141 Sven Teutenberg (Ger) Festina                             2.32.35
142 Andrea Tonti (Ita) Cantina Tollo Acqua & Sapone           2.36.23
143 Simone Bertoletti (Ita) Lampre-Daikin                     2.37.39
144 Germán Nieto (Spa) Colchon Relax-Fuenlabrada              2.40.52
145 Robbie McEwen (Aus) Domo-Farm Frites                      2.42.53