Stage 9 - July 16: Pontarlier - Aix-Les-Bains, 185 km
Results & report Live report Profile Description Previous stage Next stage
Preview
By Tim Maloney
Once again, TDF weather is expected to be rainy, cool (mid 60ís) and instable. The shortish stage has little climbing and if the peloton decides to keep things together, there may be another sprint finish in Aix-les-Bains.
Profile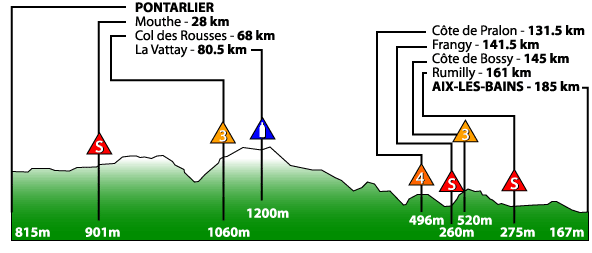 bonus sprint

feed zone

prime

intermediate timing

category of climbs

"hors" (severe)
category climb
Description
Start time: 1240 CEST
Estimated finish time: 1715 CEST
The last stage before the alpes is a pleasant run down from Pontarlier to the spectacular Aix-les-Bains, a well known gateway to the Alps. A couple of 3rd category climbs and one 4th shouldn't prevent the sprinters from having their way. However, an Erik Dekker or a Jens Voigt might have other ideas. The GC riders will be nervous on this stage, with tomorrow's tough haul to Alpe d'Huez on the menu.
Aix-les-Bains (you pronounce the 'x' but not the 's') is a beautiful city located on Lake Bourget at the base of the Alps. It is named after its alum and suphur springs, which have have been frequented since Roman times
The ski resort town of Pontarlier is located 100 kilometres or so north of the French Alps, where the Tour will head over the next few days. It last saw the Tour de France pass through in 1995.