Results and Reports for November 24 - 25, 2001
USA
Promoters wishing to submit results should send them to cyclingnews
MAC Regional Cup
Hamilton, New Jersey, November 24, 2001
The Pennsylvania team got off to a great start at the inaugural Regional Cup race by accruing 46 points in the Amateur Women's race with a good performance by winner Birgit Kovacs. Pennsylvania never looked back, scoring points in each of the six race categories.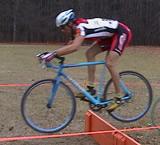 Making the jump
Photo: © Kaufman

Skip Menard finished the day off with a win in the Elite Men's race over a talented East Coast field. Skip, who by his own admission, isn't a big fan of overly technical courses, used the road-like course to his advantage attacking a large group of 6-8 riders at just the right time. "I'm trying to peak up for nationals after a long road season", said Menard who as late as two weeks ago did not look comfortable with the lead group.

The only other team, besides Pennsylvania, who scored points in all 6 race categories, was tiny Delaware. Delaware, led by current Espoir National Champion Katie Compton, is geographically small, but packs a big punch with two of the top three teams over the last three years (First State Velo Sport and reigning MAC Cup holder Wooden Wheels). Delaware finished fourth.

Second place went to Massachusetts, a perennial powerhouse. Debate continues as to whether Pennsylvania won only because it was geographically closer to the race than Massachusetts. It won't get any easier for Massachusetts next year, as the winner (Pennsylvania) hosts the event in 2002. Said Mark Abramshamson, Massachusetts State Cyclo-cross Coordinator, "I guess next year, I will have to skip my town's annual Pilgrim Costume Festival held every Thanksgiving holiday, and devote full attention to showing everyone why Massachusetts Cross is boss".

Perhaps the biggest surprise of the day was the third place finish of home state New Jersey. Probably not up high on the bookmakers list of teams slated to win, place, or show, New Jersey didn't let that hinder their spirits. Led by New Jersey's cyclo-cross cultural icon, Joe Saling, they captured the most Masters points and did really well in the Elite Men's race.
Photography
Results
Elite Men   
    
1 George Menard (Snow Valley)
2 Adam Myerson (Bikereg.com)
3 Bill Elliston (Jaeger)
4 Chris Peck (Wheelworkds)
5 Kris Auer (LSVTREK/Volks)
6 Ryan Dewald (Beans-Rheinhardt)
7 Greg Ferguson (Trek VW JBL east)
8 Jeff Leake (NCC / BikeReg.com)
9 Mike Moule (Cane Creek/SUBARU)
10 Szymon Nietmoko (Evolution Racing)
11 Joe  Papp (Pittsburgh)
12 Eric Slick (Aquafina)
13 Blair Saunders (First State Velo Sport)
14 Brant Hornberger (NCC / BikeReg.com)
15 Les Leach (Guys Bicycles)
16 Jason Moore (Beans-Rheinhardt)
17 J.D. Bilodeau (NCC / BikeReg.com)
18 Ransom Weaver (Guys Bicycles)
19 Todd Rowell (NEBC/Cycle Loft)
20 Gunnar Shogren (Guiness)
21 Ryan Leech (Aquafina)
22 Glen Turner (unattached)
23 Basil Moutsopoulos (CRCA)
24 Andy Neumann (Evolution Racing)
25 Robert Hacker (Bicycle Therapy)
26 Al Senft (Rapid Transit Racing Team)
27 Mike Norton (Somerset)
28 Chris Hensel (Time Cycle)
29 Adam Beattie (First State Velo Sport)
30 Bruce Weyman (CRCA)
31 J.P. Partland (Kissena Cycle Club)
DNF Eric Ragot (Kissena Cycle Club)
DNF Jason Baer (GS Mengoni)
DNF Perren James (Club Trot)
DNF Tyler Johnson (unattached)
DNF Bobby Lea  (Fuji)
DNF Tom Mains 
DNF Tarik Saleh (Kelly Bikes)
DNF John Verheul (Ideal Tile/Brielle Cyclery)
DNF Brian Weightmann (NCVC)
DNF Mike Yozell (Guys Bicycles)
 
Elite Women     
 
1 Katie Compton (Wooden Wheels)
2 Shauna Gillies-Smith (Gearworks/SRP)
3 Susan MacLean (BOB)
4 Alicia Genest (Richard Sachs)
5 Sara Cushman (Gearworks/SRP)
6 Heather Peck (Wheelworks)
7 Josie Shew (FSVS)
8 Thais DaSilva (Wissahickon)
9 Caroline Hacker (Evolution Racing)
10 Stacey Gold (Evolution Racing)
11 Katharine Farago (NEBC)
12 Bonnie Stoeckl (Evolution Racing)
13 Kim Bare (Tri State Velo)
14 ?? ?? (??)
15 Jill Morrison (Evolution Racing)
16 TAMMY EBERSOLE (Evolution Racing)
17 Jennifer Leonard (Evolution Racing)
18 Nicole Wilson (Somerset Wheelmen)
19 Laura Henlon (Fuji)
20 Sheila Senft (Morris Trucking Velo)
21 Donna Anderson (Evolution Racing)
DNF Marissa Kelloss (Yale University)
DNF Laurel Graves (Guys bicycles)
    
Women's B   
    
1 Birgit Kovacs (unattached)
2 pam kollar (Guys Bicycles)
3 Karrie Mitchell (First State Velo Sport)
4 Jacqui Sadashige 
    
Men's B   
    
1 Joe Reynolds (Wissahickon)
2 Larry Wediger (Wissahickon)
3 Brendan Marshall (Team Beacon)
4 Andrew Wulhkuhle (Wissahickon)
5 Brent Biddle (First State Velo Sport)
6 Joseph Piccillo (Evolution Racing)
7 Myron boker (unattached)
8 Kelly Cline (Wissahickon)
9 Byron holt (Boston Road club)
10 Scott Staubach (unattached)
11 Pete Scholdt (Wissahickon)
12 Wade Andrews (Wissahickon)
13 john Burn (unattached)
14 John Frey (NCC / BikeReg.com)
15 Mike Bertingee (Knapps)
16 TOM MAINS (READYPAC/COMMERCE BANK)
17 Matt Thompson (unattached)
18 David Yu Greenblatt (Highland Park Hermes)
19 Pat Kelly (Guys Bicycles)
20 Drew Guldalian (Wissahickon)
21 Ron Gutierrez (Sycip)
22 Mike Sherlokc (Bennetts Bike)
23 Marc Urbanski (Libety Cycle)
24 Christopher Chin (All American Bicycle Club)
25 John Berlingee (west hill/uvm)
26 Eric Morgan (Tri State Velo Sport)
27 Allesandro Pesouza (Highland Park Hermes)
28 Craig Callan (Highland Park Hermes)
29 Henry Tremper (First State Velo Sport)
30 Roland Peterson (unattached)
31 David Flickinger (Ashby Street Racing)
32 Pete Smith (Evolution Racing)
33 Darren Crup (unattached)
34 Ryan Bosio (Wooden Wheels)
35 Jason Papadimitriou 
36 Bob Piacine (Guys Bicycles)
37 Bill Allmon (Avalon Racing)
38 Wayne Scott (First State Velo Sport)
39 Dusan Strika (Kissena)
40 Matt Montross (UVM)
41 Robert Luebbers (GMBC/Excite/smartFUEL)
43 Matthew Yoder (Guy's Bicycle Racing)
44 Dave Mitchell (Quaker City)
DNF Iggy Baran (Artemis)
DNF Joseph Johnston 
DNF Christian Skinner (Nittany Velo Club)
DNF Chip Sovek (Potomac Velo Club)
DNF Adam Szczepanski (unattached)
DNF Mark Leubbers (Capital)
DNF Bruce Freehof (Knapps)
DNF Matt  Latyszonek (Team Colavita)
DNF Eric Ragot (Kissena)
DNF John Calgiano (Dream Racing)
    
Men's C   
    
1 Jonathan Swinden 
2 Sean Matthews (First State Velo)
3 Mich Ross (BBC)
4 Leo Kolshorn (3D / HP)
5 Jeffrey Tredup 
6 Chris Stine (B+B)
7 Robert Lea (Sports Team)
8 Jack Brown (Somerset)
9 aron kansal (JWU Cycling Club)
10 Joe Szokoli (CRCA)
11 Alex Moser (team geo)
12 Matt Peterson (HP Hermes)
13 John Hood (Northeast)
14 Russ Padgett (unattached)
15 Karl Ditlebrandt (Kissena)
16 Robert Sands (Evolution)
17 Bill Morris (First State Velo)
18 Mike Franken (unattached)
DNF Stephen Abele 
DNF ARTHUR KEINTZ (READYPAC/COMMERCE BANK)
DNF John Paulson (unattached)
    
Juniors   
    
1 Chris Hill (NCC/BikeReg.com)
2 Joey Thompson (Wooden Wheels)
3 Rob Lea (Fuji)
4 Konrad LeBas (CCB International)
5 Ben Coleman (NECSA)
6 Bradley Viera (Red Rose)
7 Adam Beattie (First State Velo)
8 Robert Crowther (NCC/BikeReg.com)
9 Syd Lea (Fuji)
10 Mike Fraysses (Mike Fraysees)
11 Carlos Cardofa (West Velo)
12 Consorto Cumstodlter (First State Velo)
DNF Bart  Torre (Red Rose)
    
Masters 35-44   
    
1 Jan Wiejak (Fuji-Verge)
2 gunnar Shogren (Guinness/FORT)
3 Nick Durrie (Ford)
4 Noah Gullikson (Test prot)
5 tim haitz (syrc)
6 Eric  Schlauch (Somerset Wheelmen)
7 Bevan Quinn (Putney/West Hill)
8 Mark Luebbers (CBRC)
9 John Lux III (First Capitol)
10 Kurt Mikeska (Wooden Wheels)
11 Stephen Caffrey (First State Velo Sport)
12 martin jones (somerset wheelmen)
13 Douglass Gray (First State Velo Sport)
14 Kurt Dodds (Wissahickon Cyclery)
15 rob frederick (evolution racing)
16 LARRY KAUFMAN (READYPAC/COMMERCE BANK)
17 John Baker (Putney/West Hill)
18 Mark Nevil (Monroe)
19 Ralph Travalino (Evolution)
20 Ted McDaniel (Wooden Wheels)
21 Rich Cordero (Guys)
22 Paul Incognito (First State Velo Sport)
23 Jon Gaarder (First State Velo Sport)
24 Rob Gallucio (FSVS)
25 Steve Bonadio (NEBC)
26 Andrew Hogg (First State Velo Sport)
27 James Feeman (Breakaway)
28 Jim Gould (Sports People)
29 Charles Harvey (Mambo)
30 Jeff Noobler (unattached)
31 Mike Gibbons (Evolution)
32 Randy Marsola (CRCA)
33 Joe Hudock (Monroe)
34 patrick leonard (evolution racing)
35 Charles Lapunzina (Kissena)
36 Jay Downs (Guiness)
37 Doug Hover (3D Racing Team)
DNF Bill Johnson (JRNR)
DNF Yong Kong (Guy s Bicycle)
DNF Robert Lyon (First Capitol)
DNF Jeff MacLean (BOB)
DNF Rick Mihills (First State Velo Sport)
DNF David Mitchell (Quaker City Wheelmen)
DNF Scott Wilson (Evolution)
    
Masters 45+   
    
1 Randall Root (Team Snow Valley)
2 Leone Pizzini (First State Velo Sport)
3 Darrell Vreugdenhil (Snow Valley)
4 KEVIN BRECKENMAKER (45)
5 Patrick Kennedy (Somerset Wheelmen)
6 David Genest (Richard Sachs)
7 bernard klees (Evolution Pro Bike Shop)
8 Joe Saling (Somerset Wheelmen)
9 Anthony Loproto (Peerless)
10 MARSHALL SACKS (49)
11 Nunzio DiBiasi (Team Harrisburg)
DNF JACK Briggs (CRCA)
DNF Tom Ekberg (Liberty Cycle)
DNF Sean LeBas (Laurel Bicycle Club)
Overall
State          Elite Men Elite Women Juniors Masters Men B Women B Total
 
Pennsylvania         143         126     142     115    66      46   638
Massachussets        120         135      93      21    25           394
New Jersey           109          33             117    59      24   342
Delaware              60          50      44     106    21      23   304
New York              69                  40     140    23           272
Connecticut           47          45      88                         180
New Hampshire         78          48              13    33           172
Vermont               43                  46      77     1           167
Maryland                          76      42             2           120 
Rhode Island                      47              65                 112
West Virginia         31                          49                  80
Ohio                  25          31                                  56
Michigan                                          48                  48
North Carolina        42                                              42
Virginia                                          41                  41
California                                               5             5