News for May 14, 2001
Recent results and new features
Hinault says 'No' to Pantani
Five-times Tour de France champion Bernard Hinault who now works as a member of the Tour de France organisation has weighed in to the Tour wildcard selection controversy by explaining the reasons for the non-selction of Marco Pantani and his Mercatone-Uno team. In an interview with the newspaper Derni¸res Nouvelles d'Alsace, Hinault said "Pantani cannot be invited because there was too great a chance of his being disqualified at any time. Not to invite him is the logical decision for us and the Tour. Pantani will not be in the Grand Boucle so that we can favour French riders, but in the interest of the sport."
Ullrich "better than expected", says Pevanage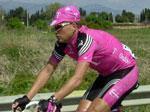 Jan Ullrich, pictured at the
Semana Catalana

Jan Ullrich's form is coming, but slowly, according to his team manager Rudy Pevanage. With a week to go to the Giro d'Italia Ullrich finished Saturday's mountain stage of the Tour of Romandy almost seven minutes adrift, but Telekom's Pevanage said "he rode better than we expected after his recent small problems with muscle pains."

His symptoms of unusual fatigue had caused Ullrich to consider skipping the Giro, Pevanage said, but the outlook had now improved. "Jan has a really good basic condition. Now he just has to lose a little weight and he'll be flying. Compared to last year he is much further along. In the Tour of Germany he lost three minutes to Plaza in the time trial. Friday's time trial was a whole lot better," said Pevanage who has ordered Ullrich to take a rest day on Monday. "Then he will train at home for two days and on Thursday we will go to the Giro."

The Italian press is already getting excited about a battle between Ullrich and Marco Pantani taking place in Italy instead of France. Italian sports paper Gazzetto dello Sport has dubbed Ullrich 'the Emperor', though it remains to be seen whether he will be taking the Giro seriously, as he has hinted, or treating it as an extended training ride after his recent minor setbacks.

Pevanage says that of the Telekom team, Roberto Sgambelluri actually has the best chance of a good performance in the Giro. "He will try something there," said Pevanage, adding he only expects consistency from Ullrich, not brilliant results.
Pino may return
Alvaro Pino, former director of the Kelme team, may come out of his two-year-old voluntary retirement to manage the Swiss Division II Phonak team. Pino has been approached by the sponsor, a world-wide manufacturer and of equipment for the deaf, about helping the team move up to Division I.

It's an ambition project, and Pino admits he is ignorant about the team, though he did race against its current Directeur sportif. In order to move up to Division I, the team would require reinforcing and reorganising, not an inexpensive exercise. Pino says wants to return to competition if the financial backing is there, though this has yet to be discussed with Phonak.
Merckx resigns from Belgian Olympic body
Citing disagreement with the organisation's policies, Eddy Merckx has resigned as administrator of the Belgian Olympic Committee (COIB).

"Structurally, Belgian sport is well behind, especially if you compare it to our Dutch neighbours and the number of medals at the last Games," Merckx said. "The COIB has become a savings bank. It has plenty of money but doesn't use it."
2006 Tour start for Dresden?
Tour de France director Jean-Marie Leblanc says the 2006 Tour may start in Dresden, Germany. The city council has expressed interest in hosting the start of the Tour as part of the celebrations of the city's 800th anniversary. Leblanc said the city had a good chance of being chosen, commenting that the last time the Tour visited Germany "there were more spectators in Freiburg than in France. Germany is always very interested in the Tour de France"

Leblanc made the comment in Kudawa Zdroj, Poland at Sunday's third stage of the Peace Race. A quick check of the map reveals several hundred kilometres of, well, Germany between Dresden and France so a Dresden start would require either a lengthy transfer — never popular with riders and teams — or an additional couple of stages though Germany and into France.

Leblanc repeated his opinion that the Peace Race itself deserved more recognition and a higher place in cycling's hierarchy. "It is very well organised. I am certainly not the president of the UCI but I am going to lobby for the Peace Race to be classified in a higher category next year. If the Tours of Austria, Denmark and Luxembourg are in category 2.2, then the Peace race also deserves to be, and has done for a long time."

However, the Peace Race is seen as competition by the German Cycling Federation (BDR). Both races are categorised 2.3 by the UCI, and the BDR is also understood to be seeking a higher classification for its national tour. An increase for the Peace Race but not the Tour of Germany would put the German tour very much into the Peace Race's shadow, an ironically late victory for a race originally conceived in Cold War ideology.
Seigneur keeps on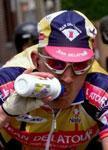 Eddy Seigneur, pre-DQ.

Despite being disqualified from the Four Days of Dunkirk on Friday for riding across a closed railway crossing Eddy Seigneur continued to ride, covering the route of each day's stage either before or after the official peloton. He returns to racing next week in the Tour of Picardie.
Vannoppen on the road
Belgian Cyclocrosser Tom Vannoppen made his debut on the road yesterday (Sunday), in the GP Vilvoorde (1.5). He will probably start on May 23 in the Bayern-Rundfahrt as well. The team management of Vlaanderen-T-Interim will wait for the results in Vilvoorde (he finished in 65th place) before they decide on their selection for the Tour de Picardie (May 18-20).
Marcel Ryckaert dies
Marcel Ryckaert has died, aged 76. He was a three time Belgian champion - in the same year he won the national title as an amateur and as an independent. He was a domestique for Raymond Impanis during his time at Mercier and ended his career in 1960. Afterwards, he became famous as Eddy Merckx' mentor. The funeral is in Gent on Wednesday, May 16.
Casey on the mend
Injured US Postal rider Dylan Casey, who broke his pelvis and collarbone in a collision with a TV cameraman at the end of the first stage of the four days of Dunkirk, has posted an account of the crash and his subsequent hospitalisation on his web site.

Casey says he had a clear run though the finish area until one of two TV people filming the race turned and stepped into his path. He was immediately taken to hospital, but his lack of French and the hospital staff's lack of English meant it was a while before they realised just how much pain he was in, and how serious his injuries were. At this point "my Director and Soigneur showed up to save the day" and arrangements were made to get Casey back to the US, but not before he got to spend three days getting bored silly and being forced to pay to watch TV.

You can read the full diary entry here.
Flodin in hit-and-run
Swedish Team Crescent cyclist Johan Flodin was hit by a car during training Friday. Flodin was riding his ITT bike when a car came out of a side road and hit his rear wheel. The car driver only stopped briefly and then drove on. She is now sought by the police.

Flodin had the luck to escape with bruises and pains in a knee. Luckily an ambulance on the way home from an assignment passed when the accident occurred and Flodin was able to get immediate treatment.
Racing in Vermont
Howard Bank Green Mountain Stage Race

The cancellation of the Killington Stage Race this year left a gap in many American cyclists' end of year racing schedule. The following announcement from the Green Mountain Bike Club, App. Gap Promotions LLC, and Bolton Valley Resort may help to fill it.

The club announced that the Vermont Race Weekend will be moving to Labor Day weekend (August 31 -September 3, 2001) and would grow to a four stage event called the "Howard Bank Green Mountain Stage Race", consisting of a mass start prologue on Friday afternoon, the smartFUEL circuit race on Saturday, the challenging 65-mile Mad River Road Race on Sunday, and finishing on Monday with the downtown Burlington Howard Bank Criterium. Most categories (men, women, juniors, and masters (30/40/50) as well as citizens and tandems will be catered for.

"It was a surprise to learn of the cancellation of the Killington Stage Race," said Green Mountain Bike Club President Ben Haydock. "So many racers look forward to coming to Vermont to finish up their season. In expanding the Vermont Race Weekend into the Howard Bank Green Mountain Stage Race we wanted to continue the Vermont Labor Day weekend tradition by building on the well-established Mad River Road Race and Burlington Crit."

A USCF permit is being submitted for the race. Additional information about all the stages will be released upon USCF permit and course approval.
Recent results and new features on cyclingnews