News for May 11, 2001
Recent results and new features
Hamburger positive for EPO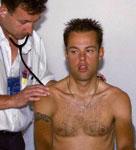 Bo Hamburger during a medical
check at the 2000 Tour de France
Photo: ©AFP
Danish rider Bo Hamburger of CSC has become the first cyclist to fail the UCI's new test for EPO. He has been suspended by team manager Bjarne Riis pending the results of analysis of his B sample.
The chairman of the Danish Cycling Union (DCU) has commented that he gives credit to the UCI for developing a test that works, though it is not good news for the DCU that the first cyclist to test positive is a Dane. He had hoped never to receive nes like this from Denmark, but says the DCU , like the UCI, will do the right thing.
According to the DCU, CSC is known for its strict anti-drug policy and the organisation does not expect CSC to be lenient with Hamburger. How long Hamburger will be suspended is not yet known.
Swedish doping expert, Dr Bengt Saltin, chairman of the Danish anti doping agency said, "I thought the cyclists were smarter. The test is so reliable that there will be no one that takes EPO without being caught. They might not have known how precise the test is, but now they do." On Thursday Saltin addressed a press conference saying that the new tests had wiped out EPO from cycling. An hour later he was proved to be wrong.
Hamburger's team-mateRolf Sørensen learned about the case Thursday afternoon coming home from a long training ride. "This is horrible," was all he could say and then declined to comment onthe affair until the matter had been discussed within the team. Another team-mate, Nicolai Bo Larsen who was found to have a high haematocrit level last spring, also refuses to comment according to Danish news agency Ritzaus.
Bjarne Riis, team managersaid, "I have full confidence in our doctors and they say that they had nothing to do with this. But of course we cannot be masters over the riders when they come home. We had taken haematocrit values on Bo prior to this test. They were a bit high but it was not an unusual value for him." Riis admits that this doping case couldn't have come at a worse time. The team is preparing for the Tour de France and it's a bad signal to the sponsors.
Asger Jensby, managing director of main sponsor CSC commented, "We think this is an isolated incident and have full confidence in the team. This will not have an effect on our sponsorship, but of course the timing is bad. It gives us the wrong form of exposure. We are content with the rapid action from the team management and now we are waiting for the B-sample to be tested."
Hamburger tested positive for EPO in an out-of-competition test conducted on April 19, the day after the Fleche Wallone,.
Ochoa out of hospital
Javier Ochoa has recovered sufficiently from the injuries sustained in the February 15 accident that put him in a coma and killed his brother Ricardo to be released from hospital. He left the Baracaldo hospital near Bilbao yesterday and was transferred toa rehabilitation center.
Svorada gets excited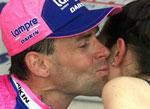 Jan Svorada on the podium.|
Excitement level not known.
Photo: ©AFP
Lampre-Daikin's Jan Svorada is "rather a quiet person and does not often get very excited" according to the team's press release in the wake of his win at yesterday's third stage of the Four Days of Dunkirk.But he was pretty satisfied after the race, as you might expect. "Of course I am happy. It has been since the Giro last year that I won a stage. I gathered a number of places of honour but I am not a very aggressive sprinter so I did not win. Today, at 250m from the finish, I found my way through and this is typically me: I show up when you the least expect me. It's nice for the team."
Lampre directeur sportif Pietro Algeri was also a happy man. "This is very good for the morale of the team. We had to wait a long time for the victory of Camenzind in Liège-Bastogne-Liège. Apparently we lost the touch of winning and through the victory of today, we remain in the winning mood. We can say already today, that the Four Day of Dunkirk is a success for Lampre-Daikin."
Cipo won't transfer
Mario Cipollini (Saeco) says he has no plans to go to the CSC team for the coming Tour, even if it turns out that there is a way for this to happen within the UCI rules. In a TV interview, Cipollini said, "I have a good sponsor, why should I leave ?"
Marco Pantani has also ruled out the possibility of the toLampre that was the subject of widespread speculation. "It was only a joke, nothing more. And nobody should think I would leave a sponsor during the season, after that sponsor has given me constant support."
casey back to US
After breaking his pelvis in a crash in the opening stage of the Four Days of Dunkirk, Dylan Casey is "in considerable pain, [but] relatively good spirits," according to his agent Clay Young
Young also said that USA Cycling and the US Olympic Committee have offered all available assistance in getting former Olympian Casey home to the United States, as well as providing him with the best medical care. "We owe special thanks to Sean Petty (Director of Athlete Performance for USA Cycling), the USOC and Tailwind Sports for their immediate attention to Dylan and his needs," Young said. "Dylan is looking at some extensive time in rehabilitation but we fully expect him to return." Casey will be transferred to Paris today via ambulance with a personal nurse attending to his injuries. From Paris, Casey will fly direct to San Francisco where he will be taken to the Stanford University Medical Center to be examined by specialists.
Drug trouble for Cycling NZ
The New Zealand Sports Drugs Testing Agency has suspended Cycling New Zealand from the agency's testing program because of the leniency shown toward Lee Vertongen after the rider tested positive for MDMA (also known as Ecstacy) at March's National Championships. As a result, New Zealand's Hillary Commission, the body responsible for funding sports, has threatened to stop Cycling New Zealand's funding.
Vertongen told an independent hearing that he believed the drug was a homeopathic flu treatment. The hearing accepted this excuse; Vertongen was disqualified and forfeited his prizemoney, but was not suspended.
However, the IOC recommends a minimum two year ban for this type of offence, according to NZSTA boss Graeme Steele, who says he is "surprised and disappointed" by Cycling New Zealand's handling of the matter.
If Cycling New Zealand is not restored to the NZSTA system six months before next year's Commonwealth Games, New Zealand riders will be unable to compete.
Mark Harris, general manager of Cycling New Zealand, says the Hillary Commission has been involved in the process and Cycling NZ is happy to discuss the situation with NZSTA and the Commission.
UK News
Alternative MTB NPS venue
The ongoing Foot and Mouth crisis has forced the cancellation of the Innerleithen round of the Downhill and Cross-Country National Points Series, originally scheduled for 2nd and 3rd June. The good news is that Martin and David at Newnham Park in Devon have stepped in to provide us with an alternative Cross-Country venue on the same weekend. All Cross-Country riders who have entered for Innerleithen will have their entries transferred to the Newnham event, unless they apply to BCF Central entries for a refund. All Innerleithen Downhill entries will be fully refunded, though we are looking for alternative venues for later in the season.
BCF membership up
BCF membership continues to rise, despite the foot and mouth outbreak. At the end of April, membership stood at 12,069, which is 2.1% up on the same time last year. With the Development Department's "Raleigh Get Set" scheme geared up to producing hundreds of new Youth members during the summer, this year's membership should comfortably outstrip the 2001 total.
Last call for Derny entries
Little more than a week remains before the closing date for entries to the BCF National Derny motor paced Championship and the first round of the BCF Sprinter's League at Reading on Sunday June 10. There will also be a full supporting programme. Entries for the meeting are £10 - send them to John Dennis, 270 Nine Mile Ride, Finchampstead, Wokingham,Berks, RG40 3NT, Tel: 0118 973 0733, E-mail:ShelaghDennis@aol.com
Canberra Tour wide open
This weekend's Canberra Tour, a major landmark on the Australian local calendar in the Autumn, is wide open, with the absence of many Aussie big names who are now racing overseas. The race starts Friday May 11 with a 6.1km prologue time trial on Parkes Way. Saturday and Sunday's stages take the race into the steep, hilly country of the foothills of the Brindabellas, through the Cotter, Uriarra, and Tidbinbilla and into the Namadgi National Park.
Denis Mungoven will be among the favourites, along with fellow Canberran Baden Burke, who returned last week from the 10 day Tour of Chile. Canberra will also field the 'Catalyst Interactive' team consisting of Allan Siper, Steve Blackburn, Michael Payne, Michael Tolhurst and John Forrest. Other riders likely to feature in the A grade men's race are Bart Hickson (Caravello), David Pell (Bendigo), Peter Milostic (Penrith) and Kristjan Snorrason (Melbourne).
In the women's race Liz Tadich of Melbourne, silver medallist at the 1997 World Road Championships, will be one of the class contenders with plenty of European racing experience. The Bates sisters, Natalie and Kate, of Parramatta will also be among the favourites. The powerful Kate Bates won the Women's B grade last year as a junior but may have to give way to older sister Natalie who is more renowned as a climber.
Stages
Prologue - May 11 (2.30pm): Parkes Way (Anzac Parade) - Glenloch Interchange, 6.1km
Stage 1 - May 12 (9.00am): Cotter/Uriarra Loop [Eucumbene Drive], 75km/37.5km
Stage 2 - May 12 (12.30pm): Uriarra/Cotter loop [Eucumbene Drive], 75km
Stage 3 - May 13 (9.00am): Duffy-Duffy, 148/108km
More info from the race website.
Recent results and new features on cyclingnews