Scotland National Track Championships - CN
Meadowbank Stadium, Edinburgh, July 22, 2001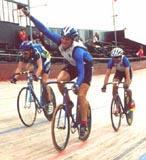 15km final sprint home
Photo: © David Urquhart
The Scottish Track Championships produced new champions in almost every case. James McCallum won the kilometre time trial beating former Scottish Champion Scott McWilliam by three tenths of a second. Last year's silver medalist Ivor Reid slipped to bronze position.
In the sprint, Graeme Steno, who was also the fastest qualifier, won the final in enthralling fashion from 'comeback kid' Marco Librizzi, the Scottish Champion in 1994 in two straight rides. The first ride was won by a tyre's width after Steen came from behind, while after a hard days racing his control and powerful jump in a short sprint saw him open a gap of ten metres to win the second. Derek Smith took bronze against junior rider James McFadyen.
Scottish 10 and 25 mile time trial champion Michael Pooley (Musselburgh RCC) successfully defended his pursuit title catching Ross Muir (City of Edinburgh RC) in the final. Bronze was taken by Richard Chapman.
The 15km Scratch was won by former British Youth Champion and Junior medallist Richard Chapman who won a four up sprint after he together with David Lowe, Ross Muir (Both City of Edinburgh RC) and Alistair Rutherford (GS Strada) lapped the field. Rutherford held off Muir to take the silver medal.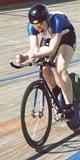 Clare Gross (Edinburgh)
Photo: © David Urquhart
The City of Edinburgh continued their domination of the Olympic Sprint competition, even without Olympic medalists Chris Hoy and Craig MacLean. In the final, the trio of James McCallum, Ivor Reid and Derek Smith beat Glasgow Couriers (Robertson, Colquhoun and Steen). Musselburgh RCC took bronze against Midlothian RT.
In the Womens 500m time trial, Clare Gross (City of Edinburgh RC) broke Emily Fordes' domination of the event winning in a time of 40.20. Forde, the World Masters (over 30) medalist took silver in 40.82 with Denise Lamond (Edinburgh RC) in third. In the Womens Pursuit Emily Forde successfully defended her title beating Katie Wylie in the final with Clare Gross beating last years silver medalist Denise Lamond in the ride-off for Bronze.
Andy Laing (Musselburgh RCC) moved up from silver in the veterans pursuit to take gold beating Robert McLean in the closest of finals, only 0.51s separating the two after 3000m. Last years champion Ivor Reid took bronze.
In the Junior events, James McFadyen beat Stephen Robertson (Glasgow Couriers) 2-0 to win the sprint title and Robertson again had to settle for silver in the pursuit, this time being beaten by Graham Hyett (Inverclyde Velo).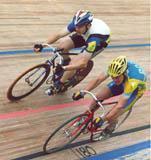 Marco Librizzi takes on
James McFadyen
Photo: © David Urquhart
Stuart McManus (Glasgow Nightingale) won both the youth sprint and pursuits beating Lisa Kinroy (Edinburgh RC) on both occasions.
With the exception of the Kilometre time trial all events were required to be run on Sunday July 22 after persistent showers on Friday evening and for eight hours on Saturday prevented almost any racing being completed. This presented the organisers with a major headache to get all Championships completed during the weekend and in the end the format of competition had to be altered dramatically.
Results
Men - 1km time trial championship
 
1 James McCallum (City of Edinburgh RC)        1.10.50
2 Scott McWilliam (Glasgow Couriers)           1.10.80
3 Ivor Reid (City of Edinburgh RC)             1.11.40
4 Evan Oliphant (Wick Wh)                      1.13.97
5 Ian Gardiner (Midlothian RT)                 1.14.47
6 Stephen Robertson (Glasgow Couriers)         1.15.77
3 Darren Howitt (Team Velo Ecosse)             1.15.96
7 Mark Colquhoun (Glasgow Couriers)            1.17.35
8 James McFadyen (Musselburgh RCC)             1.17.39
9 Stefan Collins (City of Edinburgh RC)        1.17.41
10 David Nisbet (Glasgow Couriers)             1.17.45
11 Fraser Menzies (Dunedin CC)                 1.17.71
12 Stuart Anthony (Midlothian RT)              1.18.67
13 Fraser Watson (Dunedin CC)                  1.18.86
14 Andrew Skeen (Edinburgh RC)                 1.21.10
15 Alistair MacKintosh (Musselburgh RCC)       1.21.76
16 Victor Possee (Ayr Roads CC)                1.24.98
17 Alistair Lees (Edinburgh RC)                1.25.50
18 Kevin Tait (Edinburgh RC)                   1.28.05
 
Sprint Championship Final Result
 
Bronze ride-off
                                     Match A   Match B
1 James McFadyen (Musselburgh RCC)
2 Derek Smith (City of Edinburgh RC)   14.21   13.46
 
Gold/Silver ride-off
                                     Match A   Match B
1 Marco Librizzi (City of Edinburgh RC)
2 Graeme Steen (Glasgow Couriers)      12.6    15.17
 
Men - 15km scratch race championship
 
1 Richard Chapman (City of Edinburgh RC)       20.29.40
2 Alistair Rutherford (GS Strada)
3 Ross Muir (City of Edinburgh RC)
4 David Lowe (City of Edinburgh RC)
 
Men - pursuit
 
3rd and 4th place ride-off
1 Richard Chapman (City of Edinburgh RC)       5.04.30
2 David Lowe (City of Edinburgh RC)            5.10.86
 
Men - 1st and 2nd place ride-off
 
1 Michael Pooley (Musselburgh RCC)
2 Ross Muir (City of Edinburgh RC)
 
Men - Olympic sprint championship
 
Bronze ride-off
1 Midlothian RC                                 disq
2 Musselburgh RCC                               56.15
 
Gold and Silver ride-off
1 CEORC                                         52.88
2 Glasgow Couriers                              53.27
 
Men - Junior sprint championship
                                      Match A   Match B
1 Stephen Robertson (Glasgow Couriers)
2 James McFadyen (Musselburgh RCC)      14.45   14.64
 
Men - Junior 3000m pursuit
 
1 Graeme Hyett (Inverclyde Velo)                4.04.99
2 Stephen Robertson (Glasgow Couriers)          4.13.94
 
Women - 500m time trial championship
 
1 Clare Gross (City of Edinburgh RC)            40.20
2 Emily Forde (Team Caledonia)                  40.82
3 Denise Lamond (Edinburgh RC)                  44.38
4 Kirsteen Lawrie (Nairn Wh)                    44.50
5 Lisa Kinroy (Edinburgh RC)                    45.09
6 Fiona Walker (GS Corsa)                       49.26
7 Karin Bayerlein-Pow (Team Caledonia)          50.63
 
Women - 3000m pursuit final
 
3rd and 4th place ride-off
1 Clare Gross (City of Edinburgh RC)            4.29.21
2 Denise Lamond (Edinburgh RC)                  4.36.44
 
1st and 2nd place ride-off
1 Emily Forde (Team Caledonia)                  4.19.32
2 Katie Wylie (Team Caledonia)                  4.23.33
 
Veterans 3000m pursuit final
 
3rd and 4th place ride-off
1 Ivor Reid (City of Edinburgh RC)
2 David Nisbet (Glasgow Couriers)               DNS
 
1st and 2nd place ride-off
1 Andy Laing (Musselburgh RCC)                  3.55.10
2 Robert McLean (Angus Bike Chain)              3.55.61
 
Mixed Youth - 2000m pursuit final
 
1st and 2nd place ride-off
1 Stuart McManus (Glasgow Nightingale)          2.52.98
2 Lisa Kinroy (Edinburgh RC)                    3.12.16 
 
Mixed Youth - sprint championship final
 
Gold/Silver ride-off
                                         Match A   Match B
1 Stuart McManus (Glasgow Nightingale)     15.37   15.75
2 Lisa Kinroy (Edinburgh RC)