The Scott Sunderland Diary 2001
Vuelta a Castilla-Léon: August 9, 2001
No Mercy
So I guess I had it coming. I admit, I do complain about the rain in the Northern part of Europe quite often. I believe that what you give out, you receive. It's one of the laws of the Universe and there is no escaping it.
I had left for the Vuelta a Castilla-Léon in good spirits; I knew I wasn't even close to the top form I knew before my mid-season break but I was looking forward to some tough competition to reach the next level of fitness. The first stage was hard but not in that way that I suffered; I rode comfortably in the peloton and also finished that way. The time-trial went smoothly too, I wasn't breaking any records but I had the result I expected.
Then, Nature lashed out at me. I was going to get some sun, whether I was ready for it or not. At the start of the second stage, I felt good. I had good legs and although I knew that this stage would be a real trial in the cruel sun I had no idea of what was really on the schedule. The 184km we were to cover ran over some steep climbs, comparable to a "à la Pyrenees" Tour stage really. No less than three 1st category climbs and one of 2nd category (see profile).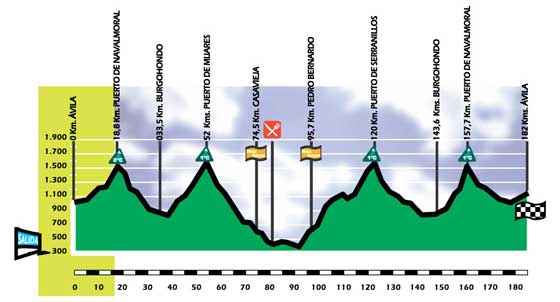 We had been having beautiful summer days up in Belgium, but this was surpassing what I am used to in Europe. The mercury rose to a shocking 40 degrees and although most of the Spanish guys were looking like a swarm of bees that had just discovered an open jar of honey; a few riders slowly were being fused to their bikes.
Now don't get me wrong; I love the warm weather, I even like it hot. But this was a simple case of too much of a good thing. It's one thing loving to ride in the mountains in the sun, it's another thing to race with guys still on a high from riding the Tour de France and another bunch in the final stage of preparation for the Vuelta.
Soon, my head was pounding, my throat felt like I swallowed a handful of razor blades. I tried to describe the heat to my son Saën by saying "It was like the soles of my feet were on hotplates and I felt my tires melting to the road".
The nauseous feeling was taking over and to increase the amount of fun I was having, a wasp crash-landed on my tongue. I alerted Kim and a few of the guys in the team and told them I had been stung, just in case it started to swell that much that I wouldn't be able to breath the little bit of air that was available. They knew what to do if they saw me go to the edge of the road and collapse. We started the second last climb, 30 kilometres long. I wasn't feeling good at all; I obviously had drunk too much water because my stomach was bloated.
I let go of the peloton and decided to ride my own tempo; hoping to catch on again later. It never happened. I rode the next 80 kilometres alone with my teammate Jorgen Bo. The last group caught us at 5 kilometres from the finish.
We had calculated how much time we had to come in and sat back, following the rest of the guys who were suffering in the intense heat and on the hard parcours. We were sure we were going to make it in time and even though the group couldn't have gone any faster anyway, we thought, better to forget about today and just make cut-off time. Well, your guess now; no, we didn't make it: 3 stinking minutes we were late; 180 bloody seconds!
Because of the extreme heat and the very ambitious parcours, Kim Andersen and the other directors were in no doubt the jury would allow us to stay in the race. The jury was fine with it, the organisation weren't...a group of 18 riders would not be allowed to take the start the next day, another 8 hadn't been able to handle it at all and left the race on their own initiative.
That evening I organized tickets for Roberto, Jorgen Bo, Michael and myself to fly to Brussels from Madrid. Andreas Klier, my regular training mate, riding for Team Telekom felt really sick after spending the day in the scorching sun; he sat out on the balcony till way past midnight, squeamish and with a mega headache. I arranged for his ticket also and the five of us met up at Madrid airport the next day, ready to take the 11.50 am flight home.
We boarded the flight to Brussels without problems; all went smoothly. After a while, as the temperature inside reached levels I hadn't experienced before in an airplane, it became obvious there was a bit of a problem; diagnosed by the technical staff as malfunctioning air-conditioning.
It turned into quite an unpleasant situation! The mix of the unfiltered air with the smell of dozens of people transpiring heavily; man, I can tell you, the overpowering smell coming from the fields in Belgium after the farmers have fertilised them with manure, I would almost have recalled as perfume at that moment. [Ed. note: That means it's really bad]
The staff let us cook for over an hour and then decided the problem couldn't be fixed; so we had to disembark the plane and go back to the departure lounges where we had to wait for further instructions. The guys and I thought, "We might as well enjoy the waiting and have something to drink and eat here". We went to a bar, about twenty metres away from the gate, so we could keep an eye on the stewards' desk in case they would announce boarding. We called our family alerting them the flight would leave late.
My wife rang up after a while, enquiring about the progress of the situation. Not worrying to much anymore about things at that stage I replied : "Well, we've just progressed onto our fourth beer and Roberto has gone to get some more pesetas for pizza."
She laughed and when I called her back a bit later saying we were finally boarding, Sabine said, "Lucky, you sounded so relaxed there, I was afraid you guys wouldn't have heard the boarding call!".
Actually, we hadn't. It was a sign of mercy that the Universe displayed when she put the idea into my head to check the new boarding time. After consuming the beers, we all started to get hungry and moved to a pizza bar. As we were debating the dilemma whether we would have another pizza or another beer, I asked Michael Skelde: "Hey, was it at 3.45 we had to board or was 3.45 take-off time?"
None of us remembered so Michael went to have a look and came racing back "Last call man, they're waiting for us!!"
We ran to the gate, boarded and settled into our seats and flew into Brussels, arriving at 6.30 pm; tired but not really beat; still uncomfortable about the way we had to leave the race, but not too disappointed anymore. For Roberto and Michael the travelling wasn't finished yet, they had to reorganize their tickets as they had missed their connecting flights home.
Next one up, that is if all planes are caught and time-schedules respected, the Tour of Denmark, from the 13th till the 19th of August. Although I have spent a bit of time in high temperatures now, I still feel undercooked form-wise. After getting sick in the UNIQA Classic, not starting in the Sachsen Tour, I missed out on three stage races by now; I really could have done with those kilometres of racing in Spain. I can only give it my best shot next week and hope for some more mercy from above.
Ride safe
Scott
PS: Thanks to John, Cyclingnews' handy man and Dr. Jones, le maître d', for revamping the entrance page of my diary! I owe you both a couple of coldies when we arrive down under again!