The Scott Sunderland Diary 2001
Enforced Rest (while watching the Tour), July 2001
The schedule sent to me by the team looked like this:
July 11-15: UNIQA Classic (Austria, 2.4)
July 24-29: Sachsen Tour (Germany, 2.4)
August 5-9: Vuelta a Castilla-Leon (Spain, 2.4)
August 14-18: Post Danmark Rundt (Danmark, 2.2)
August 21: Zottegem (Belgium, 1.4)
August 22: Overijse (Belgium 1.3)
I was pretty happy with this.

Veggin' out
Photo: © Sabine Sunderland
After Luxembourg I had a week off the bike and spent a lot of quality time with my family. It was fun and I had thoroughly recuperated from the first part of my season. I went out for a few rides with Allan Peiper, Peter Van Petegem and co. and saw my friend Serge Baguet off to the Tour. The weather was great and I enjoyed the end of June and the beginning of July in Belgium more than the previous years.
I was ready for the UNIQA classic and although I was just going there for training, I really felt ok on the bike before I left. On the way over there, I started to feel a bit green and my throat was sore but I thought the air-conditioning on the plane was the cause of that.
I started the first day and immediately knew this wasn't going to be a fun ride. I struggled through the next stage and decided not to push it any further so I didn't finish the race the next day. Sabine had told me she had been confined to the couch with some viral infection since I left home and I thought "Ok, knowing that I better be careful not to get sick too..."
I returned home to find Sabine up and well, full with her usual energy.
SaŽn, tiny but with a strong immune system, had one off-day but fought the infection and won the battle in one day; amazing those little bodies.
The same 'bug' struck me big time though. I really hate being sick in summer.
I now find myself completely zapped. I've been sleeping twelve hours at night and haven't been off the couch during the day. My blood test results will be faxed to me any time now and I am kinda worried about it, with the coming races in mind. The Sachsen Tour has been erased from the list and I am concentrating on getting better so I have enough training kilometres in the legs and don't get my butt kicked in Vuelta a Castilla-Leon; surviving it will be the main goal this year.
But, being sort of chained to the comfy couch in my apartment isn't all that bad. For one, I'm being served and looked after like a prince by my wife (and which male will deny loving that!?). SaŽn is wearing himself out every day at "Kriebelkamp" (sports camp; lit.transl: "Tickle Camp") so the days and evenings are peaceful and quiet; ideal to promote a speedy recovery.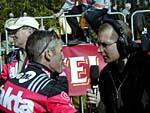 Scott and Karel van Nieuwkerke
Photo: © Sabine Sunderland
And, maybe the most important factor, I'm "riding" the Tour de France every day; in my mind that is. Belgian Television is simply the best (hi to my mate Karel Van Nieuwkerke by the way!) in covering this race and I enjoy watching the guys enduring a flogging, especially on days like yesterday, on the Col de la Madeleine and the Alpe d'Huez.
It has been a very interesting Tour to watch this year, and the fact that not one team could control the flow of things only makes it more sensational; completely different to '96, the year I rode it.
At this point, I notice that most teams come up short, even ONCE hasn't been as strong as I thought they would be. Seemingly, everybody was waiting for the stage to Alpe d'Huez and then Lance comes and does some serious butt whipping. In one way I'm disappointed Jan didn't come closer yesterday as I was looking forward to it being more of an intense battle this year.
The press are all throwing their bits in with predictions of who will win the 88th Tour de France. Since yesterday it looks like, indeed, it will be hard to beat Lance Armstrong. I have been asked whom I'd put my money on and I have to say I find Lance's ride so impressive I think he'll be the one in Yellow in Paris. Jan Ullrich makes a really good impression too though, so it remains a gamble. It's obvious that Team Telekom is very strong; they look like they have got things together. I wonder if they will be able to heat things up enough for the USPS guys. As only Ullrich is within striking distance and no other riders there (I expected Beloki and Moreau to ride better times) he for sure has his work cut out trying to beat Armstrong.
With Stuart O'Grady riding an incredible smart and strong Tour this year, it has been a lot of fun for me as Australian to watch all this live on television, every day (yep, envy me. Next best thing to actually riding it). The suspense builds up so much more knowing they are actually riding at the very same moment you're watching.
Stuart looks calm and at ease and I'm sure we haven't seen the last of him. He'll have another go at winning a stage or two during the coming weeks and it would be simply awesome seeing him victorious on the Champs-Elysees wearing the Green Jersey!
Stuey has had a very strong team working for him. Roger Legeay has focused their Tour de France strategy completely on the first week; with the flat stages and the Team Time Trial. The Crťdit Agricole riders have worked very precisely on those aspects and their efforts bore fruit. With Julich and Vaughters now holding wild cards in the running for GC, their Tour is a definite success already. It is a fact that Australian Cycling will benefit tremendously from Stuart's efforts and results in the Tour de France!
Right now, I'll leave you but I do hope to write some more positive news in the coming weeks, au revoir!
"Live" from Belgium, Scott