The Odessa Files
An interview with Kevin Livingston


Odessa Gunn
Well, I'm back in California after an eventful trip from Spain. I normally have very little good to say about the airlines (as you will read in my next story) but thanks to Lufthansa, Elmo (the cat) and I made it home together and in one piece.
Although I really like our little Spanish City but there is nothing like coming home. I can drive our oversized truck to pick up my oversized coffee and then go to our massive movie theater to watch a movie in English. Things seem so much bigger here when returning from Europe, but that's OK. I think it makes my bum look smaller in comparison.
Today was a typical morning at base camp California. I awoke to a chilly, fog filled, morning, slipped on my fuzzy slippers and headed directly to the coffee machine. This traverse is made even complicated by hungry pets running interception, who I struggle to feed, mind you everything's a struggle pre-coffee! I bump into Levi in the kitchen making his healthy, fat free, high fiber, iron enriched, something or other as I mix up my yummy vat of caffeine filled chemicals.
We then proceed to the living room to watch Phil, Bob and Paul on the live coverage of the Giro d'Italia. Bob Roll is my favorite ex-racer, aside from myself of course! Although he always makes me laugh, this morning was classic. After Pantani crashed in a corner (not so funny) on the final descent of the day Bob mentioned that there may have been "sheep poop" on the road (funny). Anyone who is cool with saying sheep poop on TV is cool in my books. It's great to wake up to these guys and watch some racing in the comfort of our own home.
Speaking of comfort, today's course at the Giro looked anything but comfortable unless you are one of Bob's Mountain sheep. Whilst I was making my coffee, I looked at my watch and thought of Kevin Livingston. I would be interviewing him later on, after he had finished the days stage. As I ground the beans, I worked out that he must be about three hours in, on a very tough stage. Here I am in my fuzzy morning attire well rested and comfortable, and there he is on the bike, battling it out in week one of a three week grueling stage race in Italy. These guys have a tough job.
Germans do a lot of things right, and hiring Kevin Livingston was no exception. He will be a vital ingredient as Telekom attempt a Tour de France win this season. Kevin brings a tremendous amount of knowledge and experience to Telekom, having been a key player on a two time Tour de France winning team. Kevin was Lance Armstrong's right hand man for a number of years. He has ridden with Motorola, Cofidis and the United States Postal Service and feels as though the switch to Telekom was the best move for his career. Although his main job is to help teammate, and cycling superstar Jan Ullrich at the Tour this year, we should also expect to see Kevin Livingston racing for himself this season and achieving some personal goals.
While in Europe, Kevin lives in Nice with his wife Becky. They are expecting a baby in November. Becky seems to really enjoy her time in Europe and plans to do some touring with her family this season, before hooking up with the Tour in Paris.
I called Kevin during his 30 minutes of downtime between dinner and bedtime. He was kind enough to share with us his time and his take on the Giro so far. Here's what he had to say.
Bio: Kevin Livingston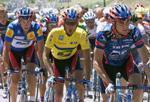 With team-mates Jonathan
Voighters and Lance Armstrong
in the 1999 Dauphiné.
Photo: ©AFP
Born: May 24, 1973, Saint Louis, Missouri, USA.
Nationality: American
Resides: Austin Texas
Height: 176 cm
Weight: 68 kg
Team: Telekom
Pro Since: 1995
Career Teams
1995: Motorola
1996: Motorola
1997: Cofidis
1998: Cofidis
1999: US Postal
2000: US Postal
2001: Telekom

Victories
1996: stage Volta a la Communidad Galega
1997: 2 stages Tour de l'Ain
Major Honours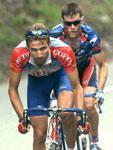 Shadowing Moncoutie
Photo: ©AFP
1995: 9th Norwest Cycling Cup
1996: 30th Setmana Catalana 4 Trofeo Castilla y Leon; 9th G.P. Sacile (Trittico Premondiale);8th Giro del Veneto
1997: 15th Vuelta a Andalucia/Ruta del Sol; 18th Tirreno-Adriatico; 14th Bicicleta Vasca; 2nd Tour de l'Avenir
1998: 18th Dauphiné Libéré; 13th A Travers le Morbihan; 10th A Travers Lausanne
1999: 6th Dauphiné Libéré; 8th Breitling G.P. (with Lance Armstrong)
2000: 25th G.P. Miguel Indurain; 9th Vuelta a Burgos
Classics & tours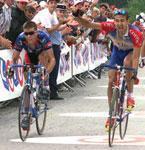 Pipped in the 1999 Dauphiné
Photo: ©AFP
1995: 105th Vuelta a España
1996: 152nd Milano-San Remo; 38th Clasica San Sebastian; 69th G.P. Suisse; 61st Vuelta a España
1997: 38th Tour de France; 88th G.P. Suisse
1998: 109th Milano-San Remo; 101st Flèche Wallonne; 100th Liège-Bastogne-Liège; 17th Tour de France; 95th Clasica San Sebastian
1999: 56th Rund um den Henninger Turm; 36th Tour de France
2000: 37th Tour de France; 80th Clasica San Sebastian; 39th Meisterschaft von Zürich
OG: Do you think the Giro, so far, has been good training for yourself and Jan for the Tour de France?
KL: Yes. For sure it has been great training for Jan. For me, I was worried at the start. I got sick after Romandy and I had only a few days in between the end of that race and the prologue of the Giro. Now I am happy because I'm starting to feel normal. Now I can start to benefit from the racing. Survive the hard days and get the kilometres in. Then after the Giro, I will have time to rest, and then train for the Tour.
OG:- Has it been as dangerous in the field as it looks on TV with all the crashes?
KL: Yeah, yesterday was incredible. There was this big crash on this large road and the field was going really fast. It happened towards the back of the field and there was a guy who had gone back to the car to put his helmet on and was chasing really hard to get back on. He had his head down and came upon the crash with way too much speed. Everything was at a complete stop and by the time he realized he was on top of it and just went flying over the field. He was OK. All the major tours are dangerous really. There are always lots of crashes. Everyone is so motivated and they tend to take more risks. As the tour continues you hope things calm down a bit, but by that time guys are getting tired and can make mistakes.
OG: You are the lone American at the Giro and on your team. How has it been for the first time not having American team-mates?
KL: I don't even think about it so much. All of the Germans and Italians on my team speak English very well so there is no real communication problem.
[Editor's note — in fact Guido Trenti of Cantina Tollo is also a US citizen, but has lived in Italy all his life.]
OG: Do you have a good group of guys to train with in Nice?
KL: Yes. I train with Vinokourov and Mizurov. Mizurov actually lives in the same building as I do which is great. I also train with Bobby Julich and Axel Merckx. I also don't mind training alone now and then, if it's for a week or so.
OG: What are your plans for after the Tour de France?
KL: I don't know. We haven't really talked about it. I'd like to go home to Texas for a couple weeks to rest. The Tour is the main objective. We'll see how I come out of it. I'd like to stay motivated for some of the races in August and September but it's too early to say how I will feel.
OG: What is Jan Ullrich like?
KL: He is really quiet but can be very talkative and funny with his team-mates. He likes to laugh. Very nice.
OG: Any predictions on how the Giro will unfold in the next two weeks?
KL: I'm not so much in that part of the race. I would say Garzelli, Simoni and Pantani. Ivan Gotti also looks good to me but this is all from a guy who finished 20 minutes down today! (he laughs)
OG: Do you have any names picked out for baby Livingston? (Becky is due in November)
KL: For a girl yes but not for a boy. We're trying to keep it a surprise. Hopefully the doctor will not let it slip.
OG:Have you had any problems riding around Texas in pink?
KL: (laughs again) I haven't trained there yet in the new colors. But I can foresee there being some problems!
OG:All time favorite movie?
KL: The Outsiders.
OG: Favorite article of clothing?
KL: I would have to say shoes. For a guy I have a lot of shoes I think.
OG: Is there anything American you would like to have right now?
KL: I just finished a really great Italian dinner so that's hard.
OG: Describe your ideal rest day.
KL: Once every two weeks or so I take a day off the bike and I like to just relax. sleep in, walk around Nice with Becky, check out the shops, have lunch, and then take a two hour nap.
OG: Favorite band or artist.
KL: I like a lot of music. I really like the Smashing Pumpkins.
And that is it. I figured I should let him get some sleep after what sounded like a tough day at the office. You can also learn more about Kevin at his website www.kevinlivingston.com.