The Odessa Files

Odessa Gunn
May 7, 2001: I had the chance to sit down with Fred Rodriguez of team DOMO Farm Frites recently to talk about his new team and the spring classics. He and his fiance Annie were staying with us while they were in town designing the interior of their beautiful new Spanish home.
We live close to Fred and Annie in California so it has been great to see them again. My cat Elmo enjoys their visit especially since he has taken quite a liking to Fred. You see, Fred has a very high threshold for pain and can play with Elmo for extended periods of time. He is also very understanding when Elmo thanks him by dragging dead insects and soggy balls off the terrace and out of the pool to place on Fred's pillow. It's a good thing they are animal lovers. Here's what Fred had to say.
An interview with Fred Rodriguez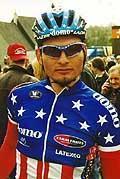 Fred Rodriguez prior to the start of Fleche Wallonne
Photo: © Bert Geerts
OG: As a child, did you dream of becoming a pro bike racer, or did you aspire for other things?
FR: I aspired to be something but no one thing in particular. I think you always have an instinct to become the best at something. I had a competitive edge for everything, whether it was running across the street the fastest or finishing my homework first, whatever.
OG: Thinking back to the days when you were with the US National team and your first pro team, Saturn, did you know then that you wanted to race in Europe with the big dogs?
FR: When I was on the National team I did come to Europe to race but my coach Rene Wenzel and I decided that it was too soon for me to make the jump to Europe full time. We decided it was best for me to learn how to be a leader on a small team as opposed to going to Europe to be a work dog on a big team. I had offers from Postal and some European teams but I felt comfortable starting off with Saturn.
OG: How would you describe your two years with Mapei?
FR: It was a big growing experience. I learned the ways of the European peleton. It was very tough and I had some set backs. I was not comfortable at first. Living abroad (in Italy), dealing with the language barrier, it's very hard core. They expect a lot from you. It's very cutthroat.
US PRO Champion for 2000
Photo ©: Jonathan McElvery
OG: Did you modify your training a lot this past winter in knowing that you were joining Domo, a classics oriented team?
FR: Yeah, I tried a different tactic. I wanted to concentrate more on gaining strength and power. It was tough, because with the Olympics and Worlds I had a limited amount of time to do this. I did a lot of weight lifting for bigger gains but I had to do less riding because of this. It has not paid off yet. My Endurance condition dropped which made for a choppy spring. I think in the long run in will pay off.
OG: For what you describe as a choppy spring, you had some good results. A third at GP Pino Cerami, a second in stage two of the Settimana Ciclista, a fourth at the Scheldeprijs, a fantastic leadout in stage six of Tirreno Adriatico resulting in a win for Vainstein and a long day in the break at Amstel Gold. Not bad for your first time around in the spring classics. Are you happy with your season thus far?
FR: Definitely not.
OG: I read that you had trained pretty hard with your team mate Johan Museeuw in Belgium before and during the classics. If you could do it over again would you change this?

Fred in Mapei strip wins stage 2 of the Tour de Suisse in June last year.
Photo ©: AFP/Juerg Muller
FR: Riding with Johan was fun and interesting. His training is quite unique and I think it only works for him. He trains like an animal. For me I think I was not used to training in the Belgium weather. He seems to cope with it better. Perhaps because he grew up there. It was a good experience in its own way but I am better off training in warm weather and flying in for the races.
OG: After watching Museuuw puncture five times at Roubaix, chase back on every time and still finish second, I began to wonder if he is human! What is he like as a person?
FR: Johan is an interesting character. He's a very down to earth person but he has a crazy side. He sometimes will sing opera on our training rides and he jokes a lot with his group of friends and team mates. He is very personable. (Fred also told me earlier that they will be riding along at 45k an hour and all of the sudden Johan will lock it up and come to a stop because he sees a pair of shoes he likes in a store window. I thought that was pretty cool.)
OG: Did you make the move from Mapei to Domo in hopes of becoming a pure classics rider?
Captain America interviewed by journalist Sam Abt.
Photo ©: Tim Maloney/
cyclingnews.com
FR: Yes. I feel I have what it takes in one day cold and windy classics. I thought it would be good to surround myself with a group of people who were good at this type of racing and have a lot of experience. It was a chance for me to play a part with guys who could win without the pressure of having to win myself.
OG: As a Canadian I would say that you had a pretty darn good "assist" in stage six of Tirreno Adriatico by helping Vainstein win. Was he gracious for such a great leadout?
FR: Yes, he was very happy. He hadn't won any races yet and I was feeling well. I felt as though I could go for it myself but we were there to practice our team work and to build Vainstein's confidence for Milan San Remo. That took priority.
OG: Did you change your training at all before the GP Pino Cerami where you took third?
FR: After Milan San Remo I knew something was wrong. Going into Flanders we decided to pull me off the A squad in order to rest. I was then scheduled for Pino Cerami instead of Paris Roubaix. Before that I took it easy for two weeks knowing that I had pushed it too far earlier. I didn't have enough base for the early season so I was lacking endurance. Two weeks off was not a cure but it gave me a breather. The damage had already been done.
OG: You placed second in the second stage of the Settimana Ciclista stage race in northern Italy. This stage had a technical and fast finish. I'm certain you were not able to ride the finishing stretch in advance since it was a stage race. How does a sprinter like yourself prepare for such a finish when it is not possible to ride it in advance?
Fred wins stage 5 of the 2000 Four Days of Dunkirk
© AFP Photo/Phillipe Huguen
FR: We always get a course profile and we can see the exact turns in the last kilometre. Usually a staff member, the soigneur for instance, will arrive at the finish first and call the car to describe the finish. Then the car will tell us what to expect on our radios.
OG: Your fourth place finish at the Scheldeprijs is pretty impressive considering your pedal broke, you had a slow bike change and Leoni grabbed your jersey and threw you back in the finale. Do you feel as though the win could have been yours if you had a race ready spare bike and everyone was fair in the sprint?
FR: I think the chase after my mechanical took a bit out of me but I was having a good day. The win looked good for me. Leoni is a sloppy player in the finale though and everyone was tired so no one was taking the initiative to start the sprint. After he pulled me back I actually came back up but no one was starting the sprint so I had to slow back down again. It was close to the 200 mark before anyone jumped. Then by that time I was boxed in and it was too late by the time I got going.
OG: You had a fantastic race at Amstel Gold riding all day in the first break. Did you have mixed feelings about this move and did you start to think about the finish when the break had over eight minutes?
FR: I didn't expect to be in a break but I was told it was a very dangerous course and to stay in the front. I wanted to stay in front for the first 100km but Tchmil wanted to blow it apart so I ended up in the break by coincidence. Then I wanted to be there to represent the team without working the break. Sitting on the back was very difficult because I was always in the wind so I would roll through sometimes to actually save energy but I did not want to go to the line with Schmeal because he was riding so strong.
Fred and George Hincapie relax before the start of Stage 8 of the 2000 Tour de France.
Photo: © Tim Maloney/
cyclingnews.com
OG: Was it good to have your best friend George Hincapie with you in the break at Amstel, or is it strictly business at all times during the race?
FR: It was cool to have George there because he is my best friend, but at the same time he's my worst enemy in the races. It's cool to be there together. I would make someone else chase him if he attacked, before I would.

OG: You leave in a couple days for America. After a short break you will head to Philadelphia to defend your title as the U.S Pro Champion. Do you see yourself as being more prepared than in the past after such an intense early season?
FR: I think my early season has indeed been very intense. I need a break to recover from my early season but I have a lot of work to do to prepare for Philly. The next three weeks will be very important.
OG: As I mentioned earlier, George Hincapie is your best friend. He is also the other American favoured to win in Philadelphia. Does this effect your friendship?
FR: Not at all.
OG: What is Wrench Science and how are you involved?
FR: Wrench Science is a company out of Berkeley California that came to me with the idea to make an online bike shop which is unique to any other one. They wanted me to be part of the game and after seeing what they developed I was in. Any high end bike guru who does not know about it, will want to know about it. You can build your dream bike from scratch. It enables you to see every spec along the way from price to weight to measurements and you can change it as you go.
OG: You are getting married on December 29th to your long time girlfriend Annie Linderoth. Annie is more than just a beautiful blonde from California, she is a highly paid product developer for one of the top Internet companies in Silicon Valley. How do you manage to juggle your careers and maintain such a great relationship?
FR: I think we understand each other very well because we've been together for so long. She is just as much a winner as I am. We both focus on our careers and ride off of each other's success. We've also found a way to marry our careers and travel together.
OG: What is your favourite toy?
FR: (Annie snickers and asks," Which one?") Any new gadget on the market from a Palm Pilot to a computer to a remote control car to a cool lighting system for the house. You name it.
OG: What is your favourite vacation spot?
FR: Home. (Emeryville, California)
OG: What is your favourite article of clothing?
FR: My black Banana Republic overcoat.
OG: Describe your ideal rest day.
FR: I sleep in, make some "Fast Freddie" blend coffee, take Kaleigh (Australian Shepherd) out for a walk and a bagel and then we pick Annie up for lunch in the park.
OG: Sounds good to me.

This has been another day in the life of a pro bike racer. Until next time, this is Odessa Gunn signing off from Spain.
Buenos Dias!
Video - Fred interviewed prior to the start of the final stage in the 2000 TdF
---