The Odessa Files
Gunn shoots in the drive-by interview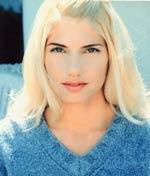 Odessa Gunn
Part two of Odessa Gunn's "drive by" interview with US Postal's George Hincapie, who was driving home in the rain in Spain, after leaving the Tour of Aragon due to mild post-Roubaix sickness.
An interview with George Hincapie - Part II
Due to popular demand, I revisited with George Hincapie his race at Paris Roubaix. This is a glimpse of the race through his mud-covered lenses.
GH: With about 30km to go everyone was tired but the Cofidis guys were especially. Myself and Dierckxsens (Ludo Dierckxsens - Lampre Daikin) seemed to be the freshest of the non Domo riders. We were working to keep Peeters (Wilfried Peeters - Domo Farm Frites) at a respectable gap but it was a bad situation. We knew we were doing all the work for Domo but we had to keep him close and at the same keep from getting caught.
OG: Were you feeling strong at the time?
GH: Dierckxsens and Johan Museeuw were both very strong, but I knew I was also one of the strongest. When Museeuw flatted Johan (Bruyneel) told me not to attack. It was in a section that had cobbles and a very strong head wind. We decided to wait and re-evaluate the situation if he got back on instead of wasting energy.
OG: It was frustrating to watch the final stretch into the finish. You were just so outnumbered. In a situation like this do you follow what you can or focus on one rider or simply save it for the sprint?
GH: At the end I figured I would chase as many guys down that I could but it was useless because it was impossible to keep chasing everybody down. Eventually Knaven (Servais Knaven - Domo-Farm Frites) got away.
OG: That's it, and that's bike racing.
Until next time,
Odessa
Part I of the George Hincapie interview