Ronde Van Vlaanderen - my first World Cup race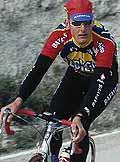 CoreySweet
What's it like to ride the Ronde for the first time?
Bankloterij/Batavus rider Corey Sweet explains the pain.
Yesterday I experienced my first World Cup - the 269km Tour of Flanders. To tell you the truth I actually enjoyed it. If that's possible for a race that covers 16 catagorised climbs as well as others.
There were also a number of cobbled sections that I personally find more difficult than the climbs. Anything with those big nasty cobbled stones seem to stop me in my tracks.My job for the day was to look after Bart Voskamp who was in the best form of our team, and also cover any moves that might go at the start. Especially those that contained any Collstrop riders.
So after 8km or so of neutral the race started. Yes that's right - 8km of neutral then the 269km begins. The weather was cold with a strong wind and rain only just around the corner. So the flag dropped and an attack went straight away. I couldn't believe it. What where they thinking with so far to go.
So I started to mark a few as well as four others in the team. I found myself in a break of 12 or so after 30km. We were away for approximately 25km but never got more than 30 seconds. We were riding full gas in the 53x12 and 53x11 and I was hurting bad at the start of it, but then eventually found my rhythm. It was attack after attack and a group of four went clear and we had one rider in it so it was time to try and recover before the first climb came at 119km.
After some nasty cross wind sections we started to head back to Ninove so we had the wind behind us and the speed was very high. I got over the first climbs no problems. I struggled on the infamous 4km cobbled section but found a group and we got on after a little chase. The next 60km were pretty straightforward. Bart had a bad start with a crash, two punctures and a broken rear deraileur. We had to chase at one stage to get the front group back that was 40secs up the road after it had split and Bart missed it because of bike problems.
The second feed station was at 180km - that was my goal at the start of the day. As it turned out I still had good legs at this stage and there were probably only half of the 200 starters left. A group of 10 went clear during the time we were chasing. All the big hitters were still in the group so it went out to one minute. Martin van Steen was still away with the original four. Once those two groups got together there was 14 up the road and US Postal and Telekom started to ride in the bunch and kept it at one minute.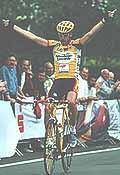 Corey wins in Germany last year while riding for Hohenfelder-Concorde
Photo: © René Penno
As it turned out that group stayed away. Only eight were left at the finish. Gianluca Bortolami won in a photo finsh from Eric Dekker who was clearly the fastest but started his sprint way too late. Tchmil, Vainsteins and Museeuw were in the next group only 15 secs behind. Bart was in the next group just behind them. He finished 21st. A good ride but he wasted alot of energy with his bad luck. My day ended on the Old Kwaremont climb at 205km. A 2.2km cobbled climb. The legs weren't too bad but I struggle to get the power down on the cobbles in the seat (have to do more strength efforts I think). I found a group after a bit of a chase and we rode a nice tempo for the last 50km and only finished 10.56min behind.
I am supposed to ride Gent-Wevelgem on Wednesday but that has been changed. Next is the GP Cerami on Friday then Rund um Koln on Easter Monday - a home town race. The form is getting better and the next big one is Amstel Gold on the 28th. That's if it is not cancelled because of the Foot and Mouth problem that's on here in Europe at the moment.