Results and Reports for April 30-May 1, 2001
Italy
Promoters wishing to submit results should send them to cyclingnews
7th Trofeo Gruppo Amici Sportivi-Targa - 1.15
24th Trofeo Schiatti
7th Trofeo Gruppo Amici Sportivi-Targa - 1.15
What a difference a crash makes!?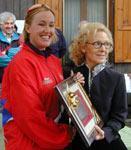 Mactier gets presented
Photo: © James Victor
By James Victor, Australian women's coach
Only 2 days after a heavy fall, the A.I.S. Australian Women's Cycling team bounced back with a victory in northern Italy today, and 3rd place also, to bring back the morale.
The team raced north of Milan today, just near the Alps, and winter has certainly not finished here. A chilly 10 degrees at the start, and then the rain decides to begin 30 minutes before the start.
The Italian teams were well represented with the World Champion Stahurskaia (GAS), former World Champion Diana Ziliute and her Acca Due O-Lorena team, 4 times Giro winner and 3 times Women's Tour de France winner Fabiana Luperini and the Edil Savino team, with a total of 80 starters. The circuit of 7.5 km, was completed 14 times, and after 2 weeks in Italy, the most difficult course to date for the Australians.
Ziliute and Stahurskaia were very active early, along with all of the Australians, particulary Katie Mactier (A.I.S. Australia), and most of the stronger Italian teams endeavouring to establish early breaks.
At 7 laps (52 km) to go, Katie Mactier and Katia Longhin (Acca Due O HP Lorena Camici) set the winning break that opened to 1'30 secs coming into the last 5 kms. At 3 kms to go the gap was still 1'10 and the Aussies had begun the lead-out for Gilmore for 3rd place.
With the recent podium results for Longhin, she was the favourite going into the finish, but Mactier raced a smart sprint from the front, holding Longhin off comfortably. Hayley Rutherford and Sara Carrigan set-up Rochelle Gilmore perfectly into the technically fast finish to complete the podium, with the winning gap back to 11 secs.
So a big turnaround from the disappointment 2 days ago, and looking forward for more to come...
Apart from Kristy Scrymgeour's time trial win last year, this was our first win in Italy since Anna Millward's 3 stage wins and points jersey in the Giro in 1998.
Valdengo - Biella, May 1, 2001
Result - 100 km

1 Katie Mactier  (Aus) AIS Australia    2.36.00 (38.482 km/h)
2 Katia Longhin (Ita) Accadue O Lorena
3 Rochelle Gilmore (Aus) AIS Australia     0.17
4 Regina Schleicher (Ger) Michela Fanini
5 Diana Ziliute (Ltu) Accadue O Lorena
6 Alessandra D'Ettorre (Ita) Corpo Forestale
7 Iryna Chizhinova (Ukr) Edilsavino
8 Anna Skawinska (Pol) Ciegi Professional Cycling Team
9 Gulnara Ivanova (Rus) Accadue O Lorena
10 Edita Kubelskiene (Ltu) Figurella Dream Team

24th Trofeo Schiatti
April 30, 2001
Results - 147 km

1 Karl Moore (NZl) Pool Cantý Soteco Garda Calze         3.36.00 (40.833 km/h)
2 Roman Radchenko (Ukr) Roeder 1956
3 David Kovaliov (Ukr) UC Pregnana Ceramiche Regazzetti
4 Sosnovchtchenko (Rus) Roeder 1956                         1.00
5 Rafael Nuritdinov (Uzb) UC Bergamasca For 3
6 Yuri Dudnik (Ukr) Roeder 1956
7 Alexei Lambin (Rus) UC Pregnana Ceramiche Regazzetti
8 Giacomo Vinoni (Ita) UC Pregnana Ceramiche Regazzetti
9 Roberto Malcotti (Ita) Team Priority Dari Mec Aurora
10 Paolo Canavesi (Ita) UC Pregnana Ceramiche Regazzetti

Courtesy of Daniel Vigano