87th Tour de France - Grand Tour

France, July 1 - 23, 2000
---
Tour News for July 1
By Tim Maloney, cyclingnews.com correspondent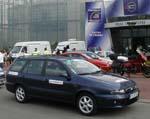 The Fiat...
Photo: © Tim Maloney/cyclingnews
Quotes From Lance Armstrong's press conference:
On recent comments from L'Equipe that he will only do interviews for money: "To insinuate that I ask for money for interviews is absurd - interviews are free. Look man, I've been doing this for a long time, and I feel like I've done it with class and won a lot of big races. Why are there detractors? I don't know. But this has to stop."
On which will be will be tougher, the first or second win?
"This time around, I'm a marked man, which will make it very hard to repeat. But the first victory was another step in my comeback from Cancer. So I certainly couldn't say that was easy. Who knows, it's a deeper field, tougher course and anything can happen. It's the Tour."
Kaiser ready to roll
Jan Ullrich is feeling and looking fit, if his press conference yesterday is any indication. Ullrich is happy to have finally come into form after the Tour de Suisse. "It was good weather (in Switzerland) and a tough course and my performance has given me a lot of confidence," said Ullrich. "I had one win and two seconds and my health is good. I did some tests Tuesday (inside sources said that Ullrich is back up to an ergometer power output of 500 watts) and the results were good. "Ullrich hopes to help Zabel to wins in the first few stages and then "we'll see how it goes," Jan stated.
Sad Tuscans - the Mapei shakeup
According to sources inside Mapei, lots of behind the scenes manoeuvers took place just before the Tour to influence certain riders to resign for 2001. Since Mapei manager Patrick Lefevre is leaving at season's end to do his own team, Domo, Mapei's business manager Alvaro Crespi reportedly pushed certain riders (like Chann McRae and Max Van Heeswijk) to resign in order to get into the Tour, while riders like Andrea Tafi and Luca Scinto, whose contracts end in 2001 were left at home by a last minute phone call with their bags packed and tickets for France in hand. Both Scinto and Tafi were to be the key support guys for Italian champ Bartoli at the Tour and one must now wonder if it's Machiavelli or Mapei...
Cranky Frankie? Not so sure...
"Cranky Frankie" has been Frankie Andreu's alleged nickname in the past, but the big boy from Dearborn is all smiles at the Tour so far. Maybe that's because the race hasn't started yet! Although Andreu did attempt to block the entry of our cyclingnews.com race vehicle (he has his own website and thinks he can offer some competition), he was only kidding. In fact, Andreu told us that he (as well as many racers) reads cyclingnews.com regularly to keep up on global racing news.
Tyler Time
"My job is to help Lance; that's it," a fresh and fit Tyler Hamilton told cyclingnews.com about his Tour role this year. We asked Hamilton, recent winner of Le Dauphine Libere how he views the long, tough Stage 14 from Draguignan to Briancon, 249km over three major cols, similar to a 200km stage in the recent Dauphiné. "It'll be hard - the stage kinda reminds me of the stage to Andorra Arcalis that Jan Ullrich win in '97...that's over 7 hours of racing."
Kirsipuu doubtful
Estonian Olympic selection and wearer of the malliot jaune for several stages in 1999, Jaan Kirsipuu (Ag2r) is doubtful that he will repeat that feat this year. The sprinter believes that the first stage is simply too long for him to remain in contention for yellow via small time bonuses en route. At 16.5 kilometres, Kirsipuu could well lose over a minute to sprinters such as Stuart O'Grady who are in with a big chance.
Kirsipuu was asked whether the first week was equivalent to the World Championships for road sprinters, to which he agreed to an extent, "A little...most of the specialists are there, everyone wants to win. The sprint is at its highest level. However, it is necessary to consider the World Championships as another, much harder race," said Kirsipuu to AFP.
One rider who will not be there to challenge him is Saeco's Mario Cipollini, who is out with a facial injury suffered several weeks ago. However, Kirsipuu doesn't believe that this will make things easy, as Saeco will not be riding as hard at the end to chase down breaks. This in turn will make it harder for the Ag2r rider to win the yellow.
The Estonian will certainly be aiming for stage wins though, and mainly in the first week considering his mountain climbing skills. He has no designs on the green jersey, and the "dream to win on the Champs-Elysées is not yet on the agenda".
Jean Delatour forced to watch
The court case that they hoped would snare them a place in this year's Tour lineup did not go in Jean Delatour's favour, and they will be forced to sit out july watching Bonjour and the other French teams on TV. Today, the court in Nanterre passed down their decision:
"The selection of the teams, as made by the Société du Tour de France, may have been harmful and disappointing for the team 'Jean Delatour', but it was not discriminating," said the judge.
Jean Delatour believed that they had been unfairly excluded from the Tour, and officially protested last week. They wished to know the parameters set down by the Société, and why they hadn't met them. However, JT had not automatically qualified, and were thus only eligible for a wildcard entry, but were left out in favour of Memorycard, Kelme, and Bonjour. Their case was in vain, as even the 4th ranked team in the world (Lampre) did not get a start.
What does the Badger think?
Bernard Hinault has won the Tour de France five times, and is well known for his strong opinions on various pro's. Jan Ullrich and Marco Pantani are two that have come under criticism from the Badger recently for having it "too easy"! In my day (etc.)...
He gave an interview with AFP where he voiced his opinion of favourite Lance Armstrong, again being somewhat dismissive of Big Jan. In 1997, Hinault was amongst those who predicted Jan would make 5 in a row, but it was not to be. "The data changed - at the time, I didn't know that he would expand by 12 kilos each winter. Such a change in weight is not possible! My judgement was then dictated by form. He was 2nd in '96 and winner the following year. He was promising."
This year, Hinault favours Armstrong for yellow in Paris, although Ullrich might be a little stronger and a better climber. However, Armstrong has the advantage(?) of winning last year and has a strong and highly motivated team. Especially Tyler Hamilton, who can be a co-leader, despite what he told us.
As far as the French chances are concerned, Hinault is not as positive. "It is unhappy for us Frenchfolk. In fact, Laurent Jalabert could not win the Tour unless he managed to pick up time in a lucky early breakaway, like Chiappucci in 1990. I think that he could keep his 10 minute advantage but would lose a little each day in the mountains. Like Richard Virenque, his problem lies in the time trials. He can not make big enough inroads in the mountains to worry the large powerhouses."